Between Naps on the Porch: A Fun Day today at RE!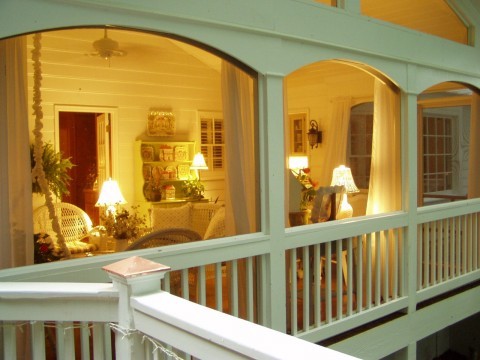 Meet my Guest:
Susan from Between Naps on the Porch
My lovely guest today, Susan, has been blogging since 2008 and this is her very first time to write a guest post. Oh, yes, she's been featured a zillion times, but we're the lucky ones today at RE! Susan encourages connection and dinner parties and putting together simple tablescapes, using what you have! Her blog's also a lifestyle blog with an emphasis on providing an enjoyable respite for those who visit with posts about: Decorating, Before and Afters, DIY Tutorials, Tablescaping, Thrifting, Antiquing, Historic Home Tours, Gardening and Birding.
So here's Susan …
Hi Everyone,

Susan, from Between Naps on the Porch, here! Shhhh, don't tell Sandy but I've absconded with her blog today! :-) Yep, I'm taking over and running the show. (Hee, hee.)

When I first visited Sandy's delightful blog, I was so intrigued by her blog name, Reluctant Entertainer. One might initially think…is Sandy a reluctant entertainer? To the contrary, Sandy is very much an inspired and joyful entertainer…one who generously shares her talents each day with those of us who are sometimes a bit intimidated (me included) by the idea of inviting folks into our less than perfect homes.

Today, I thought I'd share a little suggestion or tip that hopefully you'll find helpful when it comes to creating a table setting for your dinner guest. One of the hardest parts sometimes when setting your table is trying to find just the right centerpiece.

No need to go out and spend a lot of money on a big impressive floral arrangement.

Instead, walk through your home or as some folks like to say, "shop the house." Most likely you have everything you need for a beautiful or whimsical tablescape right there in your own home. Here are a few examples I've pulled from previous tablescapes I've featured at, Between Naps on the Porch.

For this breakfast table, Jean-Claude, a French pig who lives year 'round in my kitchen stole the show. A bandanna made from one of the napkins helped tie him in with the rest of this breakfast table setting.

Need a fast arrangement that will make a big statement? Toss some fresh lemons in a tall clear vase and tuck in branches of pretty greenery. I've used magnolia from the Southern Magnolia, Grandiflora that lives just outside my front door. :-)

Several years ago, a local grocery store carried a coffee drink that came in pretty cobalt blue bottles. I saved the bottles having no idea how I'd use them later. Filled with faux wisteria, they make a beautiful statement in this blue and white tablescape. For the very center of the table, I took a cloche I already had, tucked blue and white carpet balls and magnolia blossoms underneath…all resting on an old flow blue plate.

All these elements were hiding out in my house, just begging to be used in a tablescape one day.

Even an old discarded birdcage makes a beautiful centerpiece when filled with white candles all aglow.

Do you have a something you like to collect? Hummels? Lladro' figurines?

Almost any collection will work as a lovely centerpiece displayed down the center of your dining room table.

This past Christmas I created a tablescape using a collection of Dept. 56 lit houses from the Snow Village Collection. My family loved it for Christmas dinner. :-)

So, there you have it…5 tablescapes built around items found in my home, using everyday objects or treasures collected through the years. Hope these examples have given you inspiration for creating your own beautiful table settings.

Oh, I think I hear Sandy coming back…I'll sneak off now. :-)
Thank you Susan, for sharing your lovely insights today!
Have you visited Between the Naps on the Porch? And did you know each week you can link up to Susan's Tablescape Thursday? It's a very inspiring time!
Don't forget tomorrow is Home is … Day here at RE!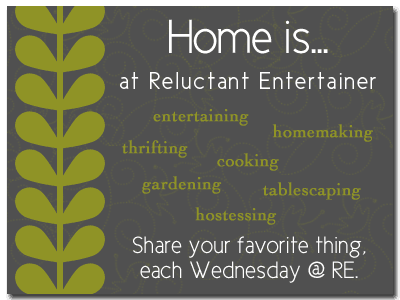 About Home is …
Each Wednesday you can link up here at RE, to a different theme that I will share in advance … which may be something like a beautiful set table, a snack waiting for your kids when they get home from school, fresh flowers in the kitchen, dishes in your hutch, a meal on the stove (maybe using leftovers), a family heirloom, a yard sale find and how you put it to use, pictures on the walls, music being played in the background … a feeling, a smell, a touch.
TOMORROW link up with your latest bargain or yard sale find! I found some incredible deals over the weekend. For me, home is being a good steward with our money and keeping an eye out for good bargains! Will you join me tomorrow?
25 Responses to "Between Naps on the Porch: A Fun Day today at RE!"

Leave a Comment