Day 12. Money-Honey: I Don't Have the Stuff and RE BOOK Giveaway!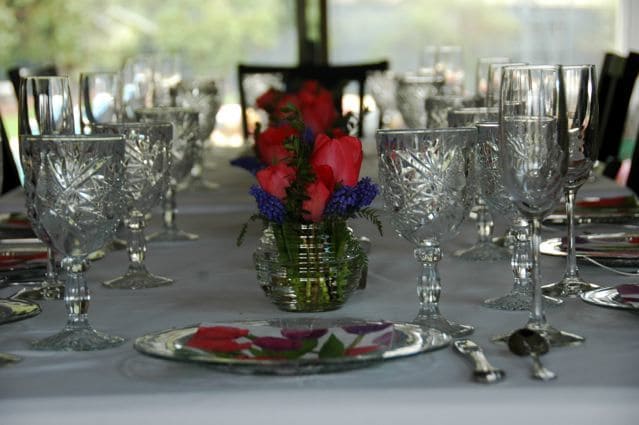 I've heard from many readers who write to me and say they just can't afford to entertain. I certainly don't want to go through life, and then wonder if it could have been richer and fuller, knowing I could have reached out more.
My ideas here are very simple.
- Everyone has the ability to borrow
- Find a friend who won't mind sharing
- Don't forget Good Will & yard sales
- Delegate the menu–there's no reason why you have to do it all
- Serve water and have the guests bring other drinks
Get it out of your mind that you have to spend a ton of money to entertain.
Saying "I don't have the money" is just an excuse, most of the time.

This dinner party was of Easter this year. The plates I found at a yard sale, the glasses and vases were from the Dollar Store, and the fresh flowers were from my front yard.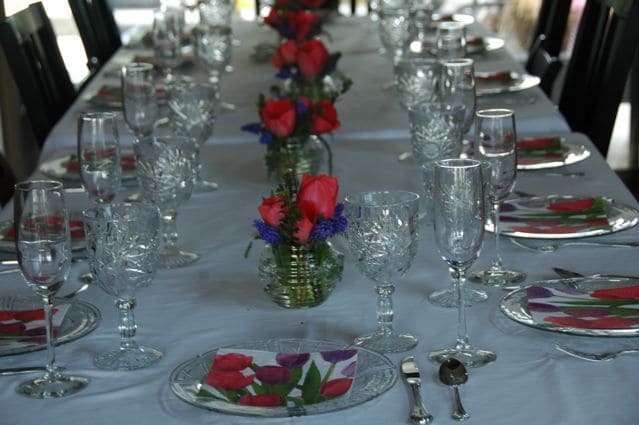 Again, if you haven't read the "Joy Busters" chapter in my new book, The Reluctant Entertainer, I think you might be challenged. And you may sense some freedom coming your way …
WIN A COPY!
Leave a comment today to be eligible to WIN my new book, The Reluctant Entertainer. You'll be able to read about my Joy Busters and get a lot more savvy entertaining ideas.
TWEET or FB or POST!
Tweet, Facebook, or post about this giveaway and you'll get a 2nd chance to win. Make sure and come back tell me.
COMMENT to WIN!
Are you okay with asking your guests to contribute to the meal, to make it more affordable for you?
***PLEASE NOTE: The giveaway has ended and winner announced, HERE. Thank you everyone for entering.
Join my 31-Day friends …
Chatting at the Sky, Nesting Place, Balancing Beauty and Bedlam, My First Kitchen, Life With My 3 Boybarians, Remodeling This Life, The Inspired Room
196 Responses to "Day 12. Money-Honey: I Don't Have the Stuff and RE BOOK Giveaway!"

Trackbacks/Pingbacks

Leave a Comment