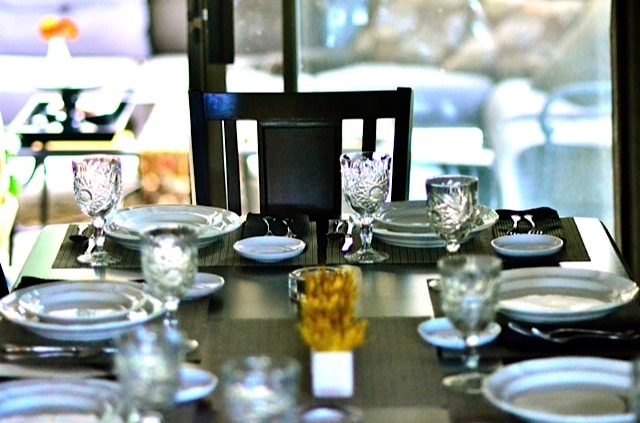 I knew I wanted to start practicing Eucharisteo (grace, thanksgiving, joy) … by giving thanks in a journal on a daily basis. My inspiration came from Ann, and my heart's been telling me to jump in and do it. So into the garage I went, searching for a "journal." I knew I had journals, many with blank pages near the back.
I grabbed one that was 12 years old and dusted it off. The spiral binding was still in place – it felt good to the touch. As I thumbed through what I had written I went to the last page.
"Autumn guests" was listed with about 50 people, some couples, some single friends — grouped together by dinner parties.
I knew that I liked to dream about dinner parties way back then. I liked to put the parties together in my head, and then on paper, and then I'd pray …
Many of these people aren't in our lives anymore. It's not that they aren't friends, it's just that life takes us through seasons. And particularly for those of you who have kids, you'll know what I mean. I've also noticed that after attending several churches, friendships come and go. And sadly, some marriages just don't make it.
But most of the people I had written in my journal we are still close with. Since we've been married for 20 years, some are 20+ year-friendships. Tight and solid.
One thing I've learned is that we have to meet life where it's at.
I go back and forth about wanting to explore "relationships" further here at RE, because I know they can be tough for many. So if you have a particular question, feel free to ask it here, or send me a personal email.
Warmer connections come when we think of the people around us, their marriages, families, seasons of life … and we give thanks.
Don't you find that throughout life you've mingled more with parents of your children's friends? That as they grow and change, our friendships do the same?

If you missed previous days to 31 Days of Warm Connections …
Day 1 (and 700 31 Day Bloggers): Secret Ingredient to Warmer Connections
Day 2: Bringing the Beauty of Autumn to Your Table
Day 3: Multi-Generational Pear Applesauce
Day 4: Canning Suncrest Peaches with a Friend
Day 5: How to Find Contentment
Day 6: Encouragement with Easy Pear Cobbler
Day 7: Bush's Garbanzos, Chicken, and Quinoa Soup for a Sports Family
Day 8: More About Others
Day 9: Technology Versus People
Day 10: The Table Experience with Bush's Beans