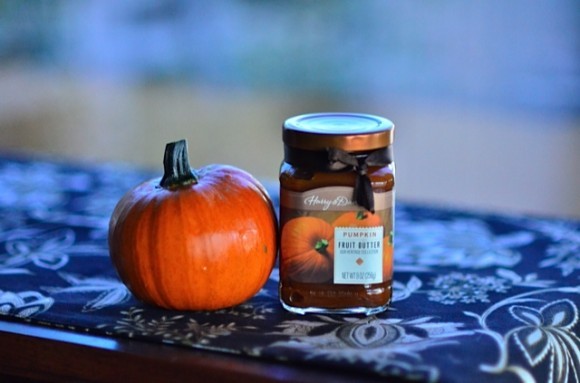 There was a knock at my front door.
I answered with a very warm feeling in my heart.
My friend was standing there with her twin daughters. In each of their darling hands, both girls wearing matching dresses, were two gifts for me.
One handed me a tiny pumpkin.
The other, a jar of Harry and David's Pumpkin Fruit Butter.
The notion that simple pleasures-a reminder of autumn, and a taste of sweet fruit butter on a warm piece of bread–bring comfort and make us happy, is very true.
I gave the girls a hug and invited them in.
Warm connections come when we enjoy life's small moments.

When's the last time you were blessed with a knock at the front door?
If you missed previous days to 31 Days of Warm Connections …
Day 1: Secret Ingredient to Warmer Connections
Day 2: Bringing the Beauty of Autumn to Your Table
Day 3: Multi-Generational Pear Applesauce
Day 4: Canning Suncrest Peaches with a Friend
Day 5: How to Find Contentment
Day 6: Encouragement with Easy Pear Cobbler
Day 7: Bush's Garbanzos, Chicken, and Quinoa Soup for a Sports Family
Day 8: More About Others
Day 9: Technology Versus People
Day 10: The Table Experience with Bush's Beans
Day 11: Dreaming of Autumn Guests
Day 12: Gathering Around a Homemade Life
Day 13: Sisters in New York City
Day 14: Giving to Those in Need
Day 15: Enjoying Everyday Sounds