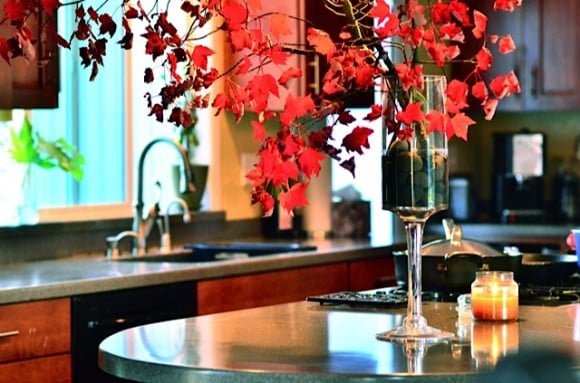 When the weather turns cold, our kitchen is the go to place for gathering our plates, filling them up, and eating together as a family.
Sometimes we eat around the table, other times out on the back patio (heater), upstairs in the family room, or even in our cozy living room.
It doesn't really matter where.
Since my Dad designed our kitchen–with a curved overhang of the island, just right for 3 stools–I do believe he had "conversation" and "warmth" in mind.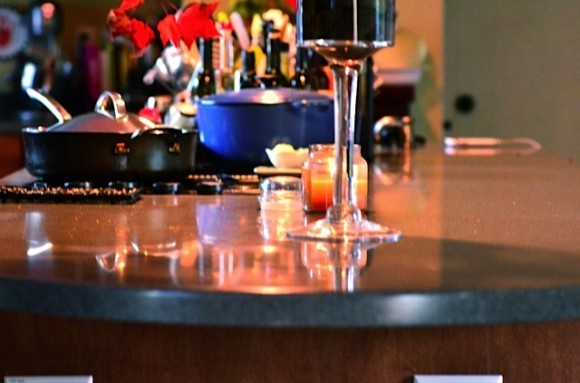 Easy-designed kitchen counter:
-We made it extra long
-Wide open space for an abundance of food
-Plenty of room for stacks of plates
-Perfect for bodies leaning in while sitting on stools
-Intimate for conversations
I also love decorating "big" on our large center island:
Cut branches with stunning Fall colored leaves. A reminder of the changing season and a cozy season to come.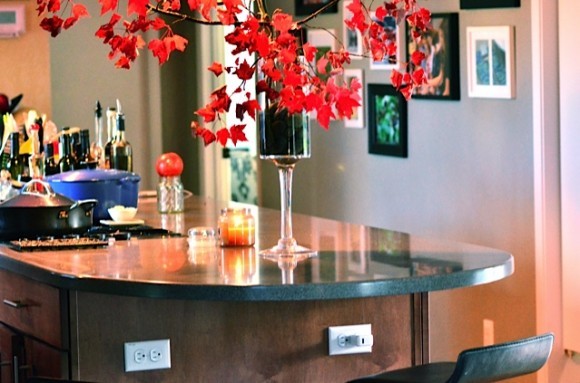 It's not every day that nature delivers a thousand red leaves on the soon to be naked branches of trees.

-Snip or cut branches
-Find a large vase
-Add rocks or something to weigh it down with
-Stick the branches in (rocks)
-Add water
And then enjoy the stunning, drop-dead-gorgeous glow, right on your kitchen counter!
Warm connections come from something as simple as … a well-designed kitchen counter.
When's the last time your freshened up your kitchen counters with a reminder of the season?
If you missed previous days to 31 Days of Warm Connections …
Day 1: Secret Ingredient to Warmer Connections
Day 2: Bringing the Beauty of Autumn to Your Table
Day 3: Multi-Generational Pear Applesauce
Day 4: Canning Suncrest Peaches with a Friend
Day 5: How to Find Contentment
Day 6: Encouragement with Easy Pear Cobbler
Day 7: Bush's Garbanzos, Chicken, and Quinoa Soup for a Sports Family
Day 8: More About Others
Day 9: Technology Versus People
Day 10: The Table Experience with Bush's Beans
Day 11: Dreaming of Autumn Guests
Day 12: Gathering Around a Homemade Life
Day 13: Sisters in New York City
Day 14: Giving to Those in Need
Day 15: Enjoying Everyday Sounds
Day 16: Life's Small Moments
And be sure to check out the rest of the 31 Day Participants!