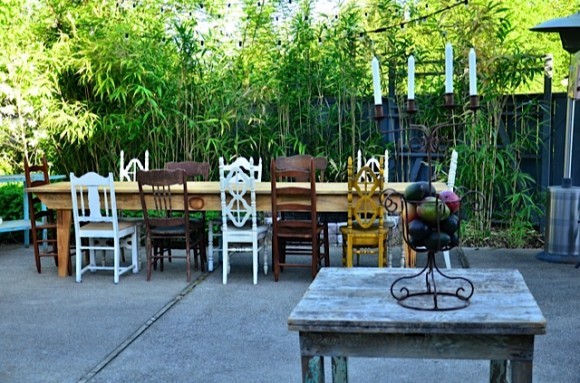 This post is for local friends who live in Southern Oregon. Read on for a fun Rosewood Vintage  party giveaway …
The inspiration to host a Fiesta Party came when we realized we hadn't seen some of our friends in a while, and we were missing them. I think we all miss our friends, we get so busy in life. So it's fun to bring everyone together for a party!
We love our friends, eating good food, and talking late into the evening with them. To me, that is living. It's what we're created to do, to commune with one another.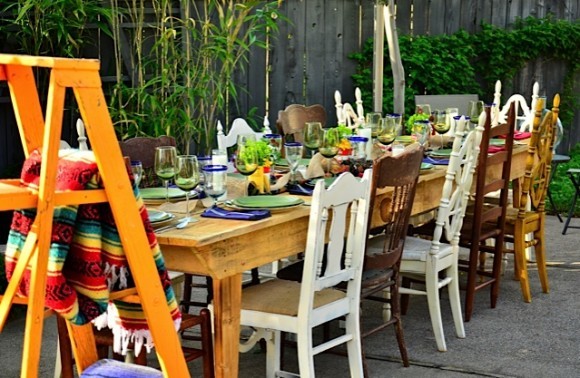 Around the same time of my party idea a few weeks ago, my friend, Lacie–who bought a new business called Rosewood Vintage Rentals in our hometown with her business partner, Maria–asked me to host a party that included their rentals. How fun is that?
They came to my home, delivered the 12 foot rustic table and mix-matched chairs, and a few other accessories.
Their service was excellent.
They do all the work for you. Deliver, set -up, make sure everything is in the right place.
Love the long rustic table. This one seated 12.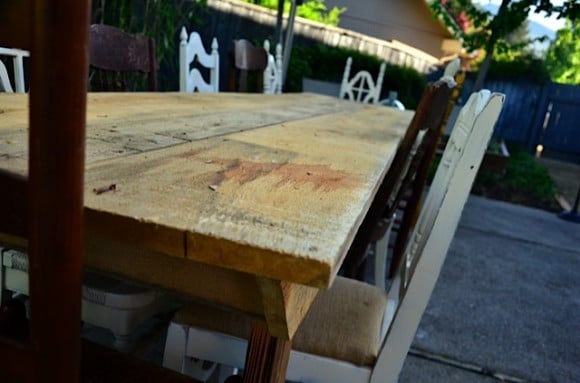 And each chair so unique.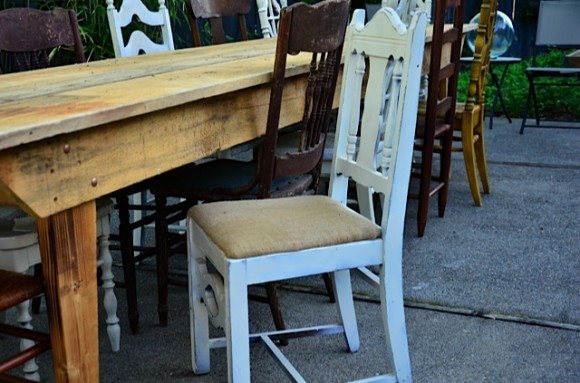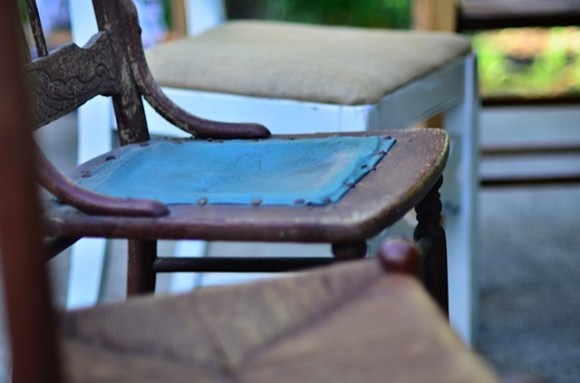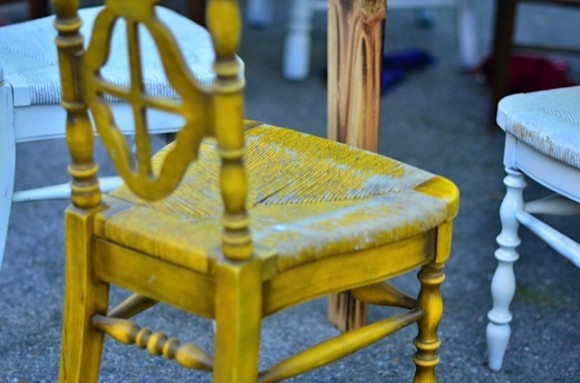 Cool side tables and a pop of color.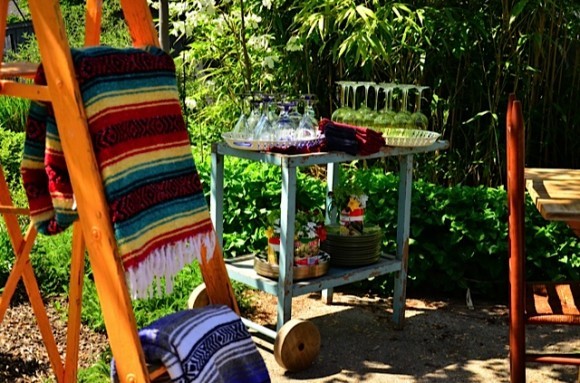 Candelabra and extras to choose from.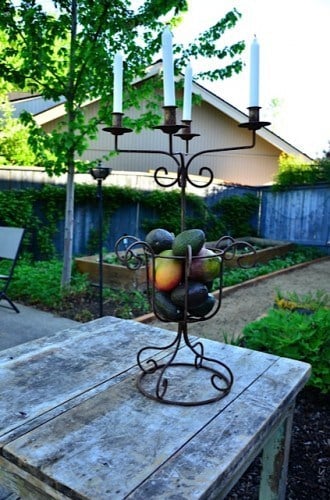 Here's what I love about their cool rental biz. They have unique and vintage pieces for any event, which may be a dinner party (hand in the air!), weddings, showers, or other events. They also have sofas, upholstered chairs, mismatched chairs, church pews, vanities, and the farm tables and chairs all for very affordable prices! (They are located in Medford, Oregon, and available by appointment.)
Another idea is you can rent their pieces for photo-sessions! Either the client or the photographer can come and rent a piece or two, or a sofa … I love those sofa shots out in the fields.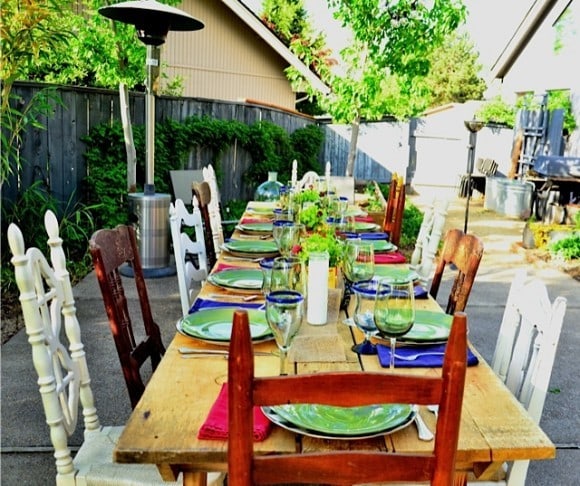 For my Fiesta Party table, I had a blast putting it together and using what I already had. I borrowed the blue glasses from my friend, Judy. Used my standard black and white Courtly Check chargers (MacKenzie-Childs), green Dollar Tree plates, and olive green tinted wine glasses again from Dollar Tree. I pulled out red and blue cloth napkins, and ran a vibrant Mexican colored scarf down the center, with burlap on top.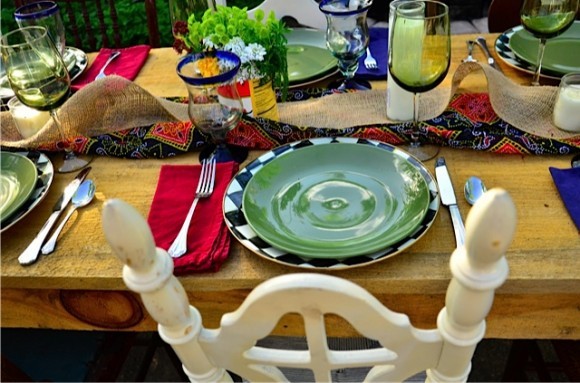 For the flowers I went to my friend's house and picked dainty blossoms from her garden, adding them to repurposed cans.
The menu was easy. I prepared a Chicken Mole dish with a rice/quinoa mix, Ground Turkey & Black Rice enchiladas, and my guests brought the rest. Amazing salads and appetizers, chips and dips. Probably my favorite appetizer that goes so well with the season at hand was Shrimp & Avocado Cocktails. We indulged in tasty foods, great conversation, Pandora playing in the background, and we ended with pie and fresh strawberries. I made a Sangria for our specialty drink and we also enjoyed Mexican beers and red wines.
The night was perfect for guests – a slight breeze in the air.
We all said our good byes until next time, and when we went to bed, my husband and I turned to each other with a light kiss on the lips, and said, we are thankful.
Thankful not only for a party, but for more memories made from being with the ones that we love.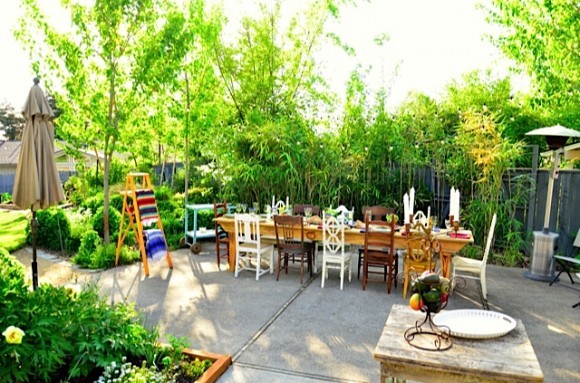 Now for the FUN GIVEAWAY for all my friends who live in southern Oregon! (The delivery for the giveaway is free for local people who live within 15 miles of 97501. If you live outside of this area, delivery charges will apply. )
YOU have a chance to WIN a delivery for your own party! Anyone can comment today on this post, but you have to live in the Medford, southern Oregon area (listed above) to WIN!
WHAT TO WIN. One night rental of a 12′ rustic farm table and 12 mismatched chairs to be delivered to YOU! (Deadline is September 30, 2013. Available dates only.)
COMMENT TO WIN. EITHER HERE on the blog or you can comment over on RE Facebook page!
If you could host a party for 12, what type of party would it be? Do you already have a list of 12 that you could invite?
DO THE FOLLOWING. And come back and leave a comment letting me know.
Follow Rosewood Vintage on Facebook
Follow RE on Facebook
Share this giveaway to your local friends on your Facebook page.
Follow Rosewood Vintage on Twitter
Follow RE on Twitter
Follow Rosewood Vintage on Instagram
Follow RE on Instagram
Follow RE on Pinterest (Sandy Coughlin)
Take a quick peek at the Rosewood Vintage website
Pin one of these photos today to your Pinterest page.
You have 11 chances that you can WIN!
Good luck!
The delivery for the giveaway is free for local. (Within 15 miles of 97501), if the winner is outside of that area delivery charges will apply. Contest ends Friday at 11:59 pm PT. Winner announced on RE Facebook page Saturday, May 25, 2013. I was not paid for this post today; all opinions are my own.