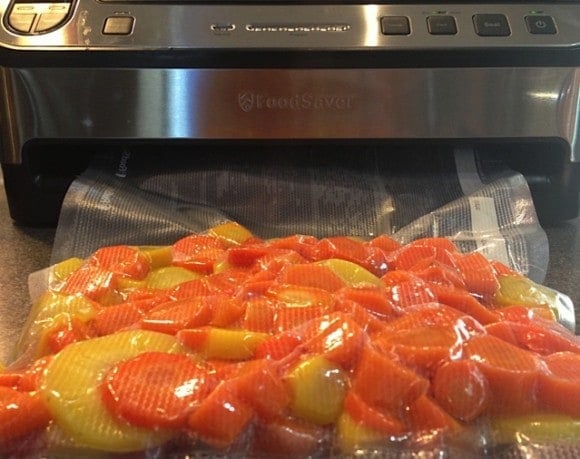 Earlier this summer, we harvested our carrots and froze them using the new FoodSaver system. I knew the time would come, when entertaining, that I'd be able to pull our beautiful homegrown produce from the freezer, to serve to our guests. This post is sponsored by the FoodSaver brand, rated the top-performer of vacuum sealing!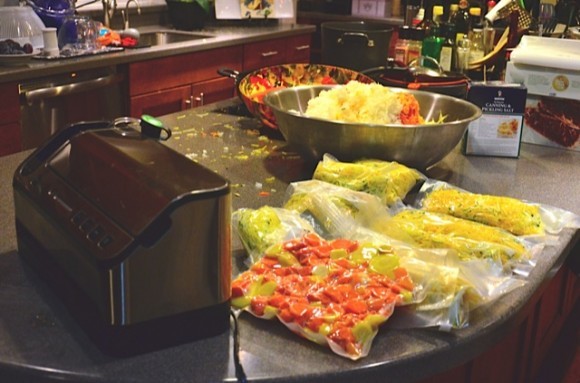 Using a FoodSaver this past summer was a brand new concept for my husband and me, and because of all the gardening we do, we were excited to try this new product!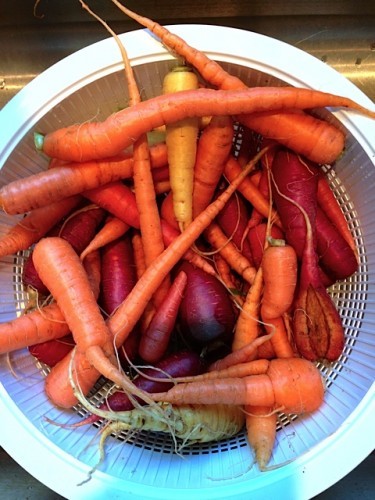 We had heard that freezing food this way keeps it fresh up to 5x longer than freezing in containers or zipper bags (which is what we've used in the past).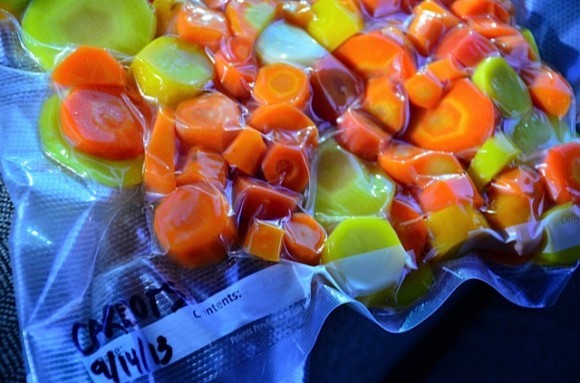 You also can save up to $2700 a year on your food bill by reducing waste (and freezer burn), buying in bulk, and on sale. And one more point: As I've browsed through Costco this holiday season, I've seen the exact FoodSaver product there. Seriously, I wanted to stand next to the sealer and point it out to shoppers: Buy this! Buy this!
Our carrots turned out beautifully. I blanched them first, cooled, and then froze them using the FoodSaver system.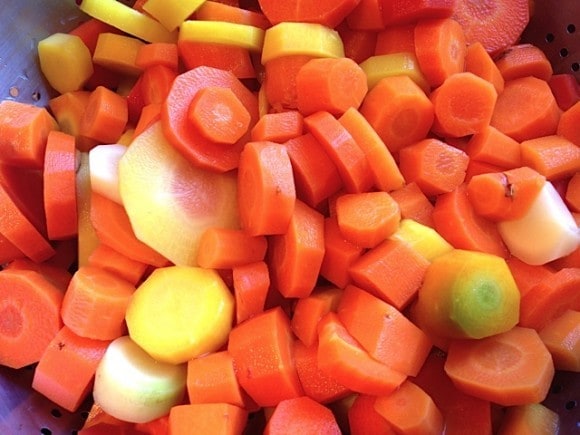 For my first entertaining moment, using carrots preserved this way, I couldn't have been happier.
For our guests I made a delicious pork loin, sweet potatoes cut in half (rubbed with olive oil and sea salt, and baked), and Sweet Orange Carrots. My guests were delighted, I couldn't have been more thrilled bringing our garden to the table–in November!
And our guests left with full, happy tummies.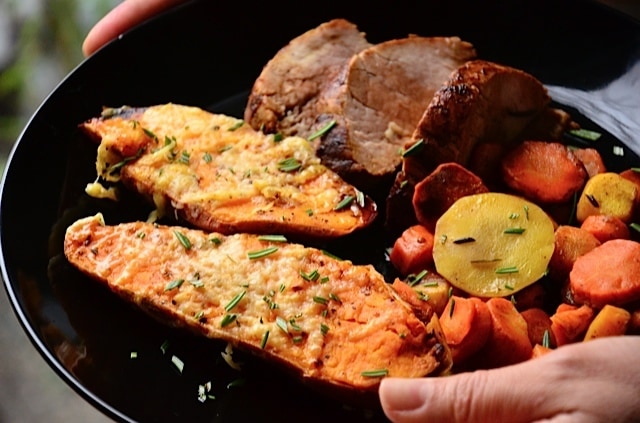 Next summer I plan to use it as much as I can. I plan to roast tomatoes and freeze them in small quantities for bruschetta and easy appetizers, and tomato soup.
Here are the cool details, because friends, I'm giving away one of these today to ONE LUCKY WINNER!

2-in-1 Sealing System
Built-in retractable handheld sealer seals zipper bags, canisters, containers and marinates food in minutes
Fully automatic operation
Moist/Dry food settings for optimal sealing
PulseVac™ button allows you to seal delicate foods without crushing them
Convenient roll storage and bag cutter
Pull-out drip tray drawer with patented, removable, dishwasher-safe drip tray
Extra-wide sealing strip creates a secure air-tight seal
One-touch marinate and accessory modes
5-year Limited Warranty
Product dimensions: 15.88″L x 5.75″W x 7.19″H
For an early Christmas giveaway to one of my readers, wouldn't YOU love to WIN one of these FOODSAVER® 4800 SERIES 2-IN-1 VACUUM SYSTEMS?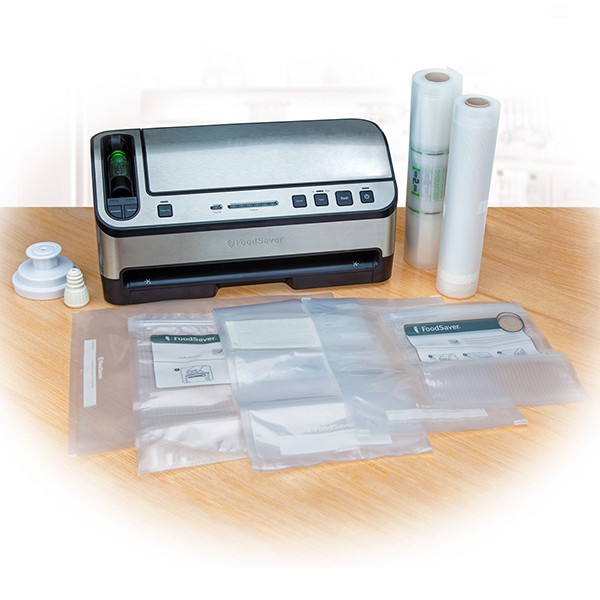 Giveaway:
FOODSAVER® 4800 SERIES 2-IN-1 VACUUM SYSTEM
VALUE: $169.99 – $199.99
COMMENT: What top 3 items would you use this appliance for?
LIKE & FOLLOW: Reluctant Entertainer and FoodSaver on Facebook and Pinterest
SHARE & PIN: Share this post on Google+ and pin to your Pinterest boards
TWEET:
Come win a @FoodSaver for your Christmas! @SandyCoughlinRE http://bit.ly/1bskgCb #giveaway
Contest ends 12/4/13 at midnight. USA residents only, winner will be announce on RE Facebook page on 12/5/13.
This post is sponsored by FoodSaver, as they provided me with this product. As always, all opinions are my own.