No Apologizing – Don't Plan for Perfection & Crusted Pepper Prime Rib
This Crusted Pepper Prime Rib Recipe is the perfect holiday main dish to serve at any party, casual or elegant!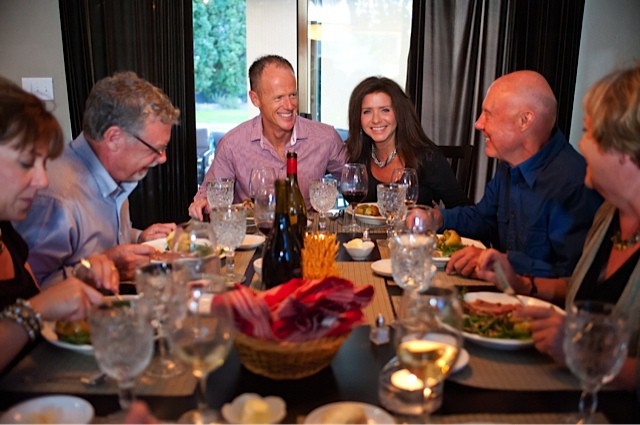 Unrealistic expectations can quickly steal our joy. So when it comes to preparing a 4-5 course meal, realize there will be some mistakes.
Strive to make things excellent, not perfect,–is my motto.
Every time I make my prime rib, I wonder if it's going to be "cooked to perfection." Because everyone's oven heats differently, it's just best to get used to using a meat thermometer when cooking meat. Luckily I have a "count-it-backwards" method (bottom of post) that helps create the perfect prime rib!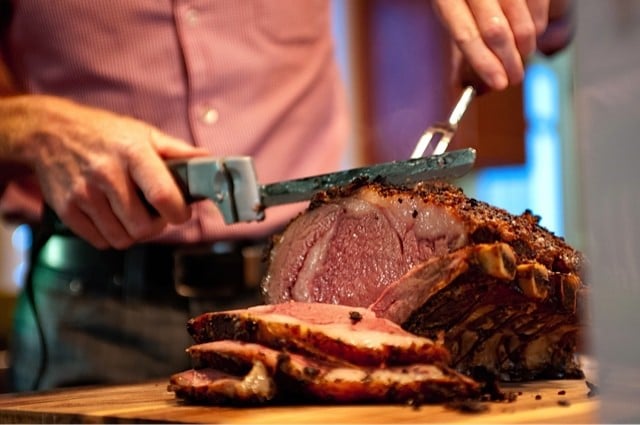 My husband is a sweetie. He always grabs the knife and cuts the meat. This time it actually did turn out perfect, but there have been times when the meat has been overcooked.
What to do when things are not perfect
Let's say the meat comes out of the oven overcooked. You don't have a lot of options. Can you add sauce?
If the meat is undercooked, you have several options:
– Put it back in the oven for another 20-30 minutes; push dinner back.
– Slice and microwave on the platter.
– Ask your guests who like rare, medium, etc. Slice from the outer sides of the meat for medium cooked, and toward the center for rare.
But honestly, most the time, just serve the meat! Don't say a word, and people won't care.
I also remember at this dinner party serving the main course to our guests and looking at the plate and wishing I had put smaller rosemary garnishes on the platter. We were rushed to get the food to the table while it was hot, so we just grabbed what was on the counter.
It seems every time I entertain, I see something I "missed." But I'm learning to not be hard on myself anymore. It's hard being a hostess and a food blogger. You can't always capture the "perfect" picture when your guests are waiting for their food!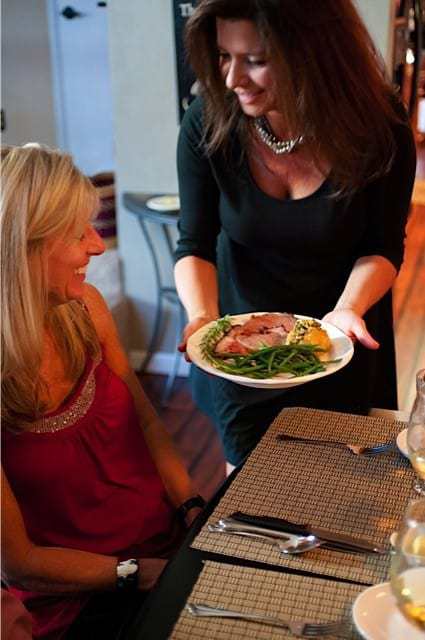 What your guests will think
I will guarantee that your guests will never remember the doneness of the meat that you cooked at your holiday event. The garnishes on the plate. Or the state of your house.
They will probably remember the people who were there, maybe even the conversation if it was impacting. Possibly the music and the ambience.
I realize that when we entertain, we visualize a perfect day–with perfect people, perfectly cooked food, angelic kids–but it isn't reality.
So this is my challenge to you (and myself): How about catching yourself and your attitude and changing your way of thinking?
Unless you're a chef with amazing skills in the kitchen, you'll probably be just like me–making many mistakes, over and over.
Do you struggle with your cooking or your house having to be perfect? What has helped you to realize that you're miserable when you think this way?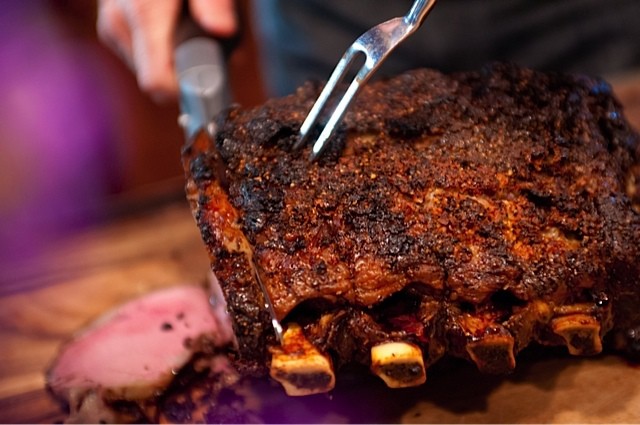 Crusted Pepper Prime Rib Recipe
Yield: 8
Prep Time: 15 mintues
Cook Time: 4 hours
Total Time: 4 hours 15 minutes
Count-it-backkwards Method - Sample formula for cooking an 8 lb. roast, to be served at 6:30 PM:
10:45 am - Put roast on the counter for 3 hours
1:45 pm - Cook roast 30 minutes at 450 degrees
2:15 pm - 8 lbs. x 30 minutes per lb. = 4 hours at 200F
6:15 pm - Remove roast from oven; let stand for 15 minutes
6:30 pm - Ready to serve
Ingredients:
1 8-lb. prime rib (rib roast), cut off the bone
1 cup mayonnaise
Sea salt (use a lot)
12-15 cloves garlic, pressed
Coarse-ground black pepper (use a lot)
Directions:
When you buy the meat, ask someone in the meat department to cut the meat off the bone and retie the roast for you. This will help make carving and serving easier.
Cover the roast with mayonnaise. Generously season the coating on all sides with salt. Pat the pressed garlic onto the outside and heavily cover with pepper. (No need to add garlic and pepper to the bone side.)
Rewrap the roast with plastic wrap and store in the refrigerator one to three days before serving.
Three hours before baking, remove the roast from the refrigerator and let sit on the counter.
Preheat the oven to 450F and roast for 30 minutes. Turn the oven down to 200F and roast for 30 minutes per pound. If desired, use a meat thermometer to check the internal temperature (130F).
Remove from the oven and cover with foil. Let stand for 15 minutes before serving.
Remove the twine and set the roast on a cutting board to slice. Serve with horseradish sauce.
Count-it-backkwards Method - Sample formula for cooking an 8 lb. roast, to be served at 6:30 PM:
10:45 am - Put roast on the counter for 3 hours
1:45 pm - Cook roast 30 minutes at 450 degrees
2:15 pm - 8 lbs. x 30 minutes per lb. = 4 hours at 200F
6:15 pm - Remove roast from oven; let stand for 15 minutes
6:30 pm - Ready to serve
(Always check your roast with a meat thermometer for doneness.)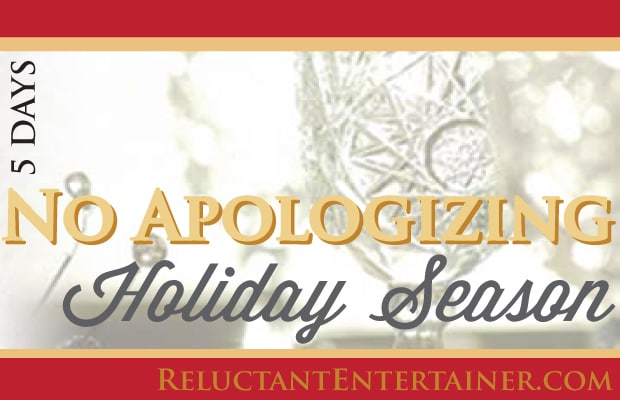 REVIEW all 5 posts and fabulous recipes:
Day 1: The Purpose of the Home, Roasted Grapes & Fresh Rosemary
Day 2: Culinary Mistakes and Beauchamp Orchard Salad
Day 3: Learning to be Authentic and Pesto Baked Potatoes
Day 4: Don't Plan for Perfection and Crusted Pepper Prime Rib
Day 5: Laugh at Your Mistakes with Holiday Poached Pears