Holiday Entertaining Giveaway with KitchenAid, Harry & David, and More!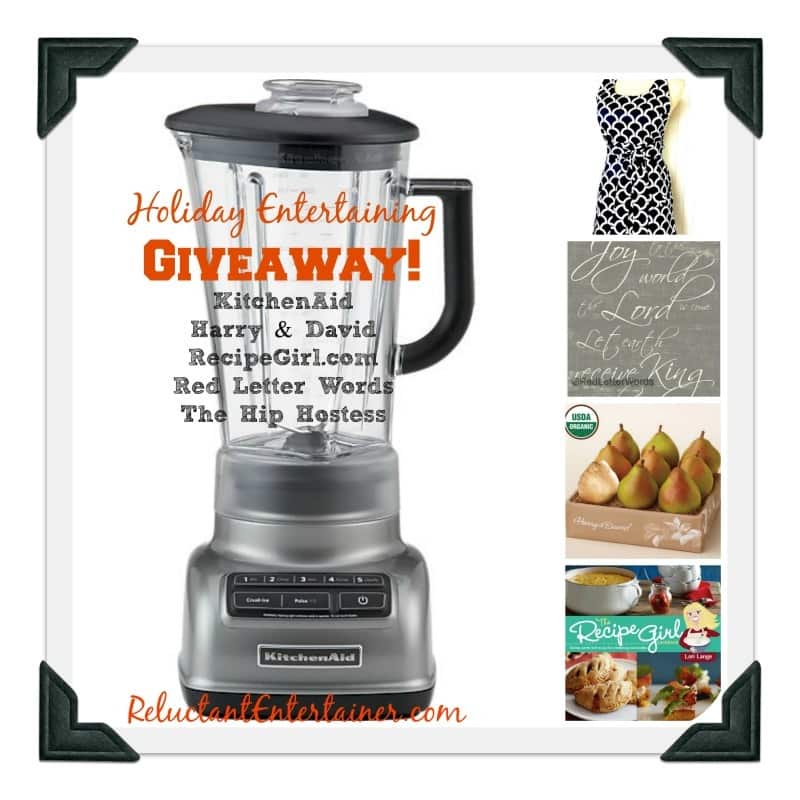 It's the most wonderful time of the year, the best season of giving, and a time for us all to step outside of our comfort zones and try something new.
To all of my wonderful readers here at RE, I am grateful for each of you, and I want to offer this amazing giveaway today to encourage YOU to host a REAL dinner party!
Giving of yourself, putting the time into planning the menu and creating a delightful party-a joyful time of celebration-making sure it all comes together for your guests, is what REAL entertaining is all about.
Entertaining is not showy, but down-to-earth, relaxing, rejuvenating, refreshing, and REAL.
I SO love cooking, sharing, decorating and entertaining this time of year.
Keeping simplicity in mind, here's how you can do it:
1. Blend a delicious soup, Butternut Squash Soup with Pancetta and Crispy Sage, and serve to your guests for a casual Soup Night with soup, bread, salad, and Dulce de Leche Pear Pie w/ Oatmeal Cookie Crust, using Harry & David's organic pears. Delicious.
2. Don't forget to wear your new Hip Hostess apron!
3. Make sure the spirit of Christmas is in the air with free Pandora music playing, and a NEW beautiful piece of wall art, Joy to the World!
Follow this delicious MENU:

Goat Cheese, Honeycrisp Apples, Honey & Rosemary Thins

Beauchamp Orchard Salad with Honeycrisp apples or pears

Butternut Squash Soup with Pancetta and Crispy Sage (recipe in Lori's book)

Pumpkin Biscuits or crunchy bread

Dulce de Leche Pear Pie w/ Oatmeal Cookie Crust (recipe in Lori's book)
ONE reader will WIN ALL of the following items:
–KitchenAid® 5-Speed Contour Diamond Vortex Blender (color stainless steel)
Need a blender that is reliable? Love this KitchenAid 5-speed blender that has an ultimate blending performance to stir, chop, mix, puree and liquify, with pulse 1-5 settings and a crush ice mode. It's great for pureeing and making very nice smooth soups! (Recipe above).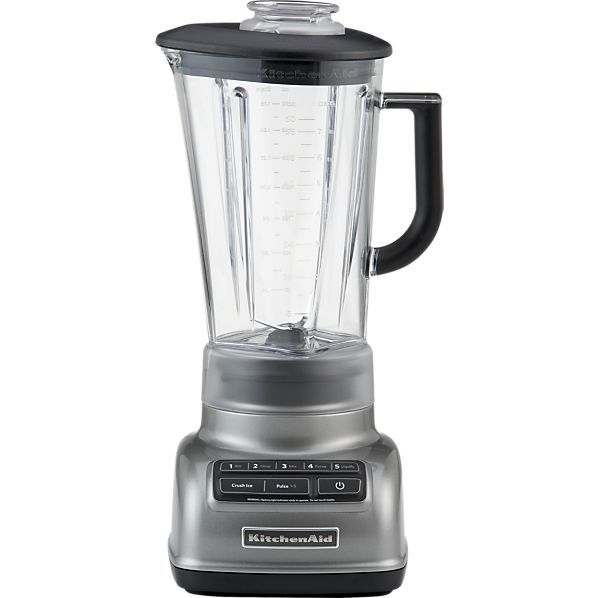 –The Recipe Girl Cookbook: Dishing Out the Best Recipes for Entertaining and Every Day
Lori's cookbook is amazing with an easy layout, delicious recipes (did you notice the soup and dessert above?), and for entertaining, she gives the gluten free option, too. You have to try her Dulce de Leche Pear Pie w/ Oatmeal Cookie Crust and Butternut Squash Soup with Pancetta and Crispy Sage recipes!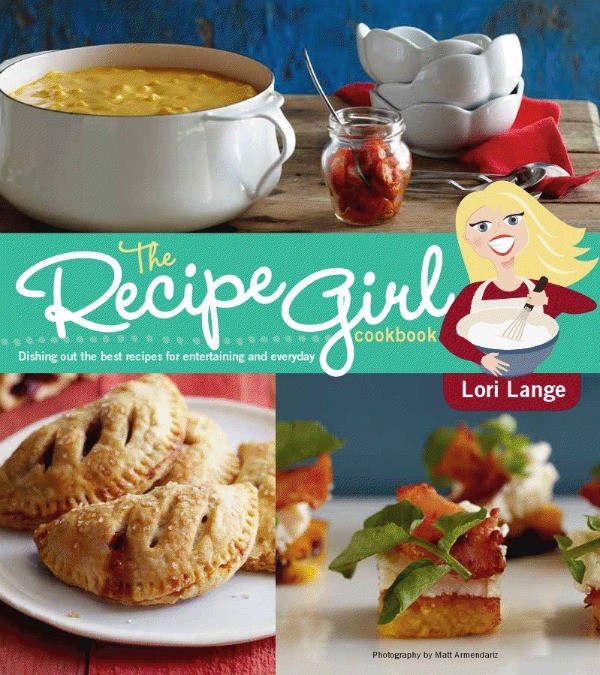 –Harry & David Organic Royal Riviera® Pears
This delicious box of pears, harvested and packed in accordance with the USDA National Organic Program, is an amazing gourmet organic gift to give, but also to make stellar recipes with, like the Dulce de Leche Pear Pie w/ Oatmeal Cookie Crust, or use the pears for delicious appetizers! You can also order or give a larger box, here.  And then top it off with a variety of organic fruit, Organic Triple Treat® Fruit Deluxe. So many choices … and great ways to give healthy gifts over the holidays, from the branch to doorstep!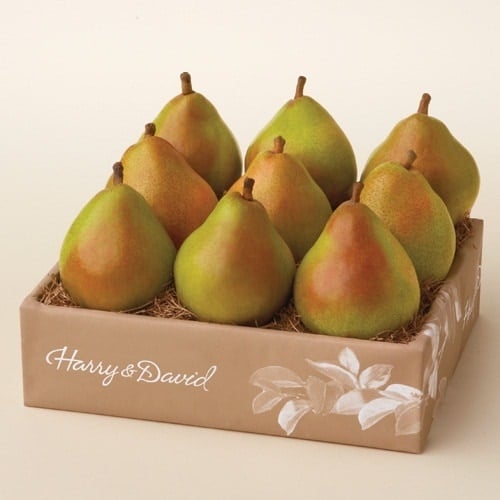 –Red Letter Words – 11×14 gallery wrap canvas – YOU PICK!
Dee's wall art with an "erased chalkboard" look, is modern and casual but with a vintage touch. They offer many beautiful pieces with scriptures, hymns and inspirational sayings to choose from, that speak to your heart. For Christmas .. in your dining room where you'll be serving your guests – sometimes the MESSAGE speaks louder than words. Visit Dee's site, here.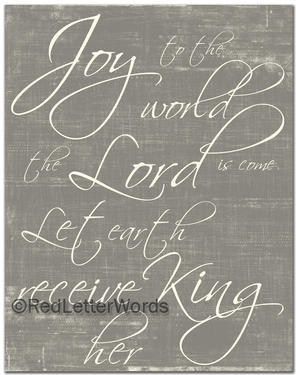 The Hip Hostess – beautiful sheath apron!
Debbie's beautifully sewn aprons will last for generations. Check out her Etsy shop, here. Tie one around your waste and get to work in the kitchen whipping up a delicious meal for your family and friends! She designed this apron with clean lines and simple design, using high quality fabrics with a kitchy cuteness. The button detail & scoop neck give this apron a chic modern look. A perfect gift for the hostess, or cook – if you're looking for gift ideas this season.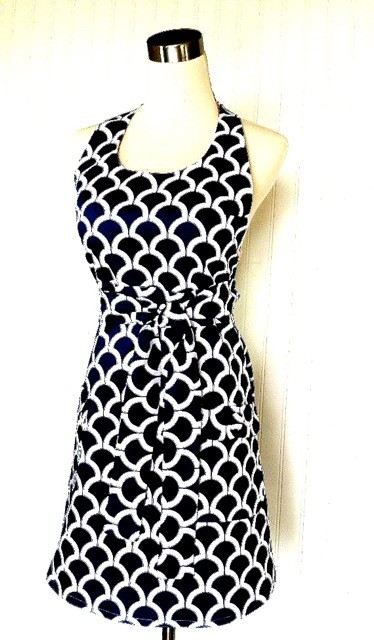 Holiday Entertaining Giveaway!
-ANSWER TO WIN:

What 2 things hold you back from down-to-earth, easy entertaining in your home?

-Like:
Reluctant Entertainer on Facebook , Pinterest, Instagram, Google+, Twitter

-Tweet this:

Holiday Entertaining #Giveaway @KitchenAidUSA @HarryandDavid @TheHipHostess @RecipeGirl @RedLetterArt http://bit.ly/1jqSl7y

-Share on the above social media channels and come back and let me know.
You will have a total of 13 chances to win if you do all of the above. The only requirement for the giveaway is to answer the question! USA entrants, only. 5 days only! Contest ends  12/13/13 at midnight PT.
Red Letter Words, KitchenAid, The Hip Hostess, Harry & David, and Recipe Girl all provided product for the giveaway. Thank you loyal sponsors!