Mexican Slaw Dip Recipe and Easy Potluck Dishes!
Today I'm sharing a delicious Mexican Slaw Dip recipe, made with Garden of Eatin'® chips, which I'm a part of their #ChippedChallenge campaign.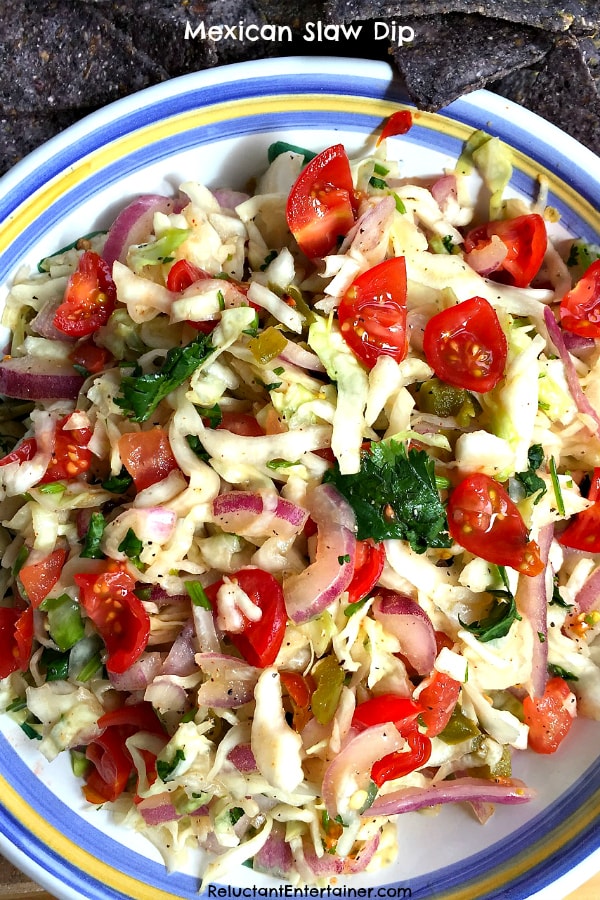 Friends, from a recent crowdsource challenge at the Garden of Eatin' Facebook page, I'm excited to write about the winner of the topic of this post today: Easy, exciting and delicious potluck dishes!
Sharing food is an important aspect of many get-togethers, and a potluck dinner party is one way to include all the guests who are coming. This means we invite them to participate in the menu. :)
Potluck parties have been around for a long time, and in our home, it's been an easy way to entertain. They really relieve the stress of the cost of putting on an entire meal by yourself, which is why I think so many people choose to not entertain! I particularly love it when my guests bring a dish (yes, some of my friends are amazing cooks!)
As potlucks gain popularity, I think we all remember the potlucks we grew up with (jello and potato salads, chicken, lasagna, pizza, lots of whipped topping desserts), and we want to change it up, by making the meal a bit healthier, and not so heavy! So here are a few of  my ideas:
1. Set a theme. Mexican.

Mexican is always a safe, easy, healthy, and delicous menu (and theme) to plan.

2. Have guests commit to a course. Delegate.

When it's your potluck party, write out the menu, then assign the dishes to your friends. That way you won't end up with 3 pans of enchiladas, or 4 7-layered bean dips! Once the responses have come in, ask several friends to each bring a main course, salad, appetizer, or dessert. Someone will always change it up at the last minute, but having some idea of what to expect makes an actual meal with courses more likely.

3. Have backup dishes ready. Be prepared.

As the host, I find it easier to pull together the main course and have an extra pan of enchiladas ready, which helps bridge any gap in courses, or cover not having enough food at the last minute. I also like to prepare a dish, by doubling the recipe, that can be served as a dip or a side salad.
Mexican Slaw Dip.
My Mexican Slaw Dip recipe is fabulous for this! It's a dip, side dish, or can be used on top of any Mexican main dish. I love a versatile dish that everyone enjoys!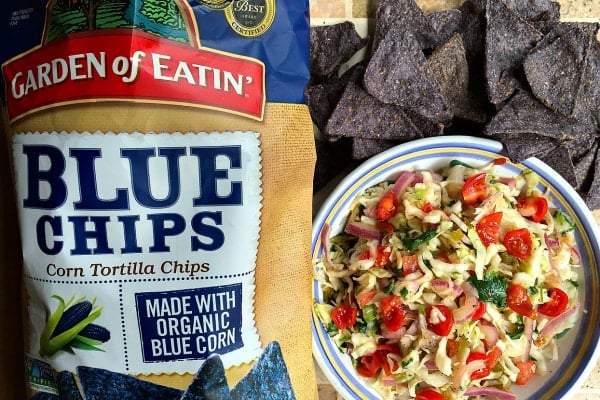 I made this at a recent gathering, serving it with Garden of Eatin'®'s Blue Corn Tortilla Chips.
Garden of Eatin'® chips are made with organic ingredients, and if you have not tried them yet, they are durable and they do not break when you try to dip the chip. Know what I mean? Also, each bite is so deliciously sweet and good!
By the way, all Garden of Eatin'® chips are made with Whole Corn Kernels. They do not contain any hydrogenated oils, artificial flavors, colors, or preservatives, plus they are kosher certified and gluten-free!
We also served on the side their Cantina Style, and Reduced Fat Yellow Chips flavors.
My ideas for Easy Mexican Potluck Dishes.
The first 5 dishes are perfect to serve with chips!
Appetizer: Blackeye Peas Fresh Corn Salad
Appetizer: Healthy 7-Layer Bean Dip
Salad (or dip): Mexican Slaw Dip (below)
Main Dish: Chicken Enchilada Soup (serve with cheese, sour cream, tomatoes, and chips on top!)
Main Dish: Creamy Salsa Chicken Tenders (serve with cheese, sour cream, tomatoes, and chips on top!)
Dessert: Galletas with Strawberries and Mascarpone Cheese
What are your best tips for a great potluck?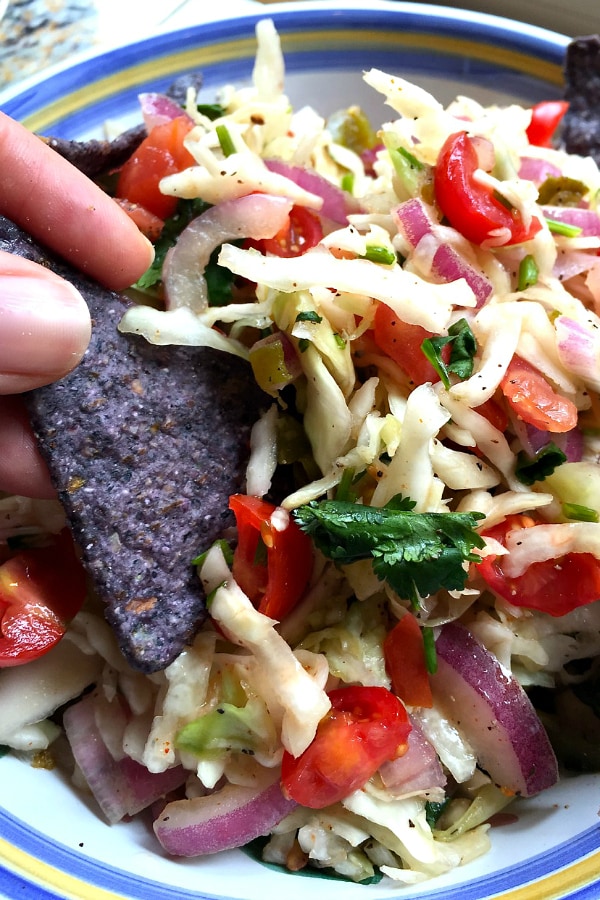 Mexican Slaw Dip
Prep Time: 15 minutes
Total Time: 15 minutes
This salsa will get better overnight as flavors meld, delicious for a dip or side salad, or served on top of an entree. Makes enough for a big party, 14-16 servings.
Ingredients:
1 head green cabbage, shredded
4 ripe tomatoes (I used grape), coarsely chopped
2 green onion, finely chopped
1 small white onion, coarsely chopped
1 small red onion, coarsely chopped
2 bunches cilantro, coarsely chopped
2 4 oz. cans jalapenos, chopped, do not drain
1/4 cup olive oil
3 Tbsp. rice vinegar
Kosher salt
Fresh ground black pepper
1 tsp. garlic powder
2 tsp. cumin
Directions:
Chop and toss all vegetables; mix together in a large bowl. Add the canned jalapenos, oil, rice vinegar, and seasoning; toss again. Salt and pepper to taste.
Let stand 30 minutes and enjoy with tortilla chips, on top of an entree, or as a side salad.
Other flavors.
Blue Corn Tortilla Chips – Made from organic blue corn, these chips have a hearty texture.
Sweet Potato Corn Tortilla Chips – Made with organic yellow corn and sweet potato, these have a natural sweet potato flavor you can taste in every chip.
Kale Tortilla Chips – Real kale and spinach in every chip. Made with organic corn, these chips showcase the kale and spinach in their beautiful green color.
Pumpkin Tortilla Chips – Real pepita seeds in every chip. Made with organic corn, these chips are infused with just the right amount of pumpkin for any snack break.
Cantina Style – Our The cantina chips are a thin, crispy, flaky restaurant style tortilla chips in a bag you can take home and share with friends and family, offered in Blue Chips with Sea Salt and White Chips with Lime.
Red Hot Blues Corn Tortilla Chips – A spicy twist on our sought-after Blue Chips, Red Hot Blues are made with a tangy touch of cayenne pepper to turn up the heat. Bold flavor with a serious bite!
Reduced Fat Yellow Chips – Made with organic yellow corn, these delectable chips contain 25% less fat than the leading regular tortilla chips.
–     –     –     –     –     –     –
This crunchy, crispy, "chipped" post is sponsored by Garden of Eatin'®, the #1 natural and organic tortilla chip brand, part of The Hain Celestial Group, Inc. As always, all opinions are my own!
Follow Garden of Eatin'® on Facebook.

Are you following me on Instagram, Twitter, Facebook and Pinterest? If you'd like to subscribe to Reluctant Entertainer, to have each post delivered straight to your e-mail box, then please add your email, here. It's really easy! Thanks for being here today!