Game Day Turkey, Pesto, Onion & Cheese Poppyseed Sliders
Last weekend we hosted 16 for the football game playoffs! We had a blast, ate good food, and enjoyed a beautiful sunny day in the Rogue Valley! (You can still enter to win $100 Coca Cola package, here.!)
That's Maddy. Go – 49ers!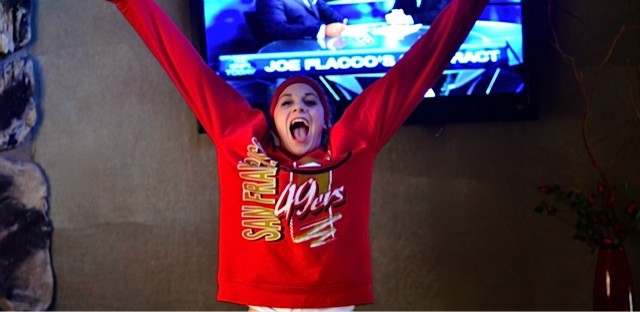 Our guests loved the sliders that we made. This recipe is great because the night before you can prepare them, cover with foil, and store in the fridge until game day arrives!
My hubby was right there in the kitchen with me.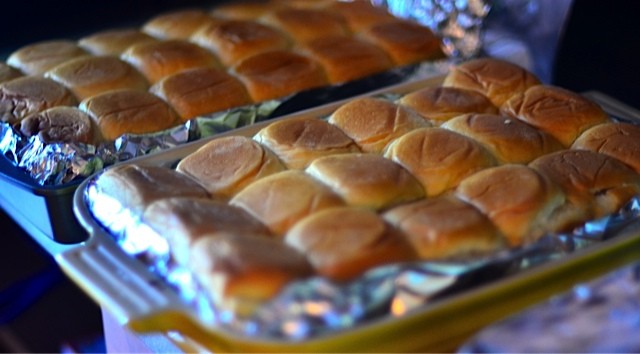 I like it when he cooks alongside me, because there's a deeper appreciation for the food we're eating! :) Oh, by the way, one of his favorite kitchen tools is the "electric knife."
Here's our iPhone photos of the process: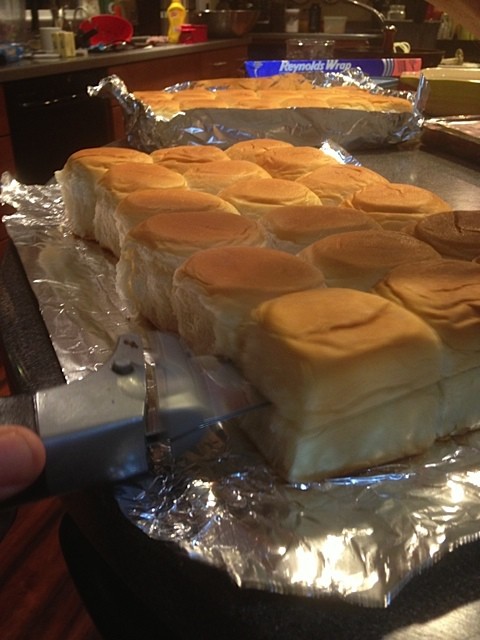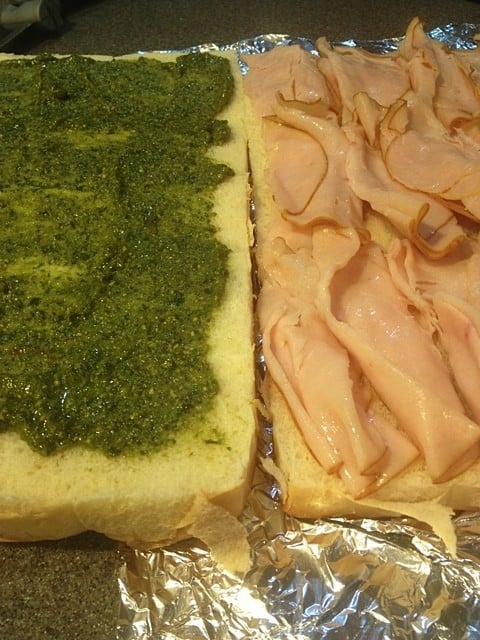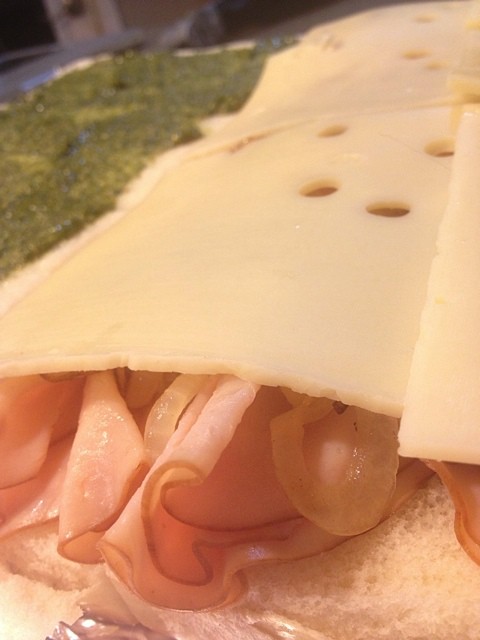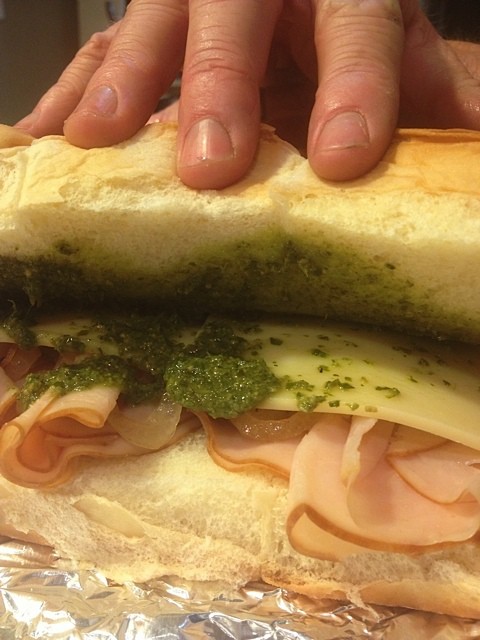 So as promised to my guests, here's our easy-peasy slider recipe!
You can only imagine the variety of ingredients to add to "make it your own," and that's exactly what we did.
1. One pan – easy! Ham and Swiss cheese.

2. The other – inspired by Costco's Turkey Provolone Pesto Sandwich, we made my own creation! Turkey, Pesto, Onion & Cheese Poppyseed Sliders!
There are 2 things that I think make this recipe: the Hawaiian sweet rolls, and the sweet poppyseed sauce!
If you decide to make these, make sure and come back and tell me what your favorite creation was!
And, did your guests devour them like mine did? :)
What is your favorite dish that you'll be making for the Super Bowl this weekend?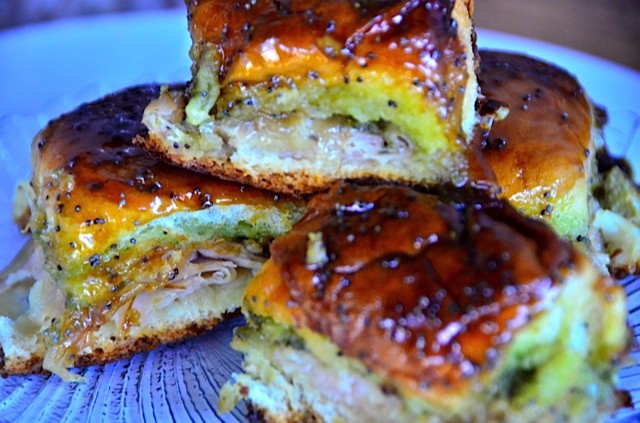 Turkey, Pesto, Onion & Cheese Poppyseed Sliders
Yield: 12 servings
Prep Time: 15 minutes
Cook Time: 30 minutes
Total Time: 45 minutes
TIP: Use an electric knife to cut the rolls in half horizontally! Easy! Make ahead of time and pour the sauce on right before baking.
Ingredients:
1 lb deli turkey thinly sliced
½ lb swiss cheese slices
2 pkg hawaiian sweet dinner rolls
1/2 cup pesto
2 Tbsp. butter
1 medium sweet onion, sliced and sautéed
½ cup butter
2 Tbsp prepared mustard
1 Tbsp Worcestershire
1 Tbsp poppy seeds
⅓ cup brown sugar
Directions:
Heat 2 Tbsp. butter in medium pan. Thinly slice the onion; sauté in the butter for about 5 minutes, or until clear and cooked.
Leaving the (24) rolls attached, horizontally slice the top off; set aside. Place the bottom (attached 24 pieces) rolls in a 9x13 foil-lined baking pan. (You may need to squeeze them into the pan, or remove a row if you choose.)
Spread the pesto evenly over the bottom bread.
Next layer on top of the pesto the turkey, sautéed onions, and cheese slices.
Place the top section of the rolls that you already removed back on top of the sandwich.
In a medium sauce pan bring the 1/2 cup butter to a soft boil. Add mustard, worcestershire, poppy seeds, and brown sugar.
Pour sauce over the 9x13 sandwiches.
Cover with foil and bake at 350 for 20. Remove foil and bake another 10 minutes.
Serve hot or cold.