Day 1. Why Entertain: The People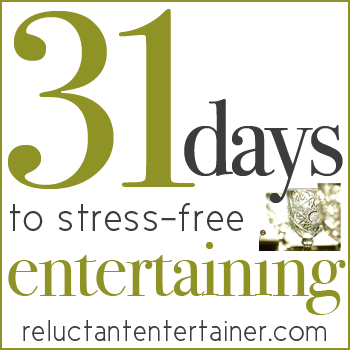 Today my 31 Days Series to Stress-Free Entertaining begins here at RE. I hope that you will be able to follow along every day, because I promise that you will be inspired with new ideas, and that you will be challenged in many new ways. Much of the "core" of my series topic is found in my new book.
You can also join these fabulous ladies in their thought-provoking posts – for 31 Days! And thank you again, Nester, for your brilliance and for inviting us all along …
31 Days to a Less Messy Nest – Nester, Nesting Place
31 Days to Grace – Emily, Chatting at the Sky
31 Days to More with Less – Jen, Balancing Bedlam and Beauty
31 Days to a Better Photo – Darcy, My 3 Boybarians
31 Days of Autumn Bliss – Melissa, The Inspired Room
31 Days of Living Simply – Emily, Remodeling this Life
31 Days to an Inspired Table – Kendra, My First Kitchen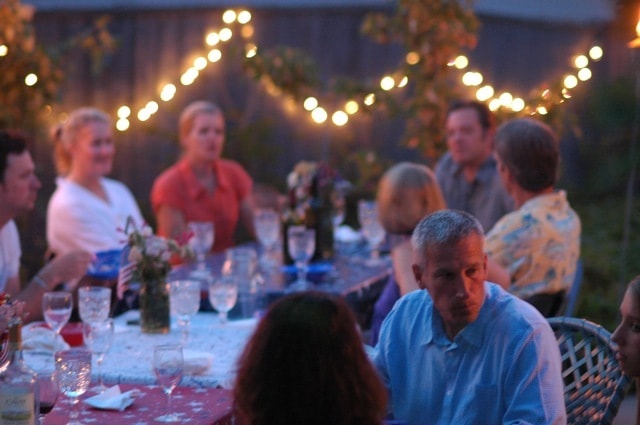 So what's the big deal about inviting people into our homes? Why does it even matter?
I explore this deeply in my new book, The Reluctant Entertainer. I have been receiving emails daily regarding how this book has helped many understand and realize what's been missing in their lives. It's encouraging to me when I read their stories.
This note came from a young mom: I thought of you on Saturday when we spontaneously had a family of 6 over for dinner. Simple meal – Shepherd's Pie and salad – but a good time was had by all. I don't think they are invited out much, they seemed hungry for connection. It was good for them and it was good for us. I feel like we are really getting back in the game after being on baby hiatus…
My answer is this. We long for soul connection with others. More importantly than a Martha Stewart event or a perfect table setting, we focus on those gathered around our table. For some it's a new way of thinking. To others, we've already experienced the joy that comes from melding our lives with others.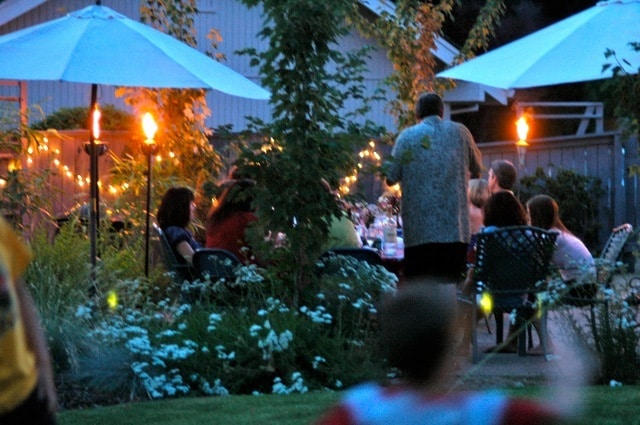 One example is the night when we took these pictures. Our kitchen was in shambles, in the process of a complete remodel, but we decided to invite 40 people over for a barbeque. We made different kinds of burgers and everyone else brought the side dishes. Even though my house was a mess (literally), we took the party outside and our guests stayed for hours enjoying one another's company.
What we need to think about is why do we entertain in the first place? The people.
It's been proven that hospitality benefits us in the long run because we will have healthier and longer lives than those who are lonely. – The Reluctant Entertainer
How can you, this month, have people in to your home and focus on them, instead of how you will be perceived as the perfect hostess?
(By the way, if you're looking for an Autumn-ness Delicious Sweet Potato Shepherd's Pie recipe that's good enough for company, here's the perfect recipe for YOU!)
Hello and welcome to my home and table!
I'm Sandy—lover of food, family, cooking, THE BIG BOARD, travel, and bringing people together. Through great recipes and connection around the table, we become better, stronger, and more courageous people. Feasting on Life is real, and every time we do it, we grow a little more. Read more...