Day 10. Space: Even a Cardboard Table Will Work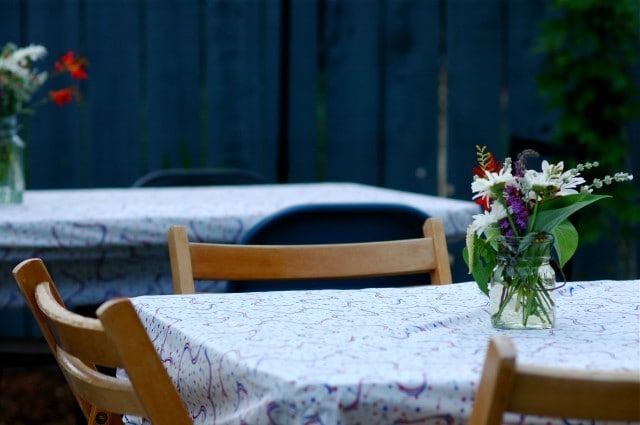 Wow! I can't believe we are 1/3 way through my "31 Days of Stress-Free Entertaining Series." I've really enjoyed my time here with all of my wonderful readers and the comments you have left. Thank you for being a part of this month of October with me, and with my other friends and The Nester, who came up with this fabulous idea. I'm learning a lot this month!
So what about space? I've heard for 4 years now that people just don't want to entertain because they live in an apartment, they don't have a decent table, their living space is too small inside so they only do "outdoor" entertaining, etc.
I do agree that everyone has their own comfort level. But space issues should not stop us from reaching out to others.
– Learn to transform even a cardboard table with a table cloth
– Mix-matched chairs work just fine
– Buy TV trays at a yard sale and sit in the living room
– Buffet-style entertaining is SO easy
If you can get over your "imperfect" space issue, you're on your way to good times. I promise you this.
I personally believe that "space" is a joy buster in entertaining. You feel defeated from the very beginning when there's a "spark" of wanting to invite people in, but your space is not "perfect." (Read about "perfect" here.)
Again, read through my book, The Reluctant Entertainer, and learn ways that you can overcome "joy busters" by decreasing anxiety and combating these fears with what's really important.
Get out of your mind that the space in your home is inadequate! Even in the smallest spaces, people all over the world are enjoying food and connection with one another.

Do you struggle with imperfect space issues in your home? Or, how have you overcome them?
More 31-Days …
Chatting at the Sky, Nesting Place, Balancing Beauty and Bedlam, My First Kitchen, Life With My 3 Boybarians, Remodeling This Life, The Inspired Room
Hello and welcome to my home and table!
I'm Sandy—lover of food, family, cooking, THE BIG BOARD, travel, and bringing people together. Through great recipes and connection around the table, we become better, stronger, and more courageous people. Feasting on Life is real, and every time we do it, we grow a little more. Read more...