Aggie's Kitchen Visits RE: Grilled Banana Boats!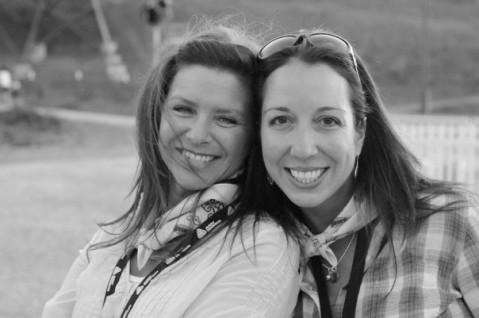 Hi there! This is Aggie, from Aggie's Kitchen…Sandy recently asked me to stop by and visit you all here at the Reluctant Entertainer, sharing with you one of my favorite recipes for summer! Sandy and I met earlier this year on a fantastic trip to Napa Valley with the folks over at Bush's Beans. That was an unforgettable trip for me, and I made some wonderful friendships with the people I met, including Sandy.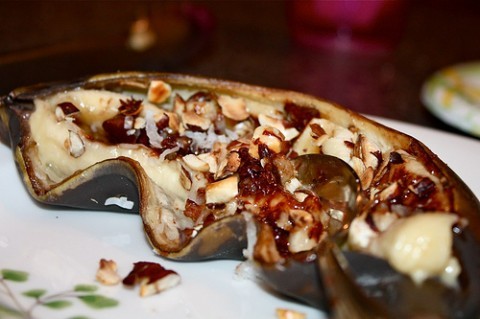 These Grilled Banana Boats are super easy to prepare and the ideas are just endless. They're perfect for those laid back summer evening get-togethers where your whole meal is prepared on the grill while you and your family and friends are lounging poolside or in the backyard. Everyone can get involved too…turn it into a "dessert bar" by setting out bowls of toppings like mini chocolate chips, candy bar pieces, caramels, coconut, nuts etc etc and presliced bananas (still in the peel – see directions below)….now that's my kind of entertaining!
Start of by laying your banana on its side, using a pairing knife gently slice through skin and banana making sure to not cut through to the other side. Once you've made your slice, tuck in your fixings. You can stuff them with whatever suits you…chocolate candy bars, chocolate chips, butterscotch chips, caramels, coconut, chopped nuts. The sound of it all is heavenly isn't it? Place them on hot grill over indirect heat and cook until soft and skins are black. You have to check on them and touch them a bit.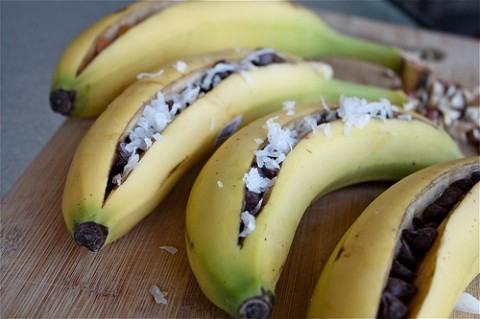 We used what we had on hand: chocolate chips, coconut and toasted and chopped hazelnuts. My young kids were not as excited as my husband and I were apparently the "melted" version of chocolate chips were not the same as the solid form. And for my daughter who for some odd reason does not like chocolate, I took a chance and tried butterscotch chips on hers. Nah. So, the hubby and I enjoyed ours and theirs and we were absolutely okay with that.
Would love to have you visit over at Aggie's Kitchen…stop by and pay me a visit sometime! :) Thanks for having me, Sandy!
What a fun summer treat and a cool entertaining idea! It's been a blast learning more about Aggie, her blog, her Italian heritage, and healthy cooking ideas and recipes! Plus, she's an awesome photographer!

Thanks for being here at RE today, Aggie!
Do you have a favorite recipe that uses bananas?
Hello and welcome to my home and table!
I'm Sandy—lover of food, family, cooking, THE BIG BOARD, travel, and bringing people together. Through great recipes and connection around the table, we become better, stronger, and more courageous people. Feasting on Life is real, and every time we do it, we grow a little more. Read more...