Intentional Entertaining and Butternut Banana Mash Recipe
This Butternut Banana Mash Recipe is a delicious and crowd pleasing side dish, especially for kids!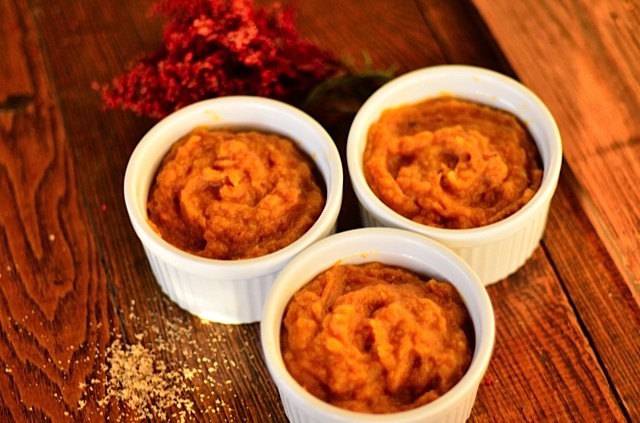 Last weekend we had some new friends over for dinner, and I couldn't wait to get to know them better.
I love intentional entertaining – being intentional with our planning and inviting – bringing people together with a purpose and a plan.
Sometimes that may mean wanting to introduce certain people to one another.
Or just wanting to get to know them better yourself.
So, what did I serve?
Yummy short ribs (recipe to come on RE), fresh asparagus, and the Butternut Banana Mash recipe that I'm sharing today.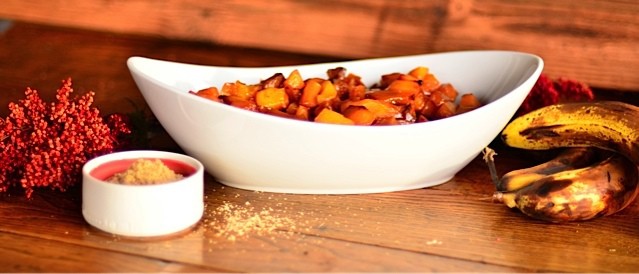 It was fun making this recipe up, as I had a few ripe bananas and 2 pounds of pre-cut butternut squash in my fridge – so why not combine them together? :)
The flavor was fantastic!
Oh, and how was our evening with new friends? It was well worth the time, effort, expense (it does cost extra for the family when you entertain!) for sure. But I did ask our guests to each bring an appetizer and the dessert, so they covered that portion of the meal for us.
Do you worry about the cost of entertaining, or do you feel free to delegate some of the courses?
Get the Recipe: Butternut Banana Mash Recipe
A crowd pleasing recipe, especially for kids!
Ingredients
2 lbs. butternut squash, cubed
2 Tbsp. olive oil
3 Tbsp. maple syrup
Sea salt
2 bananas, ripe or overripe, mashed
1/4 cup brown sugar, optional
3 Tbsp. butter, melted
1/2 tsp. cinnamon
1 tsp. vanilla
Instructions
Preheat oven to 400 degrees. Place cubed squash in baking dish; drizzle with oil and maple syrup. Lightly salt.

Roast the squash, stirring occasionally, for about 20 minutes, until soft; cool.

In a food processor, combine the squash and the rest of the ingredients and mix well. The brown sugar is optional, depending on how sweet you like the mash.

Heat and serve.
Hello and welcome to my home and table!
I'm Sandy—lover of food, family, cooking, THE BIG BOARD, travel, and bringing people together. Through great recipes and connection around the table, we become better, stronger, and more courageous people. Feasting on Life is real, and every time we do it, we grow a little more. Read more...