California Dreaming with Recipe Girl's Spinach and Cheese Stuffed Manicotti
RecipeGirl's Spinach and Cheese Stuffed Manicotti is a great recipe to prepare ahead of time, then pop in the oven when the guests arrive!

In beautiful San Diego, a few weeks ago, a few blogging friends and I met and spent some time with Lori from Recipe Girl (who has a brand new cookbook out – we are so proud of her!) You may remember, I hosted a giveaway and posted her Upside-Down Brown Butter-Banana Cake recipe. My family was crazy about that recipe!
It's fun to get to know other bloggers, and over the years many of us have traveled on various trips together. It's really a treat to visit them in their homes and their kitchens! I love Robyn's "In the Kitchen" series that she writes on her blog, Add a Pinch, with thoughtful interviews with other bloggers. She wrote a beautiful post on Lori, here. Good job, Robyn!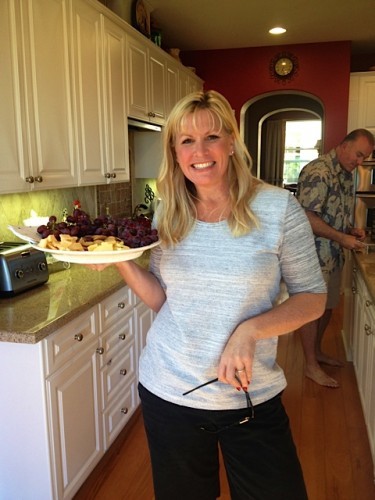 When we flew in to San Diego, and got to Lori's home, we enjoyed some mighty tasty appetizers and drinks. It was a typical sunny California day. Seriously, I could live there. SUNSHINE!
Good times with Heidi, Lori, and Carrie.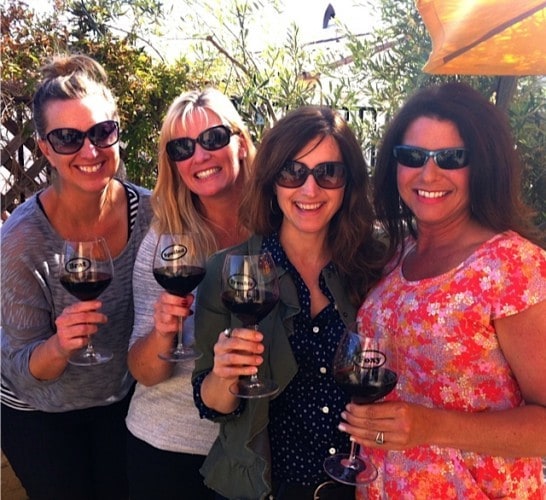 And then she treated us to one of her recipes from her new book for dinner – Spinach and Cheese-Stuffed Manicotti. You can also find this recipe, here. (Yum!) I love Lori's recipes because she tells you how to lighten them up (calories), change them up, as in what to substitute, if they are gluten-free, dairy-free, or vegetarian. Brilliant!
This particular recipe is vegetarian with spinach and other cheeses. Manicotti is fun because you can really make it your own and have fun with the ingredients!
Lori is quite the entertaining gal. We sat in her formal dining room and her family ate with us. I love family-style meals. We got to know her husband and charming son, Recipe Boy!
The next day, before we left for the Big Traveling Potluck, we hiked down at Torrey Pines State Park.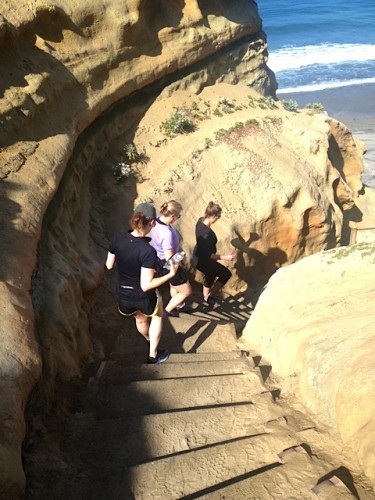 Beautiful – perfect weather.
We had a little excitement along the way, when a rattlesnake decided to scare the bejevies out of us.
California dreaming. Love that song, even though it is about the winter months! :)
Lori for sure has hospitality down. You can tell she's a pro – and she practices exactly what she writes about on her blog, and her book.
Thank you for your hospitality in sunny California, Lori!
What's your favorite "spin" on making manicotti?
Hello and welcome to my home and table!
I'm Sandy—lover of food, family, cooking, THE BIG BOARD, travel, and bringing people together. Through great recipes and connection around the table, we become better, stronger, and more courageous people. Feasting on Life is real, and every time we do it, we grow a little more. Read more...