Concept of Giving: Yourself, Your Time!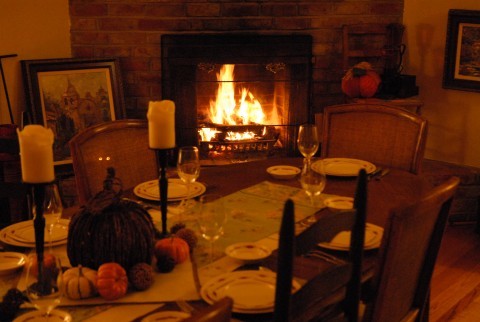 Meet my Guest:
Adelle from ready … GO! … get set …
I am so giddy to be featured on Reluctant Entertainer today! Don't you just love Sandy? She is just about the cutest thing ever. Sweet, generous, talented, and her photos are to die for. I'm kind of embarrassed to even show my own photo…

I discoved Reluctant Entertainer through the highly-sophisticated means of a broken link. In checking a "Tiny URL" I just made, I found not my post, but one of hers. Immediately caught by the title, I started reading, and in her lovely photos and encouraging words I found a kindred spirit.

Anyhoo…Sandy asked me over here to share with you a challenge I accepted recently, to write about the concept of giving:
Give of yourself. Give of your time. Give something to someone else. Make it meaningful. Now write about it.
This challenge needled me for days. What does giving really mean? What does it to do the giver? To the one who's been given? Over the course of one long night, I came up with a few thoughts:
Act of Giving
The first thing that came to mind was the act of giving graciously – unexpectedly – undeservedly. A few years ago, I wrote about how it felt to be the giver. The gracious giver. And, how it probably feels to God to give that way to us.
Receiving Grace
Second – how hard it is to be the recipient of such grace! It's a true lesson in humility to allow that kind of grace, to accept it, revel in it, and rejoice in it. Acting in the role of recipient is really hard for me. I don't deserve it, I can't usually return the favor. My own personal experience with receiving grace: Lessons Learned.
Hospitality
Third (I think this one is Sandy's favorite): one of the easiest ways to bless someone else is to invite them into your home. Hospitality is a dying art – we are so caught up in our supposed need for perfection we're afraid to swing wide the door and welcome others in! On a recent Friday a friend I see far too little called and invited us to dinner. She hadn't prepared a thing. The cheerios from breakfast were still on the floor. She stopped by good ol' Trader Joe's on the way home and we all arrived together. My kids were school-smelly. (I wasn't at my dinner-guest best either.) Within minutes the wine was poured, the feast begun, and much joy and laughter were passed along with the dishes around the table.
It takes Courage
Friends, it took a lot of courage for her to extend that invitation. She is a recovering perfectionist, just like me. But my family and I were SO blessed by her hospitality. The tablecloth was wrinkled but did that matter to me? Not at all. What I will remember is the laughter and the communion. The fellowship and the sharing. The connection with others, in their own space, in their home.
I challenge you – just do it. It's not that hard.
My Story
Lastly, with giving there is serving. 15 years ago I was a lost, lonely young woman, just out of college, living in a different country (ok, ok, different state). I had left my family, the world I knew, my friends and my home church behind. Everything was different. The church I found was different. I didn't like their singing. The congregation was too small. I floated in and out on Sundays for a few months, like a ship without a rudder. Adrift. I knew I couldn't keep on like that. Something had to change.
Volunteer
What did I do? I volunteered to serve. I jumped in, started teaching a class of middle school girls and began to have fun. I made friends. I belonged. I was part of a community once more, and suddenly all the things I didn't like didn't matter any more. I spent three years teaching, helping out in Children's and Student Ministry at that church, and was richly blessed by the experience.
In serving, I was served. Giving my time gave me so much in return.
So, there you have it. I challenge you – give something back this week! And tell us about it…
Have you been blessed by gracious, undeserved giving?
How have you been able to bless someone else with unexpected hospitality?
How have you been blessed by the opportunity to serve others?
Note from Sandy:
I am honored to have Adelle's beautiful writing on my blog today. The first time I read her blog, ready … GO! … get set …, I felt the kindred spirit connection. She is such a talented girl, and we definetly share the same heart when it comes to hospitality. A few months ago we almost met up in the Bay Area, when my daughter had a violin concert there, but it didn't work out. I believe one day we will meet … That is what I love about blog-land. I've met some of the most wonderful people. It's been a way to connect with like-minded women who share the same interests. So if you have the time, here are a few past "guest posts" from some of my dearest friends!
Fiona, What's in your Hand?
Emily, Allowing the Present to be Imperfect
Kimba, Good Company and Chocolate Chip Cookies
And thank you, Adelle! You've blessed all of us today!
(Friends, don't forget to participate tomorrow in Home is ... and share what's on the walls in your home! Art, family photos, you name it! Have fun … Grab my button and link up here at RE!)