Day 14. Flowers or Weeds: Lovely Work of Art!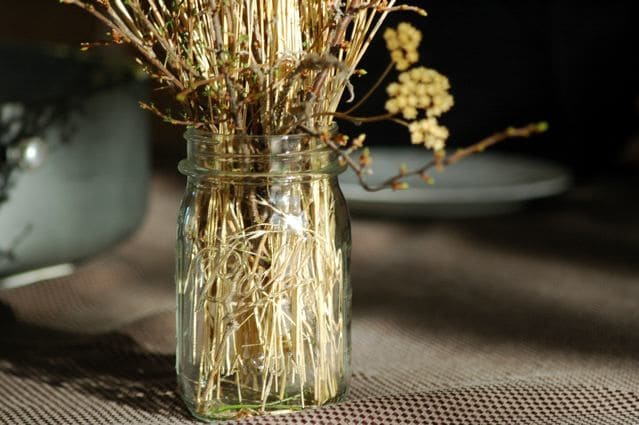 I love entertaining. And I really appreciate the different seasons in which we can create a lovely table setting. My table settings are so simple, one might even criticize me for being too simple.
I always think ahead to what I want my table to look like. I use what I already have and come up with a simple plan. The idea is to not get stressed-out over "the look." Most of the time the guests will not even notice. Can you believe that? All the work you seem to put into having a dinner party, and the guests walk away and 2 weeks later probably won't be able to tell you the details of how your table looked.
We worry way too much about things that do not matter. We live in an image-driven world that derails us. We get sidetracked, limited, and suckered in.
A year ago we were over at the High Desert at our friends' house, which they generously shared with us. My daughter and I went on a walk and we created the table centerpiece from some weeds. We added them to a canning jar that I had just washed out.
Our lovely work of art!
Whether it be your piece of creativity, or your children's work of art, I'd love to hear of your most simple, classy, inspiring, creative centerpiece – one that surprised you with little time it took to make?
You know mine. Weeds in a jar. Candles will do. A single bud. Tree branches or garden herbs!

And friends, if you're just joining in today, here are my previous 31-Day posts of this series that I am blessed to be a part of. I also want to introduce to you Kendra, from My First Kitchen, who is sharing for 31 days about The Table. If you can, catch up with her posts thus far. YOU will be INSPIRED.
Day 1. Why Entertain: The People
Day 2. Perfectionism: Learn More About Yourself
Day 3. Mistakes Happen: Think up Plan B
Day 4. Inviting: Is it Really an Art?
Day 5. Actual Invite: How Do You Do It?
Day 6. Help: They Won't RSVP!
Day 7. The Dinner: Theme or No Theme?
Day 8. The Menu: 3×5 Card System
Day 9. The Menu: What's in Season and Bush's Beans Peach Pear Salsa
Day 10. Space: Even a Cardboard Table will Work
Day 11. Stress-Free Entertaining: Forget It! We have Kids!
Day 12. Money-Honey: I Don't Have the Stuff
Day 13. My Ten Commandments: Print, Use, Share, Love
And my lovely, talented 31-Day friends …
Chatting at the Sky, Nesting Place, Balancing Beauty and Bedlam, My First Kitchen, Life With My 3 Boybarians, Remodeling This Life, The Inspired Room
Hello and welcome to my home and table!
I'm Sandy—lover of food, family, cooking, THE BIG BOARD, travel, and bringing people together. Through great recipes and connection around the table, we become better, stronger, and more courageous people. Feasting on Life is real, and every time we do it, we grow a little more. Read more...