Day 18. Pantries and Aprons: Organized and Useful – RE Book and Apron GIVEAWAY!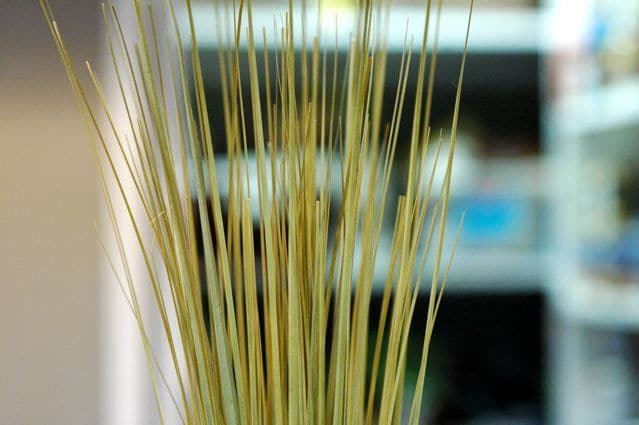 Pantries can take on a variety of shapes and sizes, depending on the space your kitchen affords you. A pantry can be anything from a single kitchen cupboard to a freestanding hutch to a spacious walk-in-closet – or even some dedicated shelves in the garage. Sometimes we have to think outside of the box!
Mine, as you can see by this picture, has swinging doors. I wanted to be able to move in and out freely, in case my hands were full. I love my swinging pantry doors! (Read about the wall that my pantry is on in my kitchen, with black and white pictures frames of food and family.)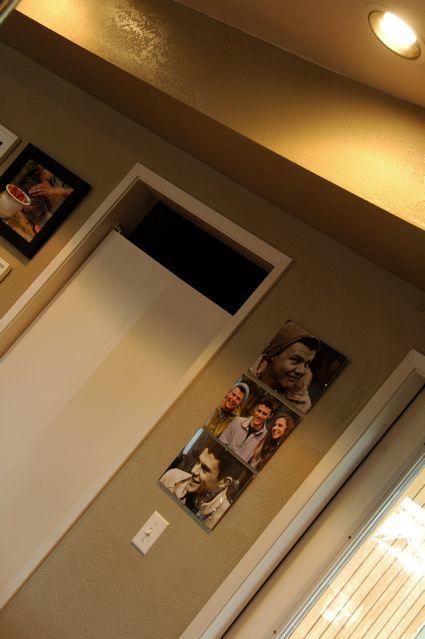 The secret to an effective pantry, whether it's large or small, is keeping it organized. Because it defeats the whole purpose of being "prepared" when planning a dinner party, when you let your pantry get out of control. The Nester is doing a whole series this month on 31 Days to a Less Messy Nest, and I'm telling you – she is the Organized Queen. I need her to come whip me into shape :) One year ago we completed our kitchen remodel and I had everything neat and tidy, and it was so easy to find what I was looking for. But one year later, it's time to pull everything out and put it back in, check for dates, and wipe down the shelves. This will be a job that I will probably accomplish after the holidays, and I'll share more in detail at that time. (Unless I can talk Nester in to coming out to see me in Oregon!)
A well-stocked pantry means different things to different people — depending, in part, on how much you entertain and how many people live in your home. And we all know that pantry perspectives change over time as our families grow and change. -RE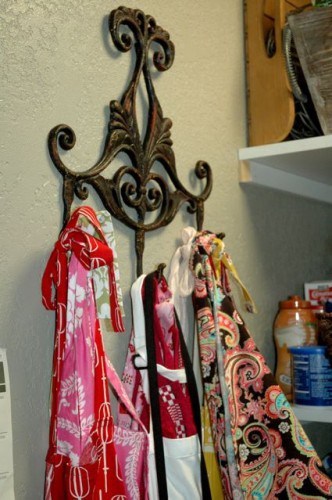 In the meantime, my pantry is not over-sized, but it meets my needs. And one thing I love is that I have my Hip Hostess aprons hanging and accessible for use – right in my pantry! Easy to quickly tie one on!!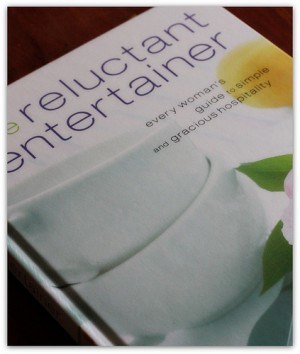 The Giveaway …
Today Debbie from The Hip Hostess and I are teaming up to give away a beautiful Hip Hostess Apron AND a copy of my new book, The Reluctant Entertainer. This makes a beautiful giveaway and I am so grateful for all of the 31-Day readers who have joined me in this series.
-COMMENT to win by telling Debbie and me if your pantry is organized. Or share any tips on how you keep it organized!

-You will be eligible to win a COPY of The Reluctant Entertainer plus a beautiful HIP HOSTESS apron! Both, just in time for holiday entertaining.

-Please feel free to TWEET, FACEBOOK, or POST on your BLOG for a second entry. You will need to come back to tell me.

-The winner will be posted on Wednesday, October 20th.

-Contest is open to USA residents only.
(I want to show you this adorable, sweet cafe-style apron that my daughter just opened last night for her 14th birthday. It's called Blonde Martini – and she loved it!)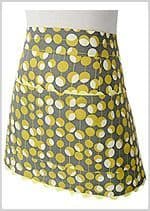 Good Luck to all!
Join my wonderful 31-Day Friends in this series during the month of October.
Chatting at the Sky, Nesting Place, Balancing Beauty and Bedlam, My First Kitchen, Life With My 3 Boybarians, Remodeling This Life, The Inspired Room
Hello and welcome to my home and table!
I'm Sandy—lover of food, family, cooking, THE BIG BOARD, travel, and bringing people together. Through great recipes and connection around the table, we become better, stronger, and more courageous people. Feasting on Life is real, and every time we do it, we grow a little more. Read more...