Day 8. The Menu: 3×5 Card System
This post could be 10 posts within itself. There are so many ways to come up with a menu for a dinner party (again, ideas and recipes explored in my book, The Reluctant Entertainer), but here are a few ideas – food for thought:
– Copy ideas and recipes from someone who is a mentor to you (ask if they will share)

– Take your favorite cookbook and choose your whole menu from that one cookbook (to streamline)

– Buy Take-Out

– Make your "tried and true" recipes that you already have mastered
By chance did you read about my easy system using 3×5 recipes cards in my RE book? It saved me years ago when I started to entertain. You may want to try it …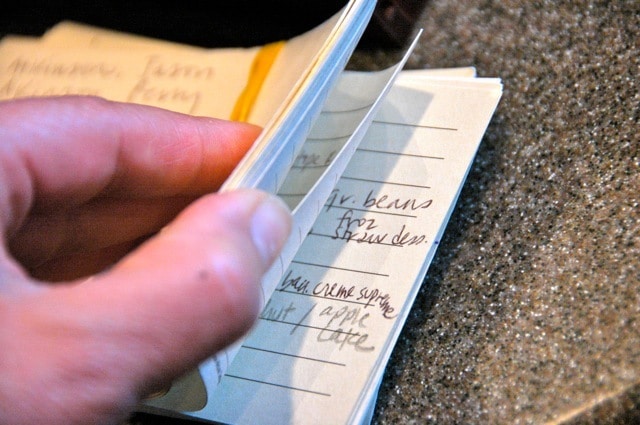 I feared serving the same dish twice to my guests, so I came up with a simple system using 3×5 index cards. I write my guest's name at the top of a card and record the date of the event and what I served. At a quick glance I can see what I've already served to whom. It also gives me ideas for new guests – reminders of full menus I've served successfully before, what dishes went well together, etc. – RE
Stick with your plan and don't deviate.
Stress happens when you start getting wishy-washy and start second-guessing yourself.
Self-guessing usually comes with trying to impress.

How do you plan a stress-free dinner party menu? Do you have a pep-talk with yourself when you start second-guessing your entire plan, or do you have an organized system?
If you've missed my previous posts of the 31-Day to Stress-Free Entertaining, it's not too late to join in:

Day 1. Why Entertain: The People
Day 2. Perfectionism: Learn More About Yourself
Day 3. Mistakes Happen: Think up Plan B
Day 4. Inviting: Is it Really an Art?
Day 5. Actual Invite: How Do You Do It?
Day 6. Help: They Won't RSVP!
Day 7. The Dinner: Theme or No Theme?
Rhoda from Southern Hospitality is giving away 2 copies of RE today! Head over to visit Rhoda to enter. Thank you, Rhoda!
Coming soon will be a Hip Hostess apron GIVEAWAY and also a signed copy of The RE! Come back tomorrow for The Menu: What's in Season and don't forget to join my fabulous blogging friends for the rest of the 31-Day Series:
Chatting at the Sky, Nesting Place, Balancing Beauty and Bedlam, My First Kitchen, Life With My 3 Boybarians, Remodeling This Life, The Inspired Room
Hello and welcome to my home and table!
I'm Sandy—lover of food, family, cooking, THE BIG BOARD, travel, and bringing people together. Through great recipes and connection around the table, we become better, stronger, and more courageous people. Feasting on Life is real, and every time we do it, we grow a little more. Read more...