Following the Nudge …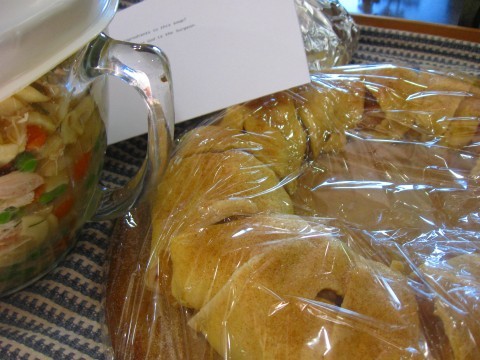 The night before I made a HUGE pot of Chicken Noodle Soup. As I started to make the recipe, I felt like I should double the ingredients. I wondered if my kids would even like the soup, as I was secretly adding 2 ingredients (homegrown parsnips and dill!)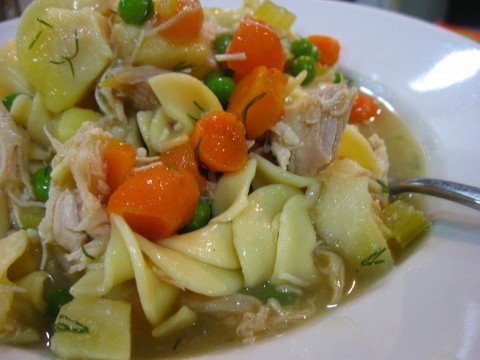 Chicken Noodle Soup
2 quarts chicken broth
4 cups pulled chicken (I buy Costco's, pull off the bone, and freeze ahead of time)
2 cups chopped onion
2 cups baby carrots, cut in small pieces
1 large (or 2 small) parsnips, peeled and chopped
2 tsp. minced garlic
1/2 tsp. pepper
4 cups uncooked medium egg noodles
1/4 cup snipped fresh dill
1 bag frozen peas
Put broth, chicken, celery, onion, carrots, parsnips, garlic and pepper in large saucepan.
Cover and bring to boil. Reduce heat and simmer for 25 minutes, or until vegetables are tender.
Add noodles, cover and simmer for 10 minutes, or until tender.
Add fresh dill. Serves 12.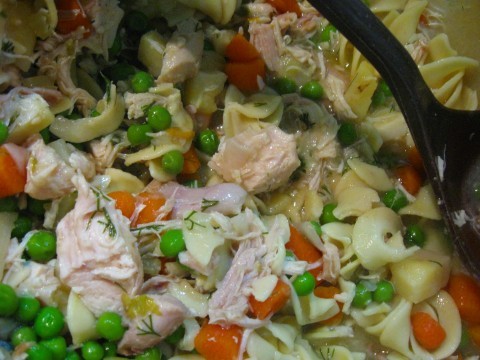 Then the nudge came to share this meal with our neighbors. Neighbors who just heard devastating news this past week.
Breast Cancer.
I hate the "C" word, as I lost my Mother to cancer. It robbed me of more memories I could have had with my mom.
I knew I couldn't sit back. And that's when I knew why I had made extra soup.
After putting bread in the oven and getting the pot of soup out of the refrigerator, I printed out a note for the family, grabbed a quart of Apple Pie in a Jar and made a dessert, and off to the neighbors I went.
A friendly nudge can go a long way. It says 'go the extra mile' and 'reach out to others' and 'think beyond yourself.'
Along with prayer, I'm glad we could bless another family on this day.
What do you do with leftovers, when you double a recipe?
Hello and welcome to my home and table!
I'm Sandy—lover of food, family, cooking, THE BIG BOARD, travel, and bringing people together. Through great recipes and connection around the table, we become better, stronger, and more courageous people. Feasting on Life is real, and every time we do it, we grow a little more. Read more...