Grilled Cake Donuts with Berries + 4th of July Menu with Iowa Girl Eats!
These Grilled Cake Donuts are perfect served at a Memorial Day or Fourth of July celebration for an easy dessert!
Happy July 1st! I'm so happy to share my Grilled Cake Donuts With Berries recipe with you today. It's one of the easiest dessert recipes you can make for a 4th of July celebration!
But first, today I'm teaming up with my sweet birthday girl, Kristin, from Iowa Girl Eats, to share an EASY 4th of July menu! We wanted to put together a stress-free menu for our readers, in celebration of … (keep on reading).
When Kristin and I met on this trip in May, we realized that we shared the same birthdate of July 5th. There are only a few years in between. :) We also realized that we are true sisters at heart! (Love this girl, who's expecting her first baby!)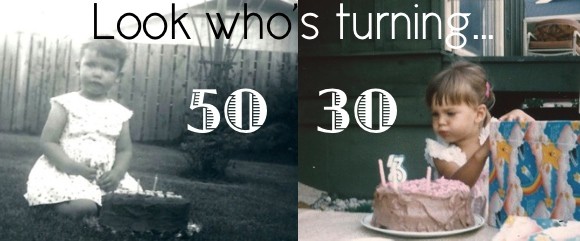 It's a big year for each of us.
Thirty for Kristin, and FIFTY! for me!
I love our little-girl-birthday "pictures" of cakes that our mamas made us. Mm-m-m, do you think the black and white dates me? ha ha.
You'll love Kristin's blog. I especially LOVE her Friday recap posts. Always so classy, beautiful photography, and great resources.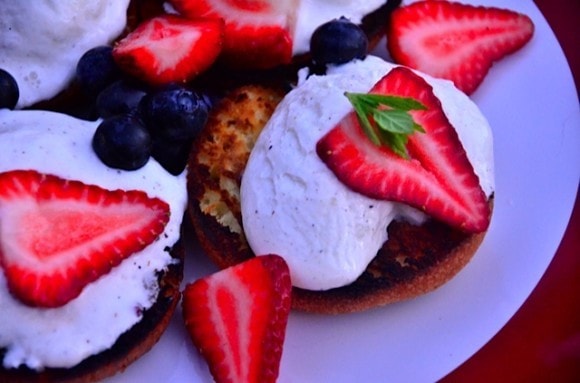 Our 4th of July menu today includes amazing fresh market (garden) foods, and we can't wait to share it with YOU!
ENJOY!
The Perfect 4th of July MENU:

Drink: Strawberry Mojito

Appetizer: Tasty Watermelon Bites

Salad: Buckeye Peas Fresh Corn Salad

Side: Mom's Classic Potato Salad

Main Dish: The Iowa Burger

Dessert: Grilled Cake Donuts with Berries (recipe below)
Strawberry Mojito from Iowa Girl Eats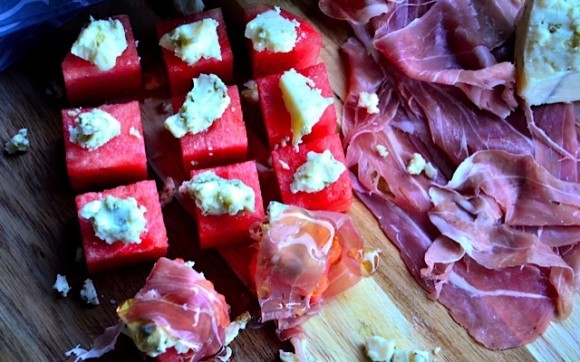 Tasty Watermelon Bites from Reluctant Entertainer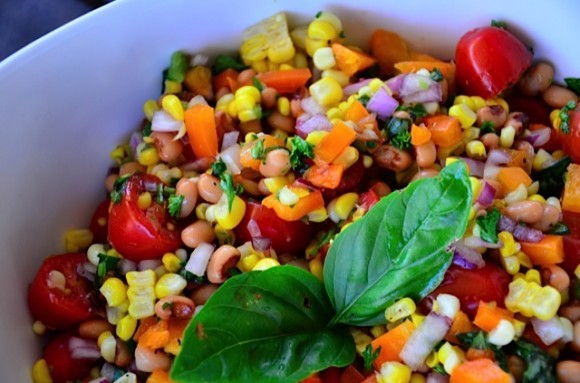 Buckeye Peas Fresh Corn Salad from Reluctant Entertainer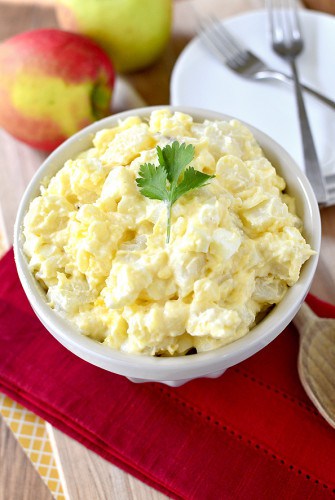 Mom's Classic Potato Salad from Iowa Girl Eats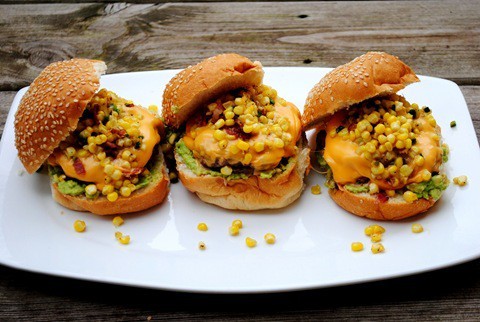 The Iowa Burger from Iowa Girl Eats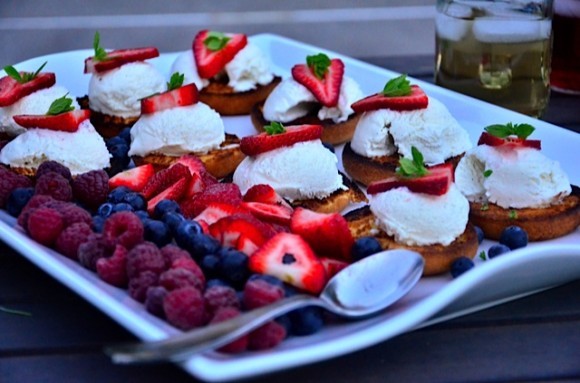 And now for the delicious EASY Grilled Cake Donuts with Berries recipe! Be creative with your display – give it a "4th of July" spin!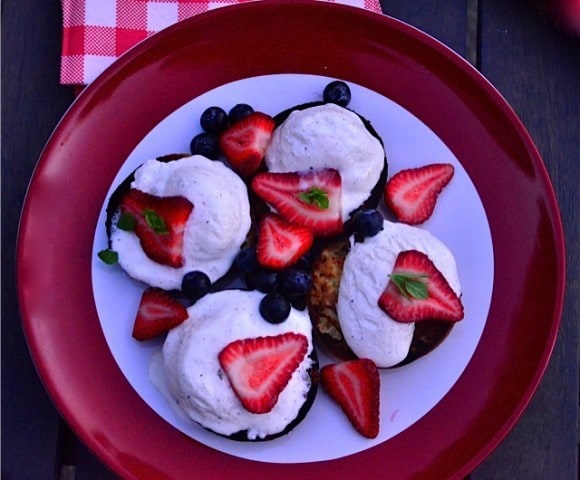 You will WOW your guests and have a sparkling, delightful dessert to end the night with.
Oh, and don't forget that homemade ice cream always tastes better than store-bought.
In the meantime, if you have something fabulous on your menu this week, feel free to add the link!
What's on your 4th of July menu?
Get the Recipe: Grilled Cake Donuts
Perfect for summer grilling with any kind of fruit. Buy store-bought cake donuts and use sugared cake donuts to add more sweetness! If you don't have a grill, broil the donuts on HI.
Ingredients
5-6 pints fresh fruit, such as blueberries, raspberries, strawberries, or blackberries
2 T. lemon juice
8 cake donuts, sliced in half horizontally
2 pints of Vanilla ice cream
Fresh mint
Instructions
Cut the donuts in half. Butter the donuts on the cut side.

Place berries in a bowl and add the lemon juice; stir.

Grill the donuts cut side down. You may need to spray the grill first. (Broil if you don't have a grill.)

Divide the donut halves on plates; add the berries. Place the other top of the donut on top. Serve with vanilla ice cream and a sprig of fresh mint.
Red, White, and Blue Salad
25 4th of July Recipes
Fresh Berry Trifles
How to Prepare for a 4th of July Party
Homemade Hamburger Buns
Lighter Blueberry Cheesecake
How to Stock up on 4th of July Entertaining Supplies
4th of July Ice Cream Cones
Your House isn't Perfect for the 4th of July
4th of July Tutti Frutti Popcorn
Bloody Mary Tomatoes for the 4th of July
Biscuits and Berry Honey Shortcake
Hello and welcome to my home and table!
I'm Sandy—lover of food, family, cooking, THE BIG BOARD, travel, and bringing people together. Through great recipes and connection around the table, we become better, stronger, and more courageous people. Feasting on Life is real, and every time we do it, we grow a little more. Read more...