Hanging Ornaments!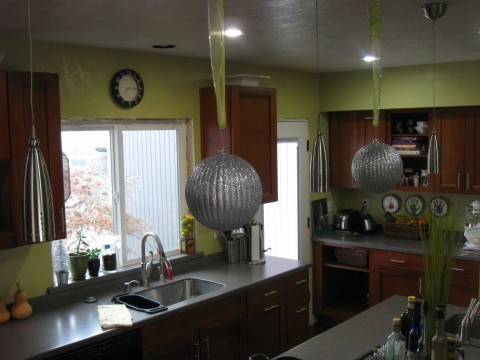 Hanging ornaments from ceilings is a clever way to decorate. So in my new kitchen, I decided that this would be the year to hang between the pendant lights. (Yes, the kitchen is almost finished. Trim, touch-up paint, baseboard to go!)
Buying green ribbon from the Dollar Store, to tie in with my kitchen colors …
I used a stapler at one end…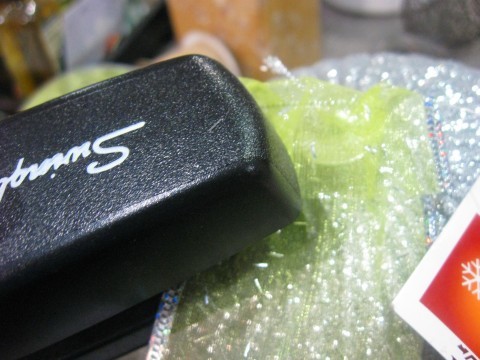 Nailed the other end to the ceiling…
Twirled the extra portion of the ribbon around the top, and let it drop down…
Hung the ornaments between the pendant lights…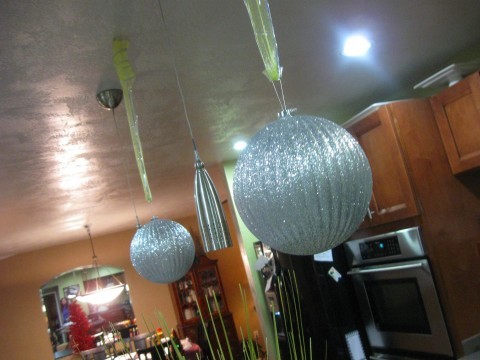 Another idea with ornaments is to decorate using them in different places around your house. Keeping my green theme in mind, I added them to decorating balls and a basket of Granny Smith apples.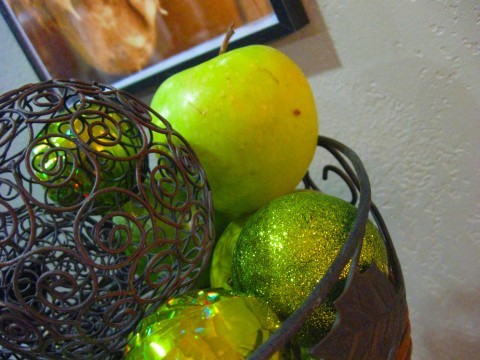 You can even place ornaments on tall candle stands.
Saturday night I used them on my table for our Progressive Dinner.
What clever ways do you use ornaments in your home (besides the tree, of course)?
Don't forget the Wild Wool GIVEAWAY going on right now! And come back tomorrow for a chance to WIN a $50 Visa card! It's easy! I'm posting this over at We are THAT Family where Kristen is hosting WFMW! (Works for me Wednesday!)
Don't forget to check out Kimba's DIY Day over at A Soft Place to Land!