Hip Holiday GIVEAWAY: Hip Hostess Apron and The RE Book!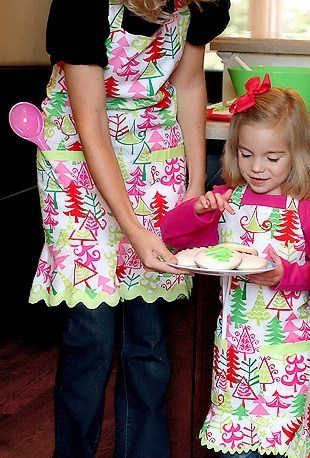 Just in time for all that Christmas and New Year's holiday baking and cooking, Debbie from The Hip Hostess and I are giving away her beautiful Hip Holiday Apron together with a copy of my new book, The Reluctant Entertainer.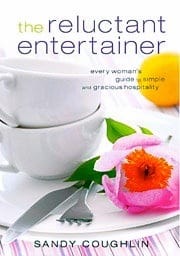 What a great gift for yourself or for someone special this holiday season!

Debbie's aprons are so beautiful. There's nothing quite like the quality, in my opinion. (Did you know I'm wearing a beautiful HH pink apron on pg. 80 of The RE?) Today I want to share an excerpt with you from my book, one that might inspire you to "catch the spark," to tie your Hip Hostess apron on, and to invite some friends over for some holiday cheer!
I believe that times are changing. The desire to resurrect the lost art of hospitality is growing, bringing people back to their roots and realizing what is missing in their lives: fellowship. Simple entertaining combined with some inspiration can create spiritual monuments in our lives. It not only gives us hope, but it teaches us the benefits of moving forward and not looking back. It's a beautiful gift without a price tag … (page 14, The Reluctant Entertainer)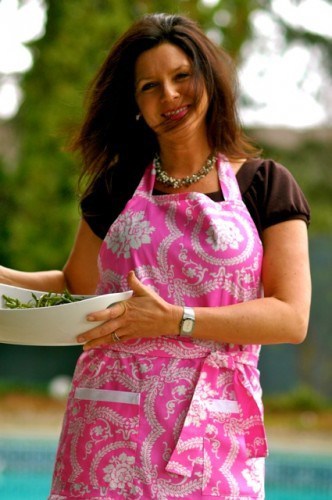 Here's how to WIN! Comment and answer this question:

Do you struggle with hospitality or does it come natural to you? Or, do you look forward to opening your home this holiday season? (be honest now!)
Easy as pie (not really), easy as making cookies (nah), easy as a quick comment? YES!
Debbie and I really support each other's work and mission. She believes in the RE message, and I believe in the beautiful quality of her product. We both think that hospitality is very important in our lives, and that our lives are richer when we think less of ourselves and give more to others.
Together we are delighted to offer this beautiful gift to one lucky winner – from our house to yours!

Love, Sandy and Debbie
Make sure and come back and tell us for an extra entry or two:

Facebook = 1 extra entry
Tweet = 1 extra entry
NEW follower of RE = 1 extra entry
Post on your blog = 1 extra entry
Good Luck. Contest closes Friday night, 12/10/10 at midnight.
Coming up on RE: 3 more posts on what a Progressive Dinner is like. $1 gifts for your daughter's friends. How to Stencil a Memory at Christmastime. Some amazing recipes. And a few more giveaways. I love this time of year!