Home is … Wearing Aprons in the Kitchen and Hilda's Kuchen!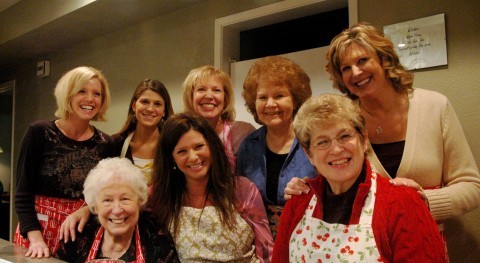 Welcome to Home is … Day here at RE! This week we're sharing about …
… wearing an apron in the kitchen!

I'll start with my story, and then you can link up and share yours, okay?

Home is … grabbing an apron, tying it on, and cooking together in the kitchen! On this particular day, as we got together to cook a traditional German dish for our Dad's birthday, our German friend Hilda brought us a treat …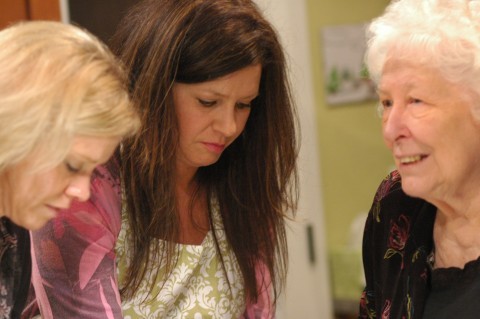 When Hilda came to spend the day with me and my sisters, little did we know she'd be bringing us a childhood treat that we grew up with. For years, our Mother would make Hilda's Kuchen, always on a Sunday night before we'd head back to church.
So when Hilda walked through the door with this tasty treat … (Hilda with my 2 sisters and me)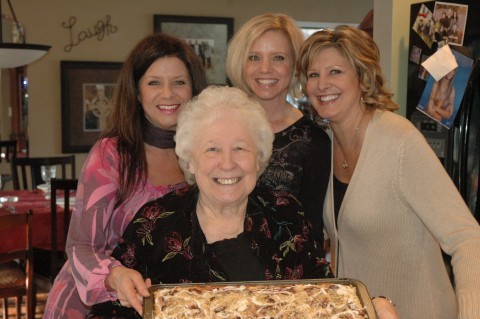 Of course we had to keep evening up the rows. And we even had leftovers for breakfast the next day.
It was a fun day spent with other family members and our friend Hilda.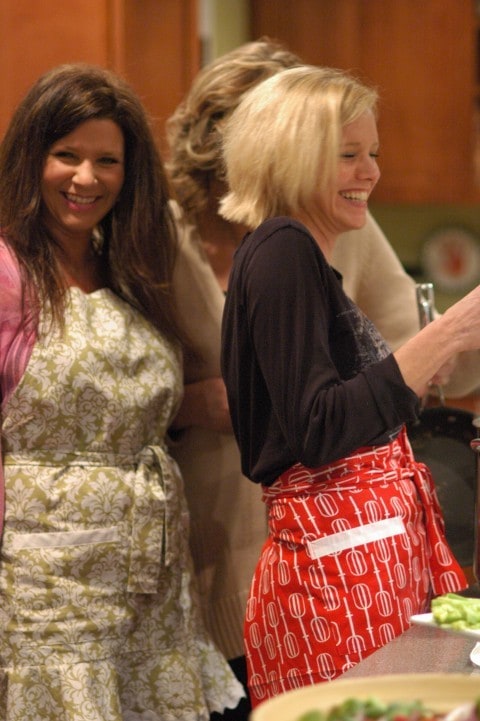 And to get some good cooking tips from her!
But it was also special to reminisce about our Mother.
PLAUMEN KUCHEN
2 cups Flour
1/2 cup sugar
2 tsp. baking powder
1egg
1 cup milk, you can use evaporated
1/2 cup butter (melted)
1 tsp. vanilla extract
2 large cans purple plums (drained – keep the juice)
Streusel Topping
2/3 cup flour
2/3 cup sugar
6 Tbls. butter (melted)
In mixing bowl, add the melted butter and 1 egg and the sugar. Mix well. Then add the flour and baking powder and the milk. Mix well and spoon into a greased cookie sheet or jelly roll pan. The dough may be thick. Spread smoothly. Then place the halfed plums (seeds removed) evenly on the dough with the cut side down.
Spoon some of the juice over all and then sprinkle with the streusel topping. Bake at 350 for about 20-25 minutes. You'll know its done when its bubbly and slightly browned along the sides. Don't over bake!
When the cake is slightly cooled, pour a drizzle (powdered sugar mixed with a tiny bit of milk) over the cake and sprinkle with chopped nuts (optional).
Do you have a favorite childhood recipe that your family loves? And when is the last time you've had fun in the kitchen with family members?
About Home is …
Each Wednesday you can link up here at RE, to a different theme that I will share in advance … which may be something like a beautiful set table, a snack waiting for your kids when they get home from school, fresh flowers in the kitchen, dishes in your hutch, a meal on the stove (maybe using leftovers), a family heirloom, a yard sale find and how you put it to use, pictures on the walls, music being played in the background … a feeling, a smell, a touch.
Hello and welcome to my home and table!
I'm Sandy—lover of food, family, cooking, THE BIG BOARD, travel, and bringing people together. Through great recipes and connection around the table, we become better, stronger, and more courageous people. Feasting on Life is real, and every time we do it, we grow a little more. Read more...