How to Create a Centerpiece Using Lavender
When our friends came for dinner, I didn't get around to setting the table until 10 minutes before they arrived.
I used my standard gray tablecloth, that has become my all-time favorite now. I quickly set the table, and grabbed the black and white napkins off of the back patio area. And of course my Dollar Store goblets.
I looked around my yard to see what was in bloom. Right before me were 2 gorgeous lavender bushes.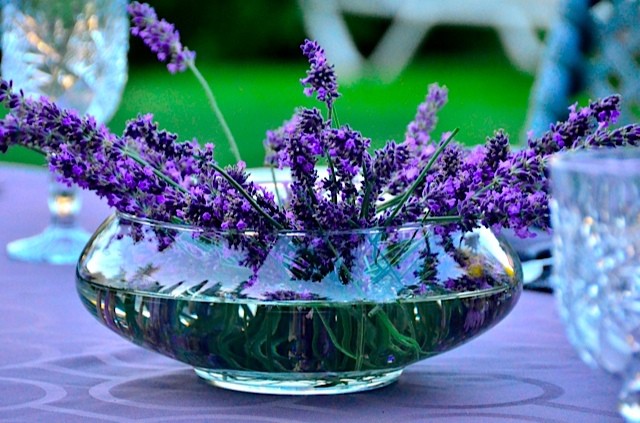 How to Create a Centerpiece Using Lavender

1. Fill a low-line vase with water.

2. Cut lavender at different lengths, around 6-8 inches long.

3. Lay the lavender around the perimeter of the vase.

4. Enjoy the beauty.
The table came together in less than 5 minutes.
By the way, I just love lavender and green together. It reminds me of my bedroom as a little girl where I grew up right outside of Medford, Oregon – green shag carpet and purple walls. I shared my room with my sister – she had the clean side, I had the messy side – but the good thing is we each had our own closet.

The closet at the house we grew up in still has the brown label with my name inside. :)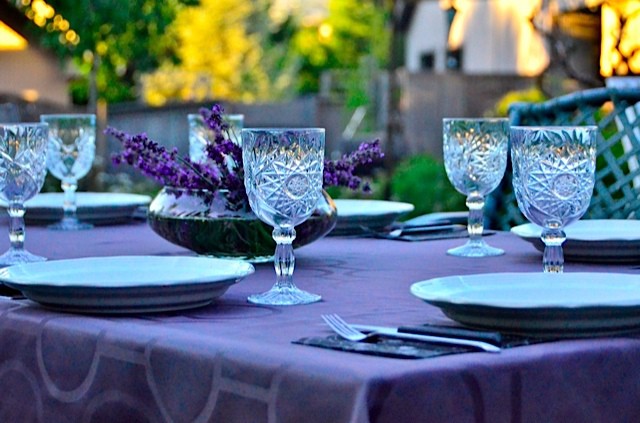 I know many women say they are "not" creative, but really, you just have to look around at nature and see what you can snip and capture in a vase of water.
Sometimes we don't have the time to sit and enjoy our backyards and summertime plants, but when we bring them a little closer, like to our dining tables, we can't help but enjoy the beauty.
I often find myself staring at the centerpiece, as simple as it can be!
When's the last time you looked around your yard and brought something beautiful to the table?
Hello and welcome to my home and table!
I'm Sandy—lover of food, family, cooking, THE BIG BOARD, travel, and bringing people together. Through great recipes and connection around the table, we become better, stronger, and more courageous people. Feasting on Life is real, and every time we do it, we grow a little more. Read more...