How to Host a Valentines Dinner Party and LoveFeast Plush Velvet Pumpkins Giveaway!
Love is in the air! And most of us think about only spending Valentine's dinners with our significant others. Which for me, is what I love.
But how about also hosting a party the "week of" Valentine's Day for the friends you love?
Read more, below, but first of all I really want to thank LoveFeast Table for being a part of RE today!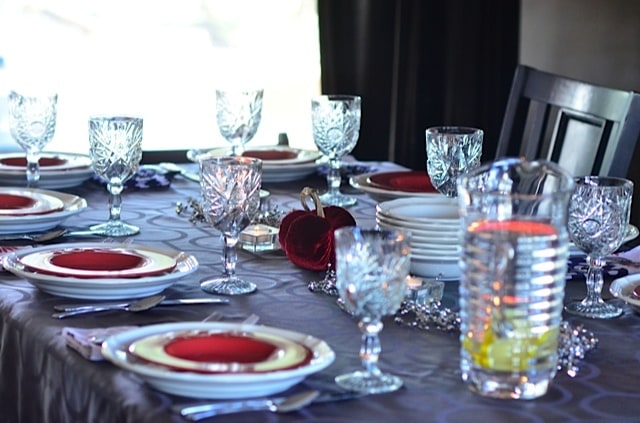 I've done this several years in a row, and last year we were invited to our friends', where we got to meet 2 new couples! It was awesome because I didn't have to be the hostess, but got to be the guest!
Here are some simple tips for hosting a Valentine's Dinner Party:

-Get together with your spouse and decide who you want to invite, and remember that just because it's Valentine's Day, the list doesn't have to include couples! Think about your single friends as well.

-Make it as easy on yourself. Invite early so everyone can get the "date" on the calendar. Use Evite.com for new friends, because you can attach a map to your house. You include party details, add your guest list, click and send. It's that easy!

-Is it possible to move your table to a new area? In my case, not really (though for summer outdoor entertaining, yes!) Change it up a bit and make it special!

-I used my wedding dishes (standard white) and of course, Dollar Store goblets, and added in red accents. And I also added the adorable HeartGrams (giveaway today, read more, below). Pretty decorating.

-Think of a simple meal you can either make ahead of time like lasagna or even spaghetti (Lady and the Tramp?), or one that only takes a few minutes like my QUICK Angel Hair Shrimp Scampi recipe found in my book (and so easy!) Buy fresh pasta and bread and you're set!

-Ask your guests to each bring a bottle of wine or beverage of choice, or a light appetizer. You could even ask for a platter of strawberry-dipped chocolates to pass around while you're rinsing the dishes and preparing for the next course: dessert!

-Store-bought desserts can be tantalizing if fresh and unique. IE, we have a store in Ashland, Oregon called Market of Choice. They have killer desserts that are perfect for last-minute parties, to just bring home, and serve on your own beautiful glass pedestal or serving platter.

-Conversation will just roll … it always does. Remember this dinner party is not designed for Valentine's Day (you should be out with your sweetie!), but for the "week of." Spread love, through encouraging words, and make your guests feel special!
Mix it up, both couples and singles, and just enjoy a great night together, with all the hearts, red and white touches, and a "love is in the air" attitude.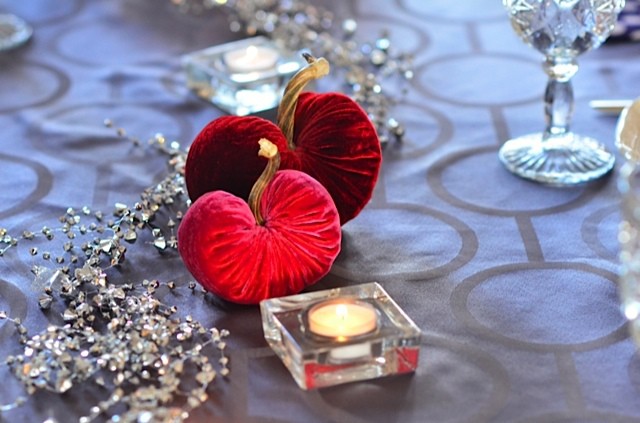 WHAT TO WIN:
One set of LoveFeast's heart shaped velvet pumpkins (The HeartGram set comes with a 5in. Crimson and a 4in. Rose velvet, plush heart pumpkin. Each package contains apersonalize-able vintage inspired postcard and is tied with a satin ribbon. They are an excellent idea for an anniversary or any time you want to send a bit of love. You can read more about them, HERE.
HOW TO WIN:
Answer this question in a comment on this post.
If you were hosting a Valentine's Dinner Party for 6 or 7, what would you serve?
EXTRA CHANCES TO WIN (1 extra chance each, please come back and comment and tell me):
Follow Reluctant Entertainer on Facebook
Follow LoveFeast Table on Facebook (Please tell them I sent you over!)
Follow LoveFeast on Twitter
Follow SandyCoughlinRE on Twitter
Tweet this:
Heartgram giveaway @SandyCoughlinRE thanks to @LoveFeast What would you serve for VD dinner party? http://su.pr/ALGUnZ #giveaway
Good luck, Friends!
US only. This post is sponsored by LoveFeast Table today. Contest ends 2/8/12 at midnight. Winner announced on 2/9/12.