How to Make Your Own Cake Flour & the Scoop on Lemon Chiffon Cake Day
Did you know that yesterday was National Lemon Chiffon Cake Day? I had no idea, hence this post should have been posted yesterday. :)
Are you asking yourself what a lemon chiffon cake is? Well then, you're in for an educational lesson on deliciousness. Chiffon cakes are typically flavored with fruit, and in the case of today's national holiday, that would be lemon, but strawberries or other presentable fruits like blueberries or even sliced kiwi could be great combinations. Harry Baker (yes, Baker) invented this cake back in 1927. The funniest part about the creation of the chiffon cake is that he was an insurance salesman, who turned into a caterer … [resource, here.]
But my story today about our lemon chiffon cake goes like this. Our friends were coming over for a yummy salmon dinner last weekend, and my daughter Abby agreed to make my friend Jenny a surprise birthday cake.
I'm such a lucky mom, to have a daughter who loves to bake.
One conclusion that I've come up with about "bakers" is that they are very patient people. My friend, Pam, also loves to bake, and she's one of the most patient and beautiful people I know. Abby is similar. (Recent picture of Abby taken by her Daddy.)
Two ingredients were missing from my kitchen last Friday, and I did not want to go back to the store.
Missing ingredients: Cake flour and cocoa.
Don't you hate it when you go to make a recipe and you're missing an ingredient?
Abby changed recipes (another sign of a good baker!) to make a delicious lemon chiffon cake (instead of a beloved-chocolatey-some-kind-of-wonderful), and we ended up googling how to make our own cake flour.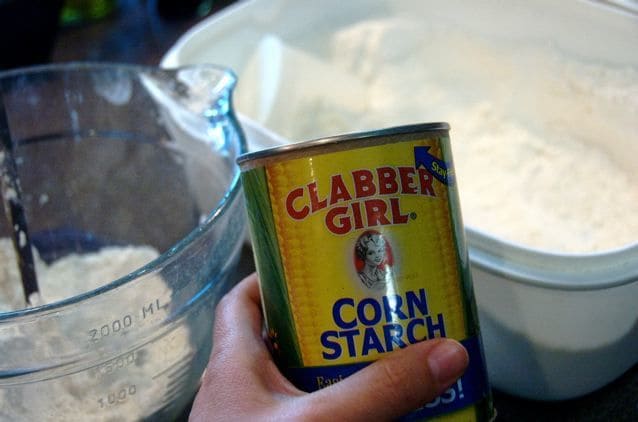 How to make cake flour:

1 3/4 cups all-purpose flour
1/4 cup cornstarch

– To make two cups of cake flour, combine 1 3/4 cups all-purpose flour with 1/4 cup cornstarch.

– Put 2 tbsp of cornstarch in the bottom of a 1-cup measuring cup, then fill the cup as usual with all-purpose flour and level top. Repeat process to get your two cups.

It's really that easy!
We enjoyed this lovely cake (made with fresh Meyer Lemons) and we were honored to be able to help Jenny celebrate another year.
When you run out of ingredients, do you first try to create on your own, or do you run to the store?
Have you ever made your own cake flour?
Want to try some YUMMY lemon cake recipes from my friends?
Recipe Girl makes Lemon Truffle Cake
She Wears Many Hats makes Lemon Buttermilk Cake
Two Peas and Their Pod makes Lemon Ricotta Pound Cake
Healthy Green Kitchen makes Meyer Lemon Olive Oil Cake