5 Simple Tips on Keeping Your House Ready for Entertaining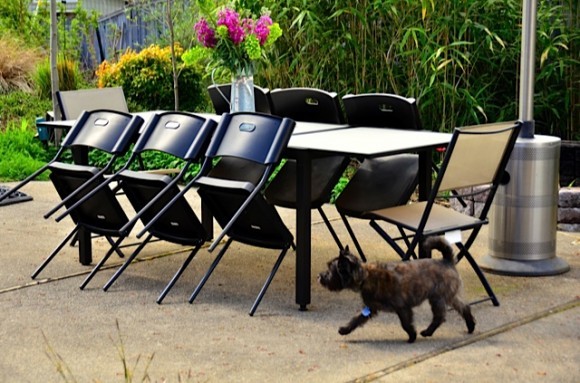 I've often told my friends that if you want to keep a clean house, entertain every weekend. :) We don't entertain every weekend, but we do often.
There's just something about knowing company's coming that makes me dig in and get myself organized, and spruce up the house a little bit, if I get a chance. Sometimes with last-minute guests, you don't have the time!
While company motivates and inspires me to clean, what I've really learned over the last 22 years is to not sweat the big stuff. In other words, I've learned to keep a positive perspective and a healthy attitude on the reasons my friends are coming over in the first place — which would be to enjoy a delicious meal, to get to know our family, and for our family to get to know our guests in a more intimate way. So, I relish in the beauty of an imperfect house. But … I still get nervous.
It's an honor to be invited into someone's home for dinner, so if guests are coming to "inspect" or "critique" the state of your home, then I can assure you they really are not your friends.
Comfort is what people are looking for, not the most elaborate or perfectly decorated home or yard.
Here are 5 SIMPLE tips that help me to keep a healthy focus and balance regarding a house and backyard entertaining space that's ready for entertaining:
1. Organize: Every night I try to pick up "stuff" and make sure the kitchen and patio area is clean.

2. Cleaning: Every day, I try to do one cleaning chore (sweep the kitchen, mop the floors, vacuum, blow the back patio, clean 1 bathroom, etc.) so I can stay on top of the housework.

3. Bathrooms: We always try to have one guest bathroom clean and ready for company.

4. Ambience: Make sure there's one room or entertaining space where company can hang and mingle, a place you feel good about. Make it warm and cozy with color, pillows, candles, fresh flowers — make it you!

5. The table: Know where your tablecloths, napkins, extra dishes, candles, etc. are located. Make sure your dining room is ready for entertaining, or your patio or outdoor area.
Too often, families use their dining room tables inside as a place for bill and paperwork collections! (Ummm … guilty, but I'm working on it.) Outside, keep a bottle of cleaning spray nearby for a quick scrub before setting the table for outdoor entertaining.
Hospitality is a beautiful thing when we open up and share and become authentic and real and knowable with one another and it has nothing to do with the physical state of our home or yard. I'm glad my friends know me well. Sometimes I have it together, sometimes … not as much. But it's okay!
You may be one to fight perfectionism, so here's a little bit of wisdom for you: The best thing I ever did was to surround myself with imperfect people.
I found friends with messy houses, unorganized closets and cupboards–just like me–and better yet, imperfect kids–just like me.
There really is no perfect. I became healthier and more courageous to be myself when I realized that we're all real people living real lives.
When you know company is coming, does it motivate or stress you out with the state of your entertaining space?
Hello and welcome to my home and table!
I'm Sandy—lover of food, family, cooking, THE BIG BOARD, travel, and bringing people together. Through great recipes and connection around the table, we become better, stronger, and more courageous people. Feasting on Life is real, and every time we do it, we grow a little more. Read more...