Kitchen Journey Part I: Philosophy!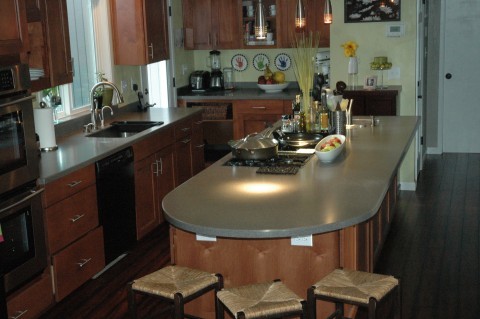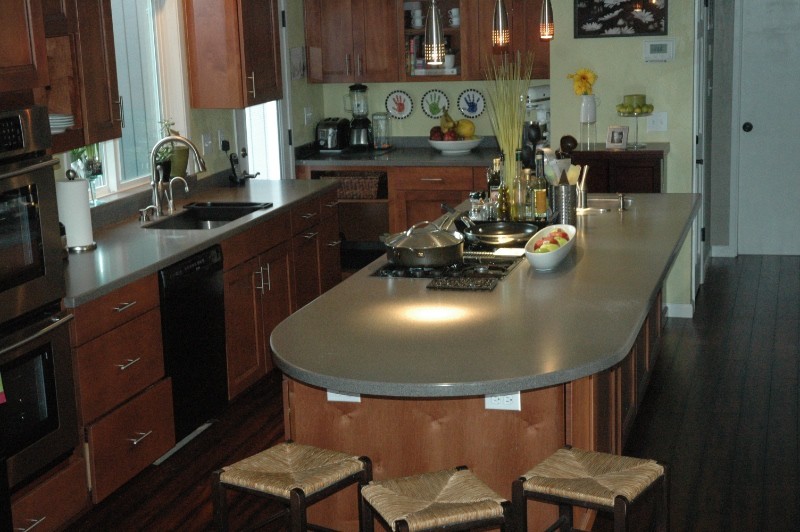 I know I'm way past due on revealing my kitchen. With book edits and soccer season and a few unfinished jobs around here, it sort of got put on the back burner, although we've been enjoying it. Yes! really enjoying it!
Then Christmas came. And a reader wrote to me and she encouraged me to share the details. More people are doing work on their homes themselves, partly because of the economy, and also spurred on by DIY television shows and blogs. So, yes, it only seemed appropriate.
What I especially think is nice about your blog is the patience that came through…perhaps that's not what you felt…but that is what came through to me. That serves as inspiration to others. We live in a world where people want the beautiful remodels that they see on TV and they want it now.
Ha! Want it now? It only took us 6 months to complete our kitchen, but that's okay. The kitchen is the heart of the home. It's where we all hang out, get fed, talk, catch up, and solve life's problems. I believe that this can be accomplished in any kitchen, because this last summer while our kitchen was gutted, we set up a camp kitchen in the garage. It wasn't perfect, of course, in fact by the end of 4 months we were sick of it! But we still whipped up our meals, talked, worked together, and did the dishes by hand.
Our kitchen being discombobulated did not take away from the fact that we were still a FAMILY!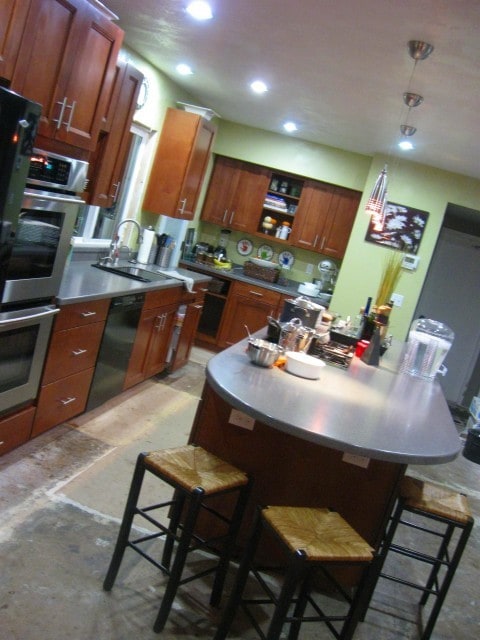 (Soccer team coming for dinner – before the floors went in!)
Why we remodeled
When we bought this house, we found out later that many other people we knew had looked at it, loved the house, property, etc. but couldn't wrap their mind around what to do with the kitchen. It was small, didn't flow well, and just needed updating after 30 years (kitchens were built smaller back then). The wonderful people we bought it from even had kitchen plans drawn up – so they were on the same page as us. And for resale down the road, it was a smart move, especially since we did so much of it ourselves (and we had the GIFT of my Dad)!
We had a tiny center island, old vinyl flooring, and laminate counters.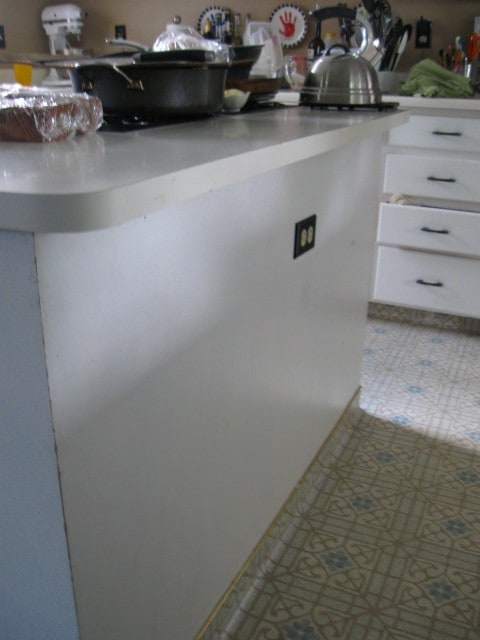 Recessed ceiling with florescent lights.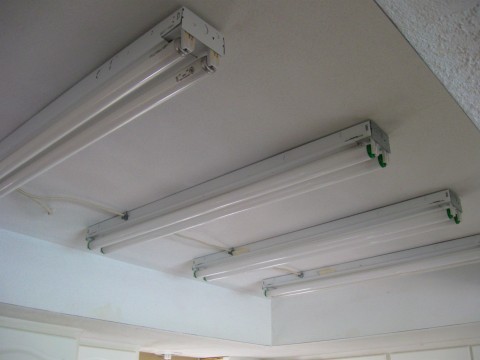 Tiny kitchen window.
Anyone who had been in our house would tell you this: Only a few people could comfortably fit and move through our kitchen at the same time! We had to be creative in how we entertained, or set up a buffet, or weigh how many people could be in the kitchen. When my sisters came to cook dinner with me, you can see here the small area that we had to work with.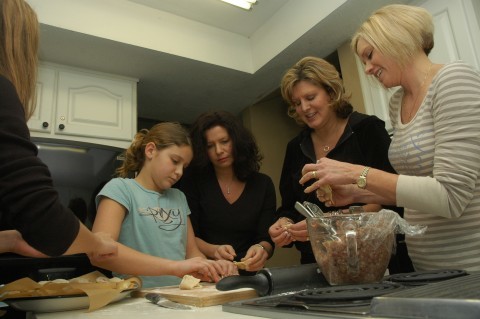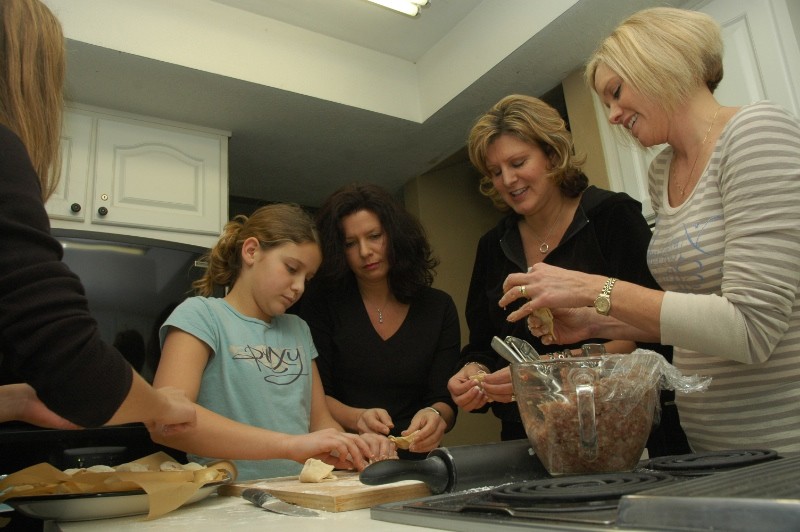 And the original stove (don't ya love those burners?)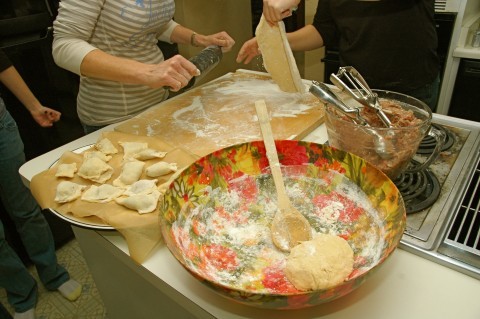 New plans – big space
Finally the time came when my dad drew up NEW plans and got us going on the project (he's a retired contractor and very good with design). We took down 2 walls to make one big open space. We moved the utilities out to the garage. We did it during the summertime when the kids could help and be a part of the project.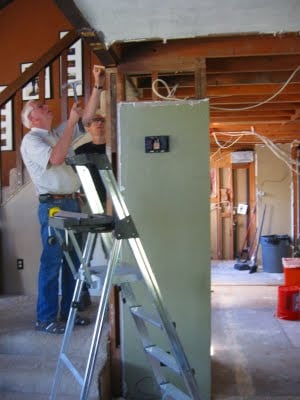 Home Depot – they worked with us
I can't say enough good things about Home Depot. Kandace helped design the space and followed us through the project, getting us the best buys. I worked with them, they worked with us. Let me explain.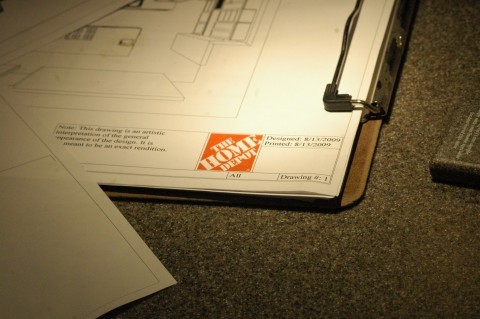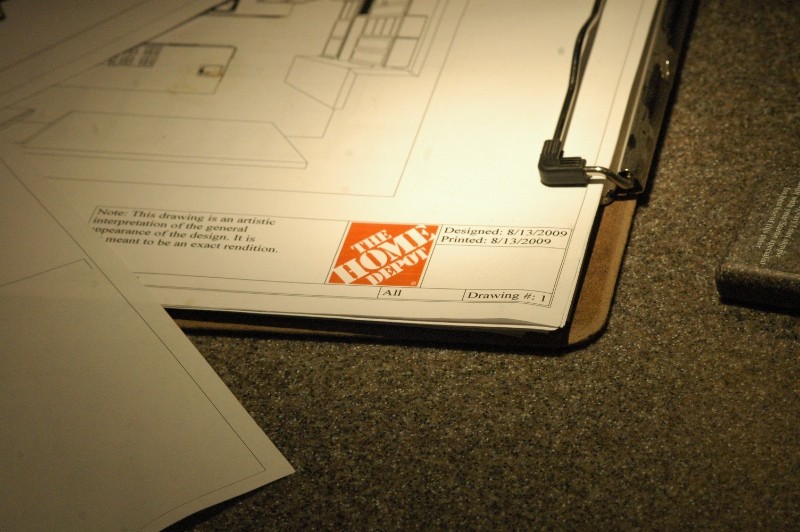 1. After the kitchen was designed, we took our plans into Home Depot, but the bids came in too high for what we could afford. I knew I had to do my part to get this kitchen within our budget. I went from one cabinet design to a lower-priced brand. We decided on Corian versus granite. We decided not to get all new appliances, but to use what we could salvage from our old kitchen. We had a set of cabinets (desk/book shelves) taken off of the bid because we decided to put something else in that place. (To the right, where a desk is currently sitting.)
2. We made many cuts to get this kitchen in our price-range. Then we went back to Home Depot and asked what they could do for us, showing them what we were willing to do. Our goal was not to have the most expensive. Our goal was to rebuild a functioning kitchen that was efficient and that had a good flow to it, within our price range.
3. I will say this: Home Depot gave us great discounts on our whole kitchen. We were thankful and impressed not only by how they worked with us, but how personable they were, and always available!
So what's my philosophy? You may not have a perfect or beautiful kitchen, but don't let it stop you from opening up your home to others. If you have a family, don't rob them of the blessings of inviting and connecting with other people! Yes, I am blessed with a new kitchen. But I look back to the past 5 years in this home, and how lonely our family would have been if we hadn't reached out. Small space and all.
Come back tomorrow for Part II as I'll be sharing about the things I just knew I had to have – the things I didn't pinch on!
In the meantime, I'd love to hear if you have a "good flow" through your kitchen area, or would you design it differently?

Oh, and by the way, we did NOT keep this beauty. We took out the intercom system … Thank you all who commented and gave me great advice!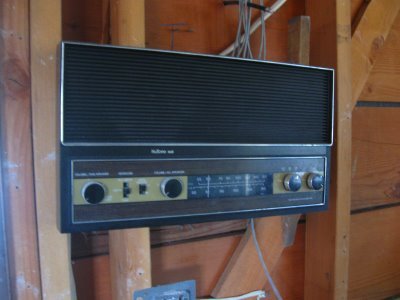 (What's the recipe we're making above? The same thing that we'll be making our Dad for his birthday this Saturday. I may just have to post about this German dish!) And I'm linking up to Kimba's DIY Day with this post!
Hello and welcome to my home and table!
I'm Sandy—lover of food, family, cooking, THE BIG BOARD, travel, and bringing people together. Through great recipes and connection around the table, we become better, stronger, and more courageous people. Feasting on Life is real, and every time we do it, we grow a little more. Read more...