Kitchen Journey Part II: Things I didn't Pinch On!
This post may contain affiliate links.
If you didn't read my post from yesterday, Kitchen Journey Part I: Philosophy, you might want to before you continue with this post.
For my new kitchen, on a budget, there were some features that I felt were essential. And working with Home Depot was very helpful. But when you're trying to get the best deal for your money, you sometimes have to pinch! And pinch we did. (Thank you, Home Depot!)
But these are some things that we did NOT pinch on.
1. I love my double oven. Love, love, love it (Jenn-Air, convention/convection)
2. One-bowl, deep Sterling stainless sink (very top photo: black basket in the sink from IKEA)
3. Recycle drawer (I'm way more organized now with my recycling)
4. Open shelf for my everyday dishes, right above the dishwasher (easy for kids & quick put-away)
5. Vegetable sink (plumbing already in place from previous utility sink)
6. New front-door opening, easier for kid access (which will be a new courtyard)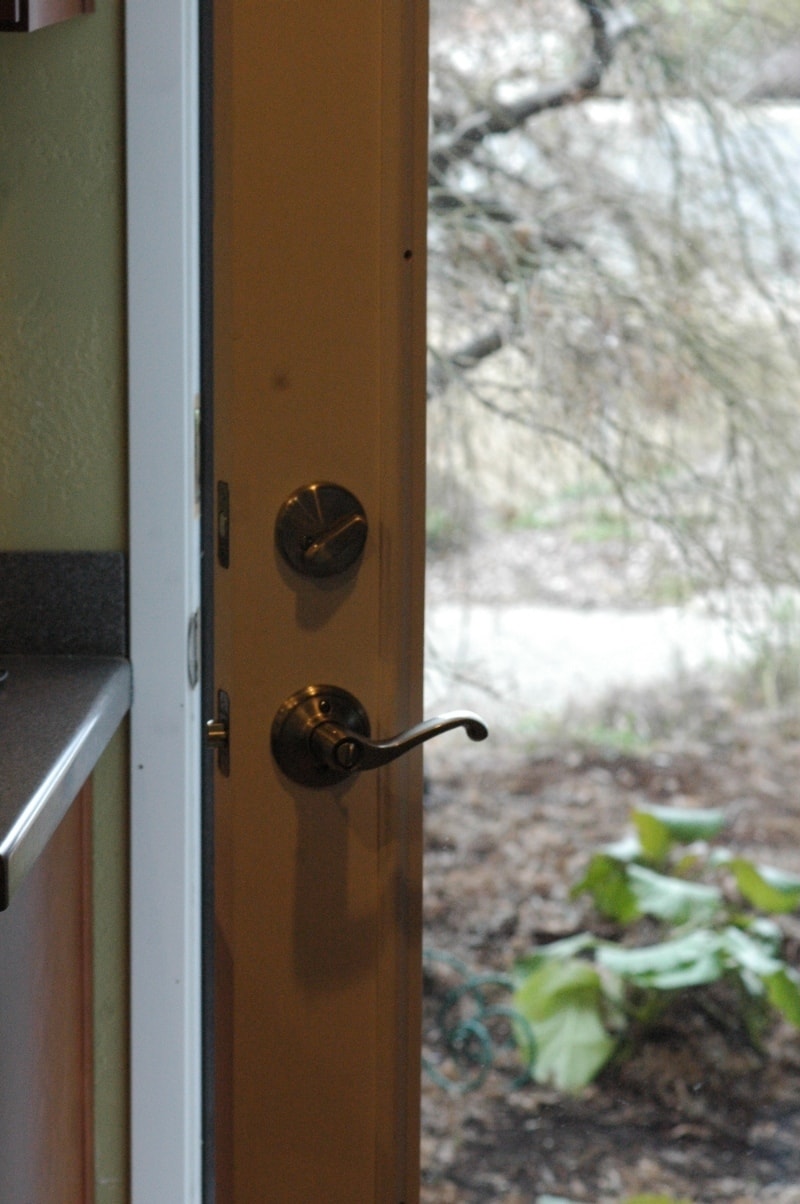 7. And an open shelf area for their shoes
8. Instant hot water dispenser (our family decided this is our NEW favorite feature)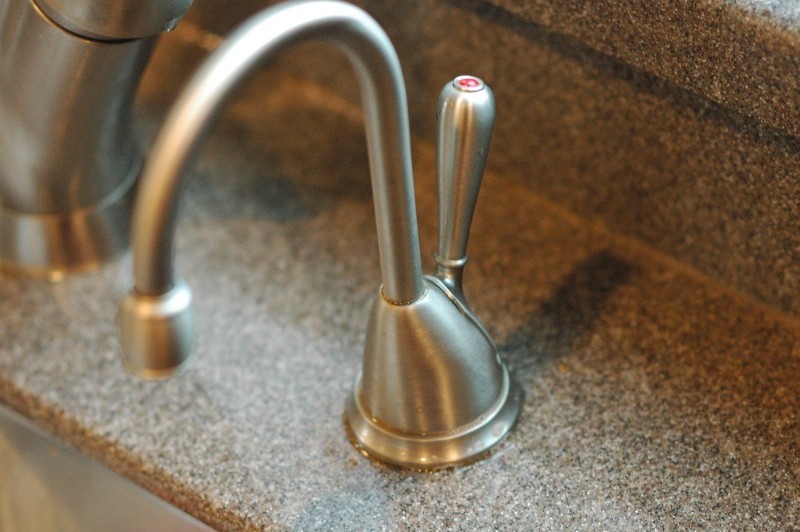 9. Walk-in pantry (special design by my Dad!) with swinging "saloon" doors (the doggie/cat door is in the pantry, so we had to give them access to the house)
10. Decided on wood cabinets, to not go with painted black or white (American Woodmark)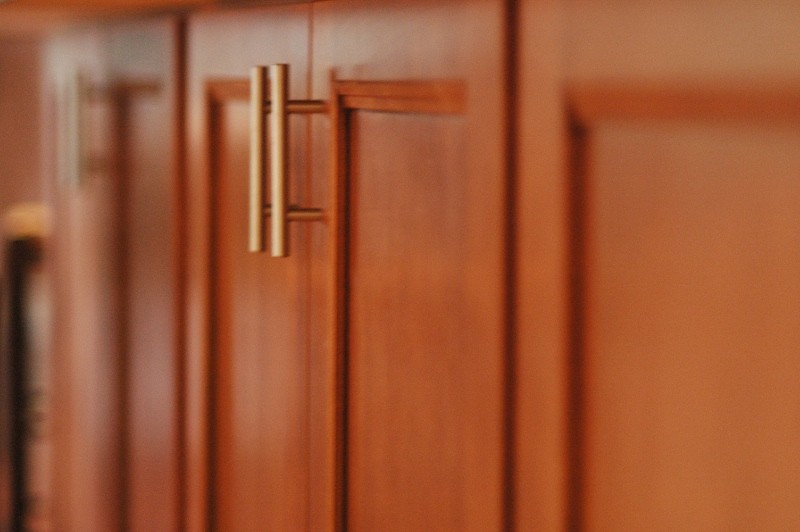 11. Microwave low-profile, installed under the counter in the center island (out of the way, easy for kid-use)
12. Wood floors: Dasso Flooring (Manchurian Walnut)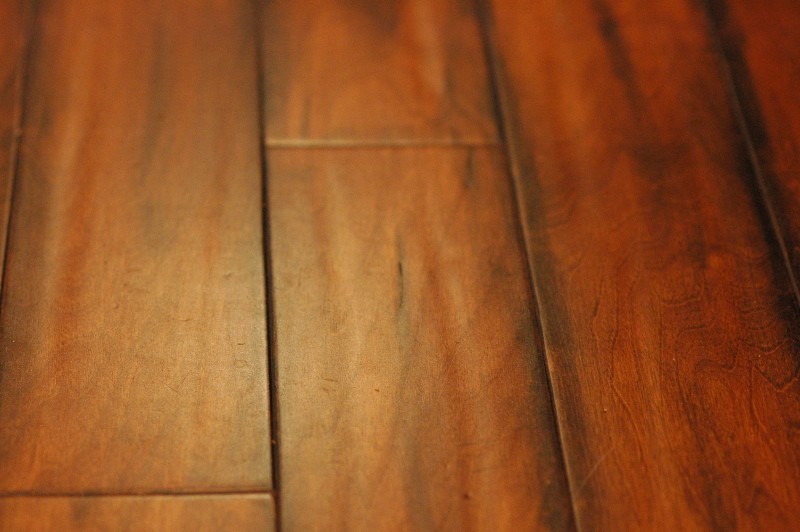 13. Large space above ovens for cookware and platters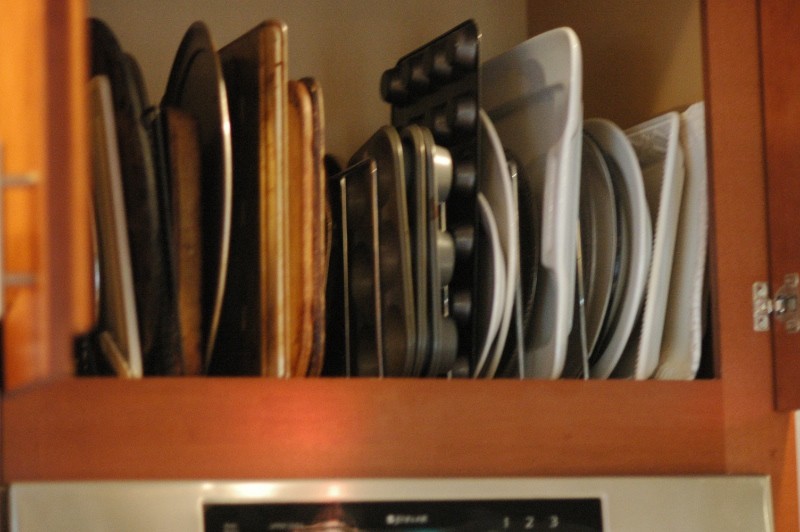 14. Brushed-nickel faucets (Delta)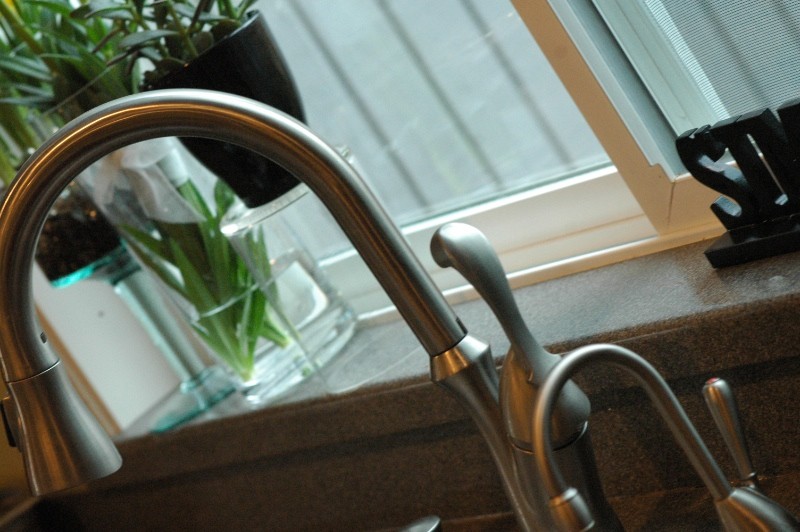 15. Open shelves for practical display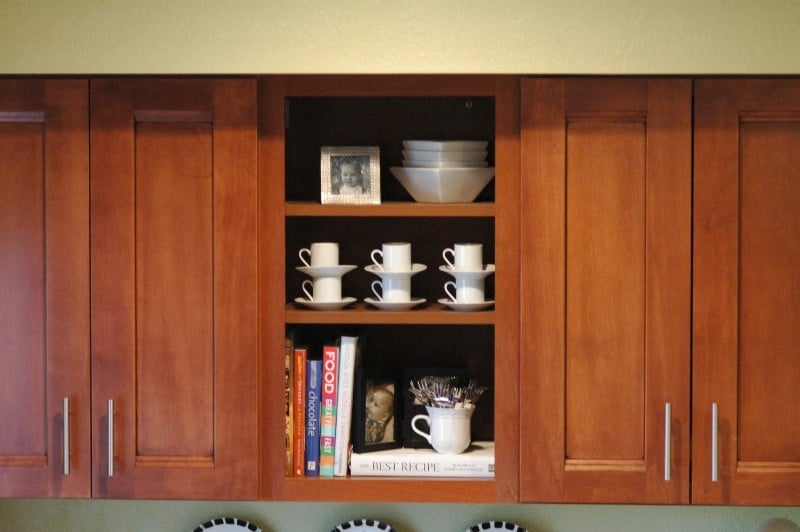 16. A baking center (baking supplies and Kitchen Aid in one place)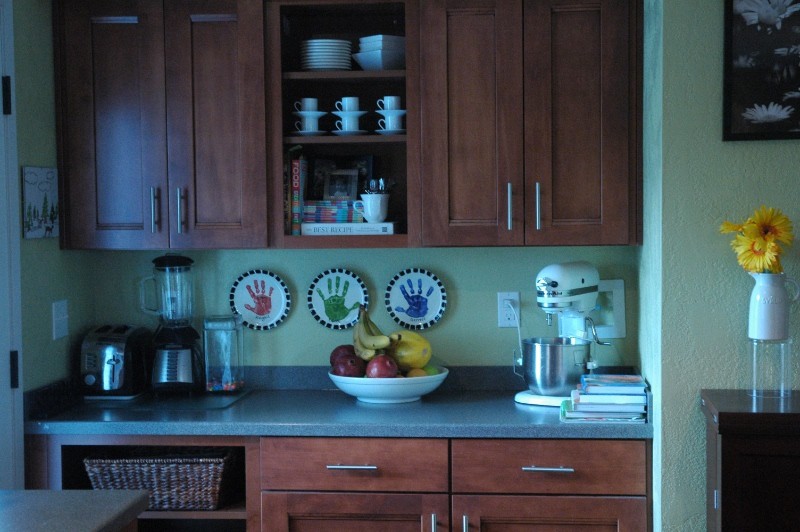 17. Organized drawer space (so much better than what I had before)
18. Knife drawer by the vegetable sink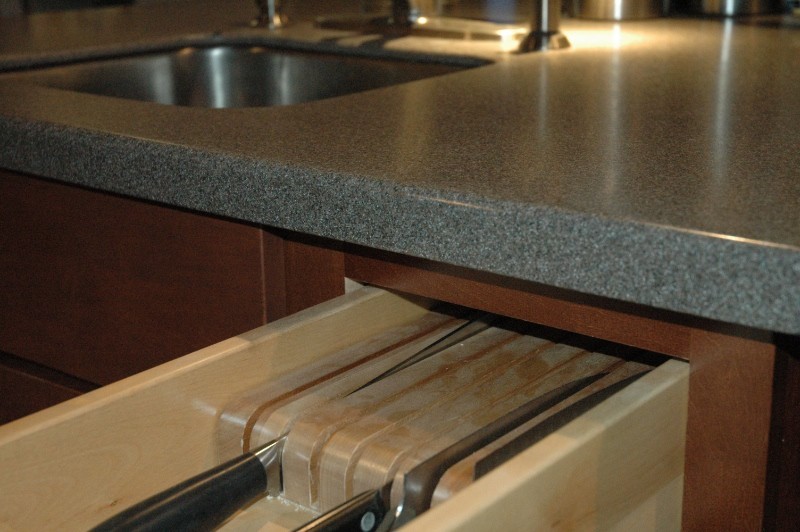 Cabinet philosophy
As much as I do like the look of black and white cabinets, I decided to not go with the trend, but to stay with a classic wood. Modern and simple. I've had white before and I didn't want it again (but it is beautiful!). Also, wood just goes better with the style of our home.
And speaking of cabinets that are similar to mine, I'd like for you to meet my American friend Katie, living in Berlin, Germany! Check out her kitchen remodel, here. I was so impressed — because Katie lives in 480 square feet, her kitchen being 36 of it! Also, Katie (Making this Home) will be speaking along with me and Meredith at the A Woman Inspired conference coming up next week! If you haven't purchased a ticket, register today!
My friend, Emily from Chatting at the Sky, shares about how she painted her kitchen cabinets BLACK! So classy and beautifully done! If you haven't heard the great news about Emily, she is on her way to becoming an author as she just signed a 2-book contract! I'm so excited for my friend!
Back to the kitchen. It's interesting how "splurging" and "budgeting" are an oxymoron. We all have areas where we hold back, and then that gives us more room to splurge on what's really important to us, right?

If you could splurge on one item in your kitchen, what would it be?
Come back tomorrow for Kitchen Journey Part III – Free and Discounted!
We are a participant in the Amazon Services LLC Associates Program, an affiliate advertising program designed to provide a means for sites to earn advertising fees by advertising and linking to amazon.com.