Kitchen Journey Part III: Free or Discounted!
Thank you for sharing my Kitchen Journey with me! If you missed Part I or Part II, you might want to take a peek before you continue with this post.
Have I told you how much we appreciate Home Depot? And did I tell you how much we are thankful for my Dad? A retired builder, my Dad designed our kitchen, guided us along (we'd send pix through email when he was out of town), built our pantry, and put up all of our trim, pantry doors, and hung all of our doors. And then there's my husband, who is MY hero. Who's learned so much and can do so much. Who loved me enough (and recognized my passions) to sacrifice and give me this incredible kitchen!
I was thrilled when we bought our American Woodmark cabinets through Home Depot, by an August date, because the dark glaze on the cabinets came FREE. It added a touch to our kitchen that went with the design of our 1978 house, built by our friend Fred, with big, dark beams throughout. You could say it's got a "northwest" feel to the home.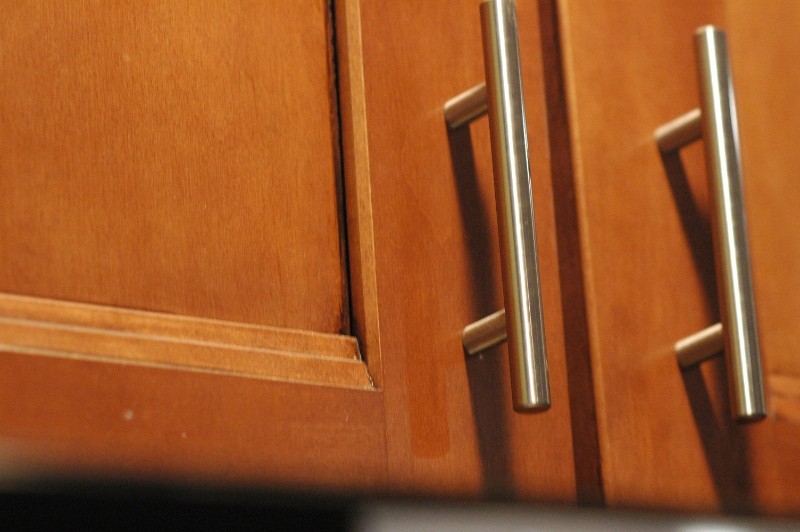 I was also ready (and dreading the cost, if you know how quickly those knobs and pulls add up!) to pay for the stainless, brushed-nickel pulls on the cabinets, when Kandace, from Home Depot, told me they came FREE with the cabinets!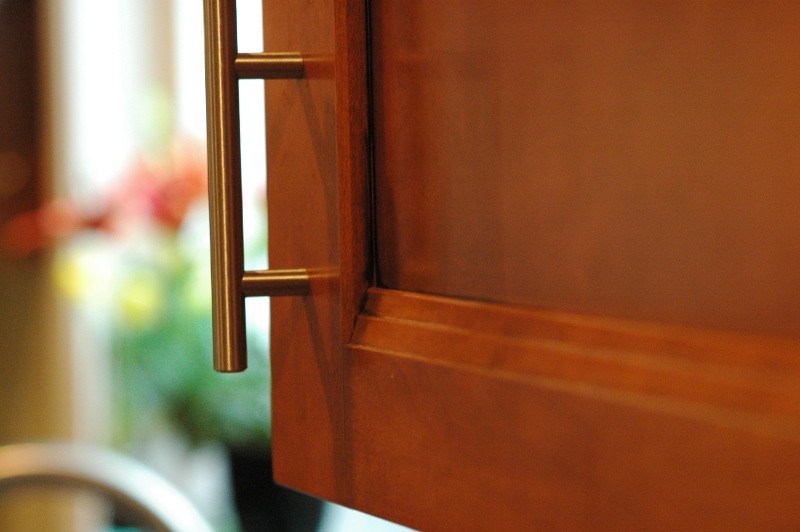 And then the countertop we chose, Staron, had 3 choices of colors 1/2 OFF (another summer promotion). The counter color we chose (Sanded Mocha) went perfectly with our colors. And I love the way the counters shine and how they wipe off! (You'll notice on HD's page a button that says "This Week's Specials")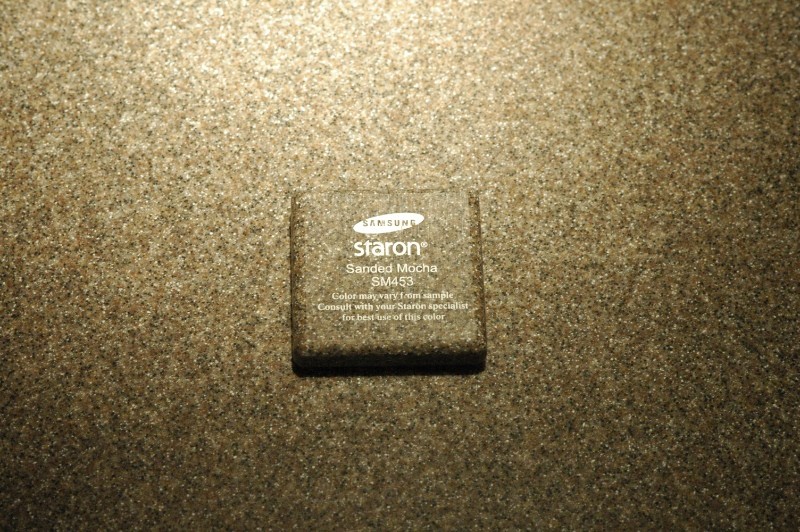 My husband found our pendant lights on sale for $25 a piece. What a bargain!
We decided to use our current dining light and spray paint it black.
I LOVE black spray paint!
We bought a USED, new to us refrigerator. And we used our existing stove top and dishwasher (all 3 of these appliances were black, but we couldn't afford stainless brand new ones!). We decided the combination of black and stainless went well together.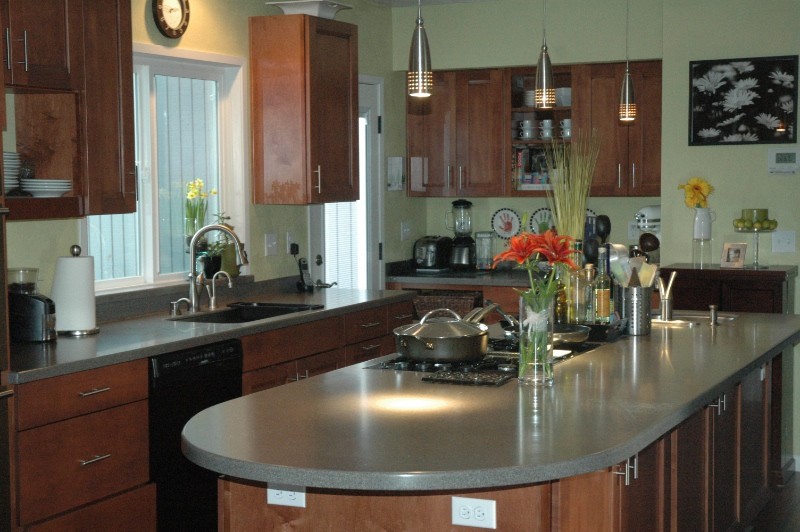 We bought our Glidden paint from Home Depot, too. Couldn't have been more happy with the product. Love how the colors change in the kitchen, according to the light and the time of day. Even though the paint was not discounted, we had heard really good things about the product.
Even though our kitchen was a huge project, we were able to keep this remodel modest, in our price-range. We were constantly thinking of ways to make it affordable and not over-the-top. We borrowed a ton of tools from my Dad, and did most of the work during weekends, early morning, or late evenings. It was a sacrifice, I'd say. We worked with Home Depot, and they worked with us by letting us know about the incredible promotions available. I can see why Home Depot is the world's largest retailer!
Now's the time to remodel because there are some great deals out there!
So here's a big CHEER to all the great workers involved in our kitchen. Doug & Randy (plumbers), Duane (cabinet installer), Cory (dry-waller), Kandace (Home Depot), Keith, Victor (Precision Door), Steve (Precision Countertops), Ginny (my Dad's helper and wife), my kids who gave up a part of their summer (Elliot, Garrett, Abby), and again, the BEST husband in the world who has gotten so good at remodel projects. He can basically do anything now. My Dad has been a great teacher for Paul, and Paul really enjoys working alongside my Dad (learning all of his little shortcuts and secrets).
The process was an awesome experience – but one I don't want to revisit any time soon! (Anyone who's done any remodeling in their home must know what I mean! Last house we lived in, we gutted and redesigned the whole kitchen!)
Here's one last thought I want to share. I told myself from the beginning that I was not interested in a new kitchen that was flashy or showy. My desire was to share it with others, to let hospitality flow in my home, and to use it for the right reasons. I know of many beautiful kitchens that just sit there. And what a shame that the meaning and purpose of those kitchens can't be shared with the world.
When my friend, Faye recently visited with me, we talked about how we just couldn't afford granite countertops. Then she made a very good point.
It's not about the counters, Sandy. Many homes with beautiful granite may entertain 1-2 times a year. And you're entertaining every weekend!
Her point was made. Our kitchen is all about the people. Period.
I'd love to hear your thoughts on if you wished you entertained more in your home? And does your kitchen get used a lot?
Also feel free to ask any questions and I will use them for future posts. One question already asked was why I chose one deep bowl instead of 2, for my main sink … so fire away! And I will put a pix up from the other side of the room.
This post is linked to Traci's (Beneath my Heart) DIY Project Day!
Hello and welcome to my home and table!
I'm Sandy—lover of food, family, cooking, THE BIG BOARD, travel, and bringing people together. Through great recipes and connection around the table, we become better, stronger, and more courageous people. Feasting on Life is real, and every time we do it, we grow a little more. Read more...