8 Simple and Sane Entertaining Tips with Napa Cabbage Cole Slaw Salad
This Napa Cabbage Cole Slaw Salad recipe is delicious served with pulled pork sandwiches, or at any summer party, potluck, or picnic.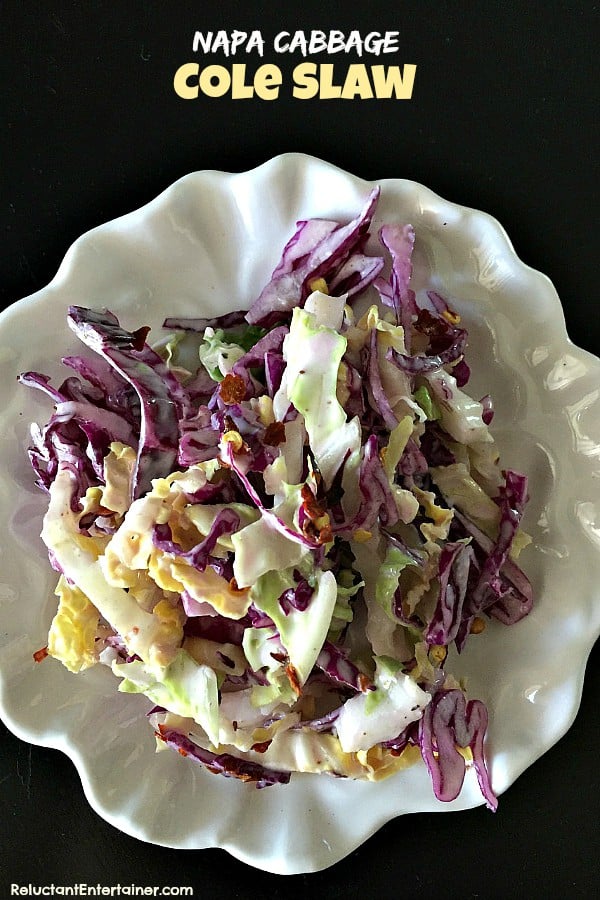 "Do what you're good at and everything else will fall into place." – Willnett Crockett
Sometimes I think we take entertaining a little too seriously, making it bigger than it ought to be.
I just want things simple. Do you ever feel that way?
Spontaneous and last-minute is always a good way to entertain, because you just can't afford the "overthinking" of all the tiny details, and your main goal is to get a meal on the table.
I'm not a happy mama when I'm worrying and fretting over silly things—things that don't even matter. Like, how many times did I run upstairs to scrub down the bathroom, when no one even goes upstairs? (sigh). Or clean the kitchen floor, when everyone stays outside the entire time and doesn't even come into the house. You get it … the things we spend our energy on, when realistically, at least for summer entertaining, they don't really matter.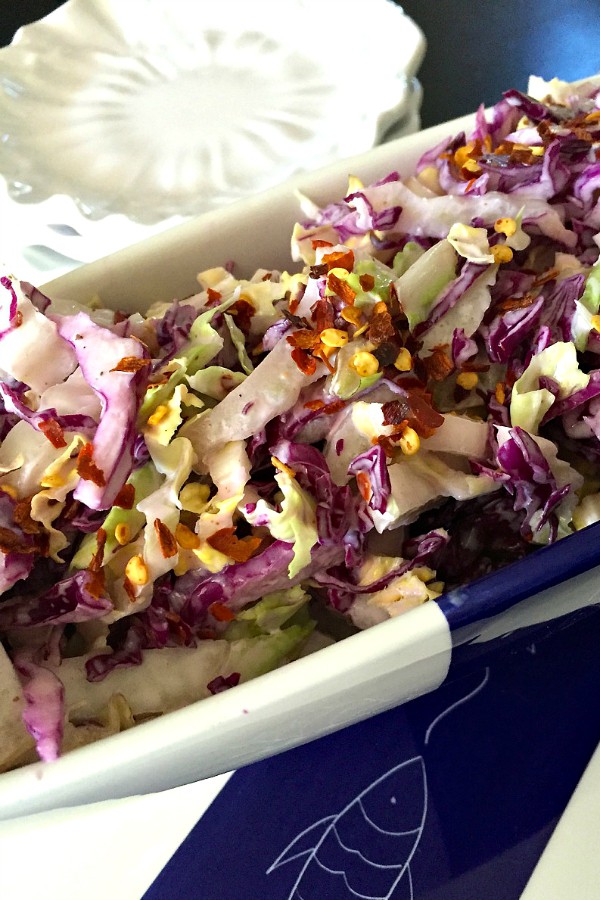 I'm learning, as I know you are as well.
Here are a few ways to keep hospitality simple and sane, because it's an important piece of life that we should all be savoring.
8 Simple and Sane Entertaining Tips.

1. Find a style that works for you. Stick with it and know that it's okay to use the same dishes every time you have guests into your home, or the same tablecloth, and that potluck is ok. It may not be a sit-down party, but something more like a casual gathering, where you serve buffet style on your kitchen center island.

1. Stick within your comfort zone. Don't invite more people than you are comfortable seating around your table.

3. Cook and serve a couple of recipes that you're familiar with, and delegate the rest. Store-bought sometimes saves the day!

4. Realize that when you invite people to your home, they are coming to see you, meet your family, and learn more about your traditions in your home, around your table.

5. Don't try to do it all. Include the family with chores, and in setting the table, and set a standard that is "good enough," and not necessarily perfect.

6. Be intentional with your dinner guests. It's awesome to invite people you want to introduce to one another, or who you want to get to know more.

7. Lean into your fears. Don't worry about what others will think. Stop the silly chatter in your mind and turn on some fun music as you're getting ready for your guests!

8. I learned a long time ago to stop doing the things that I never had time to do, like making homemade bread (love the thought, loved serving homemade bread, but always ran out of time), and instead take shortcuts, and stick with easy and simple.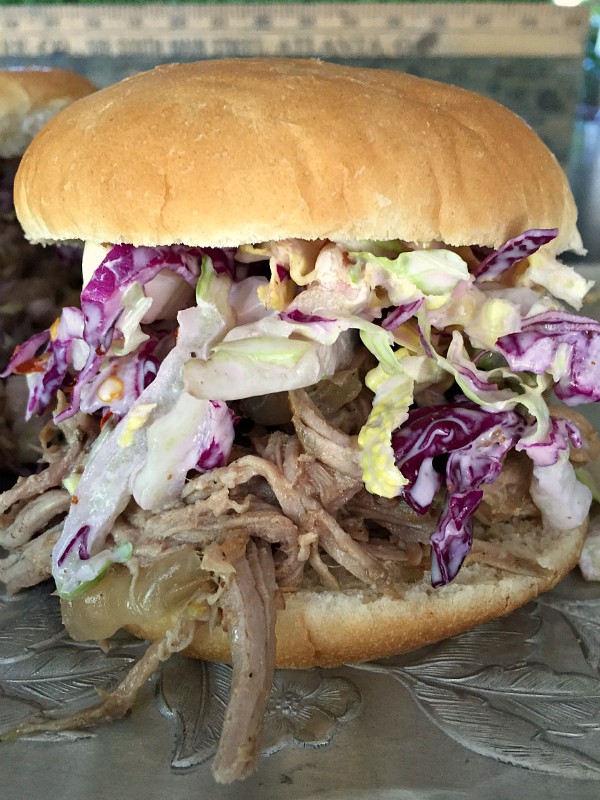 Napa Cabbage Cole Slaw.
Like this recipe today. We served Pulled Pork Sandwiches the other evening with this simple slaw.
I tried something new this time, using Napa Cabbage with red cabbage. Delicious!
What tips have you learned to keep entertaining sane and simple?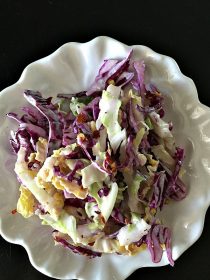 Get the Recipe: Napa Cabbage Cole Slaw Salad
Ingredients
1/3 cup light mayonnaise
1/3 cup plain Greek yogurt
1 Tbsp. white vinegar
1 tsp. sugar
1/2 tsp.celery salt
Salt & pepper to taste
3 cups finely shredded Napa cabbage
2 cups finely shredded purple cabbage
Red pepper flakes
Instructions
Stir together mayonnaise, yogurt, vinegar, sugar, and celery salt in a bowl.

Pour over cabbage and toss gently.

Season to taste with salt and pepper. Sprinkle red pepper flakes on top before serving.
Are you following me on Instagram, Twitter, Facebook and Pinterest? If you'd like to subscribe to Reluctant Entertainer, to have each post delivered straight to your e-mail box, then please add your email, here. It's really easy! Thanks for being here today!
Hello and welcome to my home and table!
I'm Sandy—lover of food, family, cooking, THE BIG BOARD, travel, and bringing people together. Through great recipes and connection around the table, we become better, stronger, and more courageous people. Feasting on Life is real, and every time we do it, we grow a little more. Read more...