Bringing Soul to Recipes with a River Dinner Party
Find a space in the outdoors and create your own River Dinner Party with good friends and family! This post is sponsored by Ryobi Outdoors. Friends, if you have the time, please take a short survey HERE (and win a $100 VISA card). Thank you for your support!
"A recipe has no soul, you as the cook must bring soul to the recipe." – Thomas Keller
I've been thinking about this quote for some time. How can we bring more soul to food, make it memorable, special, unique, an "experience?"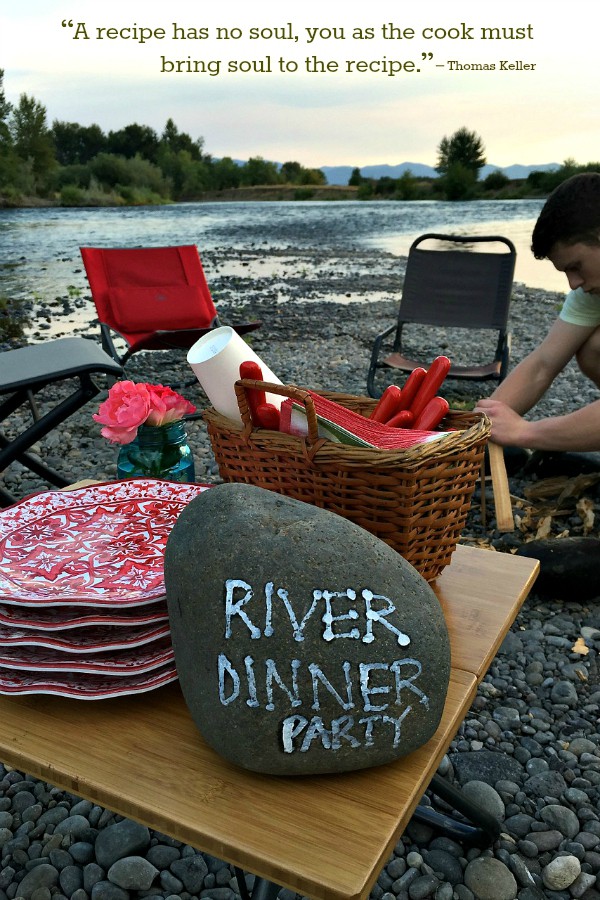 Hosting a River Dinner Party was the answer that my husband and I came up with, a few weeks ago.
When Ryobi sent us their mighty RYOBI 2200 Starting Watt Inverter Generator, which we plan to use for camping in our Westfalia camper van (her name's Rosemary and yes, we put a sprig of rosemary on the dash at the beginning of each trip), we were beyond thrilled, because this meant new camping experiences, new camp sites (no need for hook ups), and that we could venture further out into the great outdoors!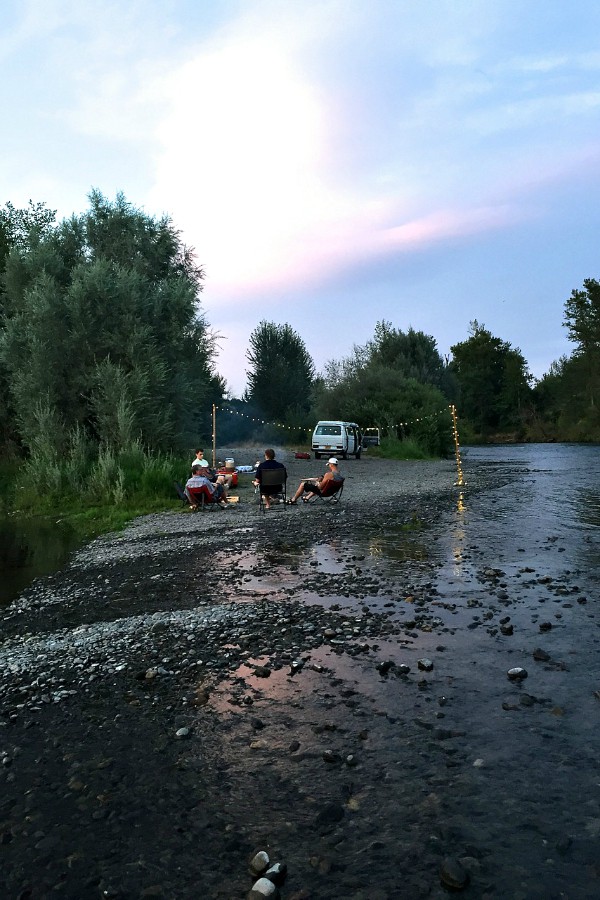 Rosemary is fully contained, except for generating clean electricity, which we use for all kinds of things, but especially to run our electronics and festive lighting. So with this very convenient generator that is also amazingly quiet–ever been camping next to someone who used a loud one? Makes you want to give up camping forever–we are now completely set to take off for weeks at a time. (By the way, you can follow us on Instagram @SandyCoughlinRE with #WestyRE)
River Dinner Party.
On the fly, we decided last week to host a River Dinner Party. We have a secret place in southern Oregon where we love to go, and this time not one soul was around.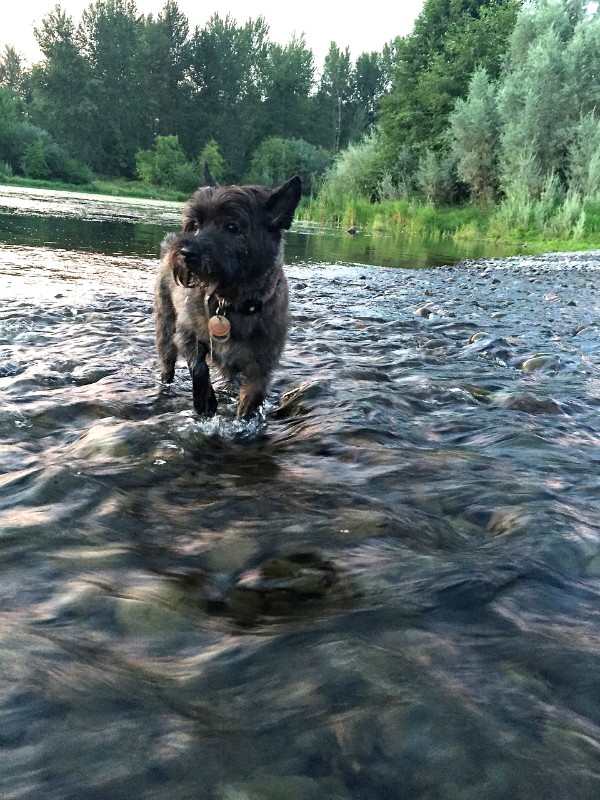 Except our guests, our kids, and our dog Haggis.
To create a memorable experience for all, my husband set up party lights, right on the Rogue River.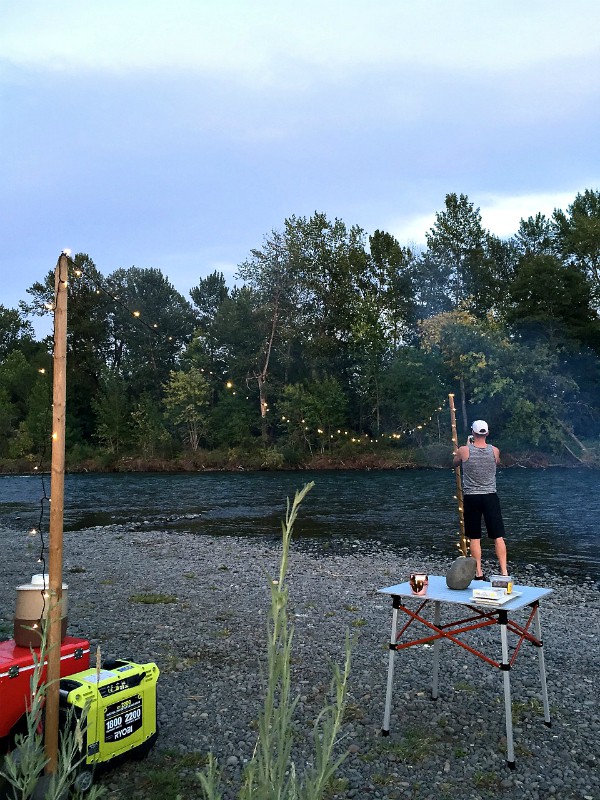 Creating ambience.
We brought two wooden poles from home and a small shovel. We dug two shallow holes, inserted the poles, then put river rock around the base of each.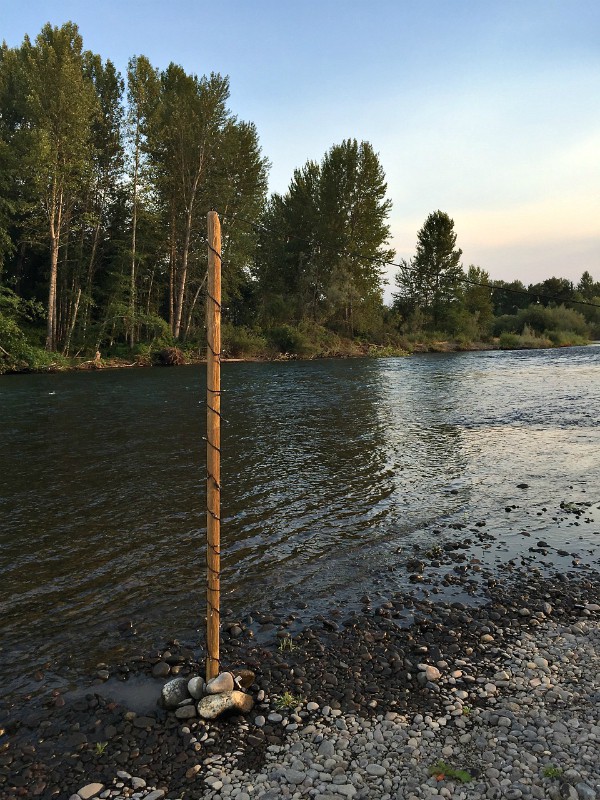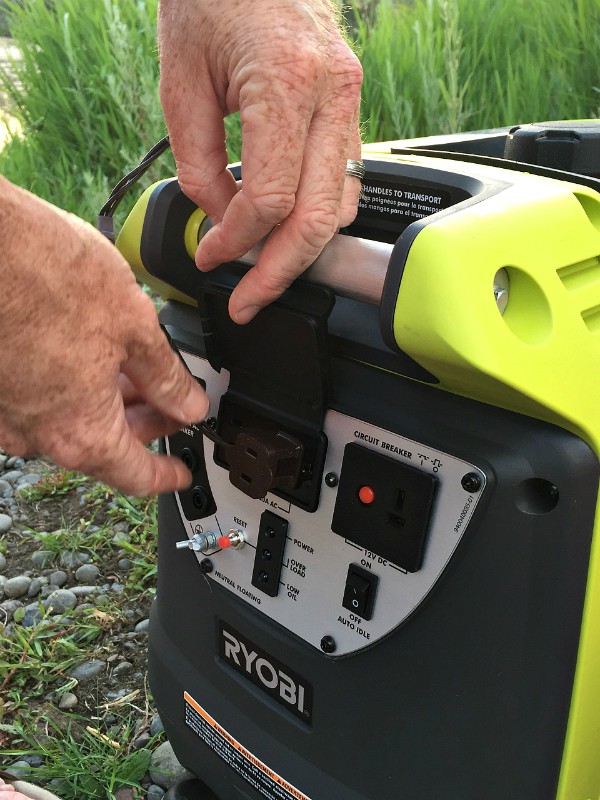 Then we started our generator (already primed and run at home, making it easier to start on the river), plugged in two strings of LED lights, the kind many use for Christmas decorations, we were able to run them all night, with no problems.
We could even have brought a string of standard light bulbs, the kind used for outdoor lighting in restaurants and cafes. And because the generator is so quiet, with some magical whisper setting technology, we forgot it was there.
Setting up.
We built a fire.
I brought a river rock from home (with chalkboard paint).
I felt like it was my job to bring soul to the food, so I created a simple, delicious menu (and brought pretty melamine plates). Set it up on our REI table. Summer food is so pretty!
We barbecued the chicken, made a few delicious fresh salads, made some Moscow Mule drinks, fresh baguette bread.
River Dinner Party Menu:
Barbecued Chicken
Green Salad
Fruit Salad
Peach Avocado Salad
Baguette with butter
Trader Joe's Lemon Bars :)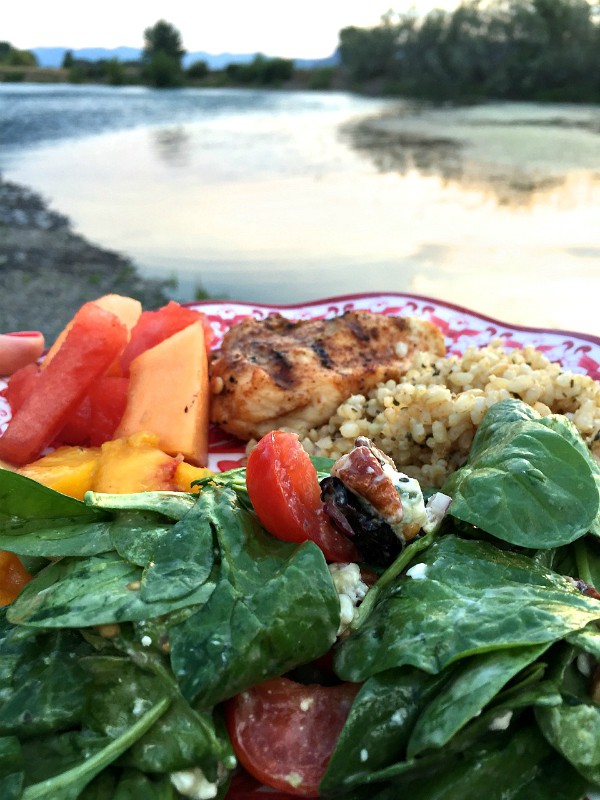 A night of soul.
The sun went down.
The conversation became rich and full, with our kids in the mix.
The fire, the lights, Haggis running around.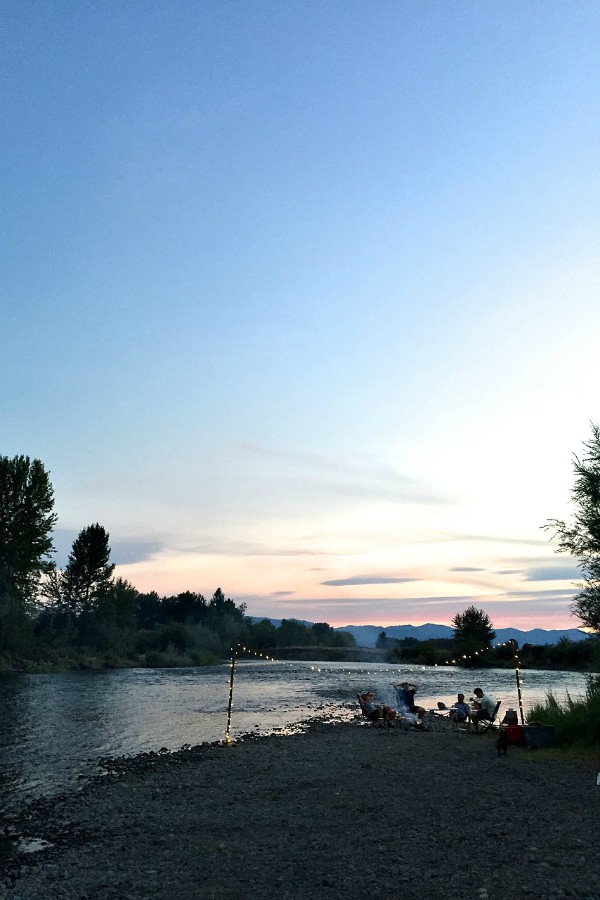 It was a night to remember.
Filled with love and soul.
When's the last time you created a unique experience with food?
More posts about "Rosemary" and #WestyRE
Ryobi provided us with the generator. As always, all opinions are my own.
Are you following Reluctant Entertainer on Instagram, Twitter, Facebook and Pinterest? If you'd like to subscribe to Reluctant Entertainer, to have each post delivered straight to your e-mail box, then please add your email, here. It's really easy! Thanks for being here today!
Hello and welcome to my home and table!
I'm Sandy—lover of food, family, cooking, THE BIG BOARD, travel, and bringing people together. Through great recipes and connection around the table, we become better, stronger, and more courageous people. Feasting on Life is real, and every time we do it, we grow a little more. Read more...