Roasted Butternut Squash and Black Bean Enchiladas
One thing we can't forget about entertaining and inviting people into our homes is that the simpler we make it, the easier it becomes. Sometimes the weather affects us, sometimes not.
Last week we got a couple of days of rain, which totally put me into the "winter is coming" spirit. This week we're back on track with beautiful weather, and we're feeling fall again, which makes me so happy, and makes me want to invite a family over for dinner.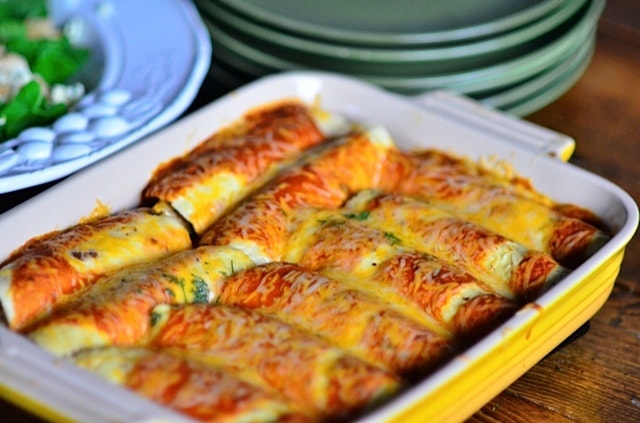 Our family loves a healthy vegetarian dinner packed with delicious vegetables, including winter squash from our garden. And everyone loves the sweetness of the roasted butternut squash in soups and sides dishes, but our family favorite is – enchiladas. Which, by the way, I didn't grow up eating butternut or spaghetti squash, did you? I remember in the 70s my mom cooking with acorn squash, but that was about it. I'm not really sure when it became so popular.
Did you know that it has more vitamin A than a pumpkin?
Being a winter squash, butternuts are readily available in the US markets from September until the middle of December. But once at home, well-ripen squash can be stored for many weeks in a cool, humidity-free, well-ventilated place at room temperature. However, cut sections should be placed inside the refrigerator, where they keep well for a few days.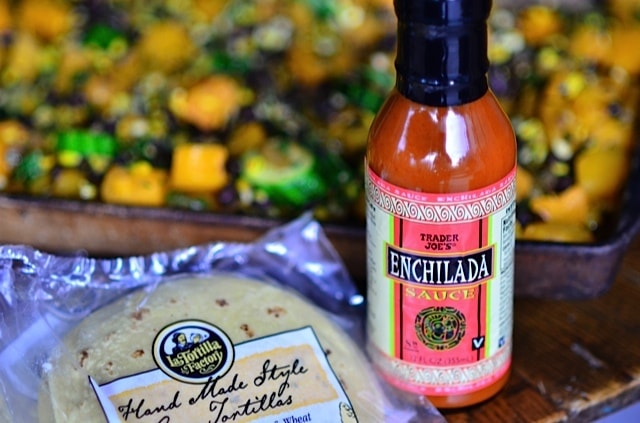 What I love about the filling for this recipe with butternut is that you can add any flavor of beans to the mixture, eat it by itself, with cheese on top (for a low-carb meal), toss it in with a salad, or make enchiladas with it.
We usually serve enchiladas for a casual meal for company, along with a big green salad. Light and delicious!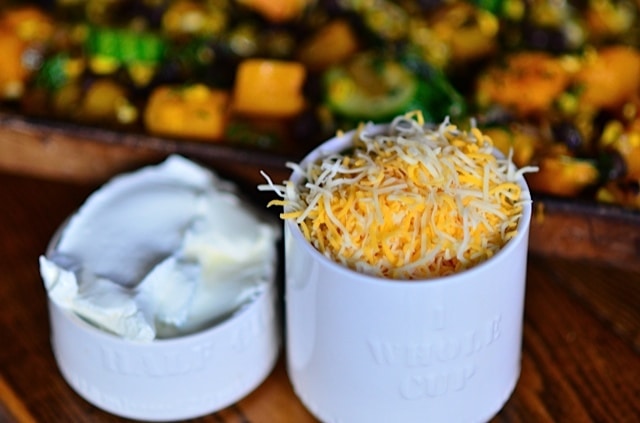 And then you can always serve separate toppings–such as avocado, sour cream, and cheese–for those who want to make it with a nice creamy freshness.
Some may say a pan of enchiladas for entertaining is not "fancy" enough, but I say we need to keep gathering together simple. Not slaving for hours in the kitchen or stressing about the house, but bringing people together and simply cooking what you love for those you love.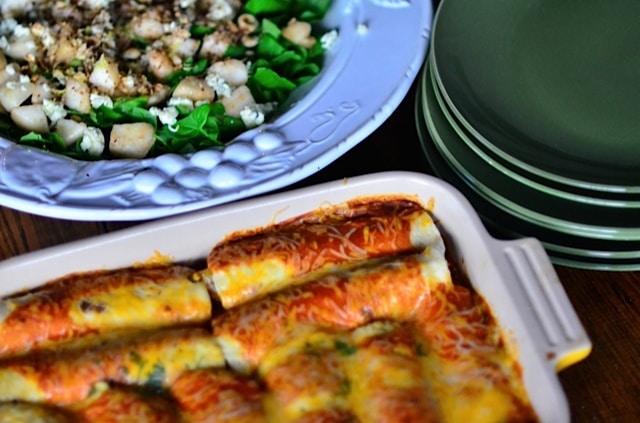 In this case: A simple pan of enchiladas and a fresh green salad.
Do you ever overcomplicate a simple dinner party by stressing over the fancy stuff, or are you good about keeping it simple?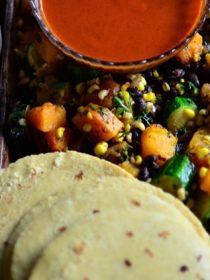 Get the Recipe: Roasted Butternut Squash and Black Bean Enchiladas Recipe
For a quick meal for last-minute entertaining, use Trader Joe's Enchilada Sauce.
Ingredients
4 cups 1/2-inch cubed butternut squash, 16-ounces, or about 1 medium peeled, seeded squash
1 tablespoon extra virgin olive oil
1 cup zucchini, cubed
15 ounces Bush's Black Beans, drained and rinsed
1 medium onion, chopped
1 cup chopped cilantro, plus more cilantro for garnish
1 cup corn, frozen or fresh
12 ounces enchilada sauce, I use Trader Joe's
2 cups shredded Mexican cheese blend
10-12 corn tortillas
1 large ripe avocado, peeled, pitted, and sliced
1 cup low fat sour cream
Instructions
Preheat oven to 400 degrees F. Place cubed butternut squash and chopped onion on a large baking pan. Drizzle with olive oil and season lightly with salt and pepper. Toss to coat. Roast for 20 minutes or until tender, the last 10 minutes adding the zucchini and corn to the mixture for an additional 10 minutes. Reduce heat to 350 degrees F.

In a medium bowl, stir together the roasted butternut mixture and add in freshly chopped cilantro.

Pour a thin layer of the enchilada sauce over the bottom of 13″ x 9″ casserole dish. Place 1/3 cup of the squash and bean mixture into each tortilla. Top with 1 tablespoon of sour cream and sprinkle with cheese, and roll up. Place seam-side-down in the baking dish.

Continue until the pan is full of enchiladas. It's okay to squeeze them together and add in extra if you need to. Pour the remaining enchilada sauce over the top of enchiladas. Sprinkle with the remaining cheese. Bake at 350 degrees until cheese has thoroughly melted and is beginning to bubble around the edges, about 30 minutes. Let cool for 5 minutes.

Garnish with cilantro and serve with sour cream and avocado and cheese on the side.
Hello and welcome to my home and table!
I'm Sandy—lover of food, family, cooking, THE BIG BOARD, travel, and bringing people together. Through great recipes and connection around the table, we become better, stronger, and more courageous people. Feasting on Life is real, and every time we do it, we grow a little more. Read more...