Sandy's Bush's Summer Bean Salad: Western Party!
I promised I would share my Summer Bean Salad recipe served at the closing event Saturday night at the EVO '10 conference. But first of all, when Bush's Beans told us that it was a western themed dinner, I was like … really? I have to dress up? But they made it fun for all.
With the guys who greeted all 500 guests.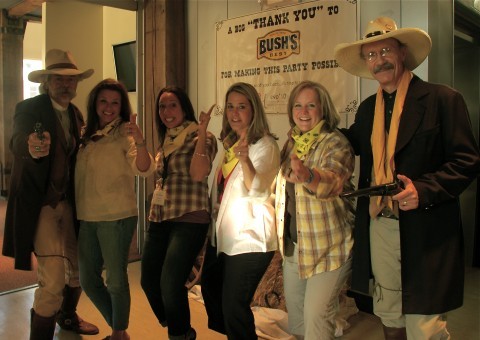 A fabulous idea – photo booth and dress up.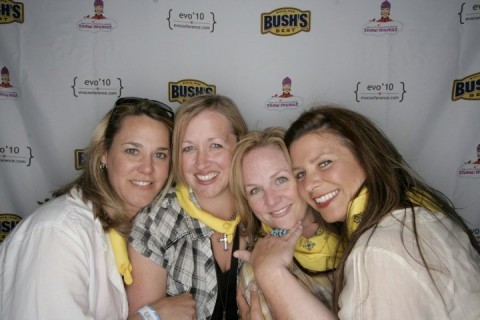 Little ones enjoying themselves.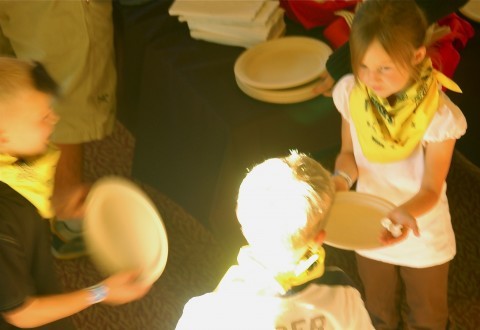 And the big ones, too. (Ally on the left – love her!)
Rides and adventure.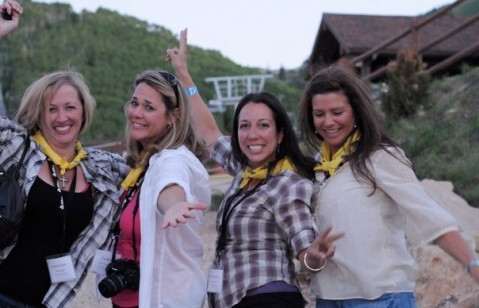 Thrill and adrenalin high.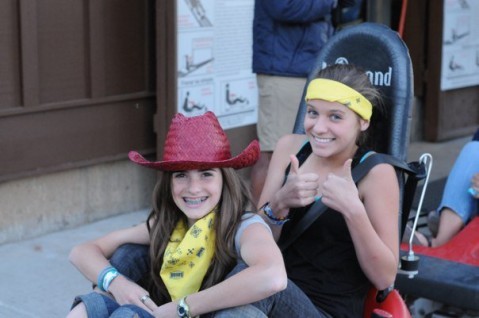 Fun with my baby (Abby).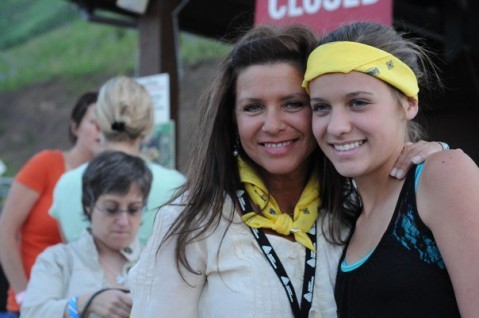 And then there was the food. A Western barbeque which included my Bush's Summer Bean Salad!
I'm happy to share the recipe, adapted from a recipe in my new book, The Reluctant Entertainer. Oh, Yum! Here's a peek at me and Aggie checking out our dishes before the guests arrived. (Aggie's Garbanzo Bean and Wild Rice Salad was also featured.) Amy and Tina had recipes featured throughout the conference, too.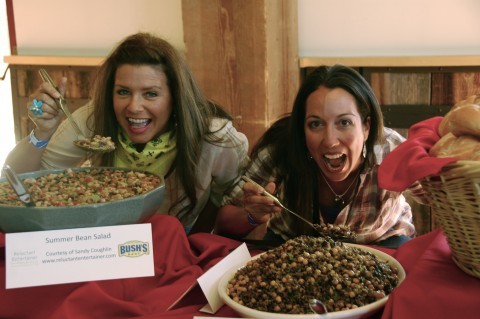 Sandy's Summer Bean Salad
Serves: 10; Prep Time: 10 minutes; Cook Time: 5 minutes
Ingredients:
2 cans Bush's Black Beans, rinsed and drained
2 cans Bush's Cannellini Beans, rinsed and drained
2 cans Bush's Pinto Beans, rinsed and drained
1 can chopped green chilies, do not drain
1 jalapeno chili pepper, seeded and finely chopped
1 red bell pepper, cored, seeded and finely chopped
1 green bell pepper, cored, seeded and finely chopped
1 small red onion, finely chopped
2-3 stalks celery, finely chopped
1 bunch cilantro leaves, finely chopped
1-2 avocados, chopped (optional)
Dressing:
1/2 cup rice vinegar
1/2 cup olive oil
1/3 cup white sugar
1/2 tsp. garlic powder
1/4 tsp. cumin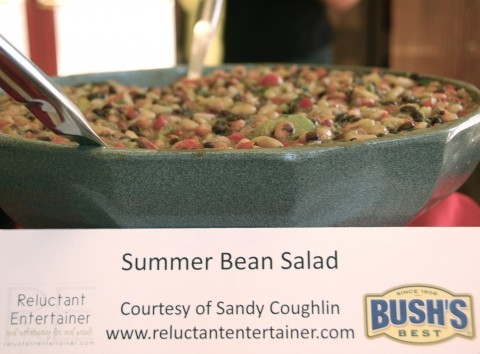 Method:
1. In a large bowl, mix the above ingredients together.
2. To make the dressing, mix the ingredients together in a saucepan and stir. Bring to a boil, then removed from heat and cool.
3. Pour dressing over the bean mixture and toss.
And enjoy!
If you're free to join the GNO (Girls Night Out) on Twitter tonight, it will be fun! The Bush's Beans team and the 4 Team Bloggers are going to be chatting about summer cooking, entertaining, 4th of July, recipes, and there's even a $300 giveaway that you can be a part of! Hope you can join in on the fun …
(Thank you, Kristen, for the use of a few of your photos!)