Aggie's Kitchen Sausage and Peppers Recipe
This post may contain affiliate links.
How about for this Sunday Supper, serving Aggie's Kitchen Sausage and Peppers Recipe, for your family, guests, or to bring to a potluck?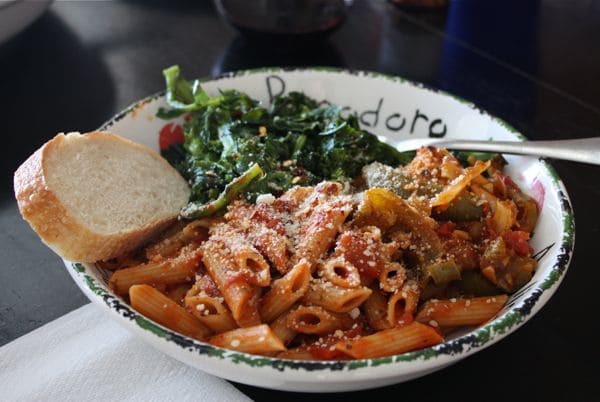 Please welcome my guest today, Aggie, from Aggie's Kitchen.
Hey there! I'm so happy to be here today! It's been a while since I've stopped by. Last time I was here it was last summer, and I brought dessert. Today I decided to do something different, and have you over to my house for some Sunday lunch with my family.
Sunday lunch has always held a special place in my heart, my family is Italian and growing up Sunday lunch was always just a given.
It was a meal that we shared together every week, no matter what and without a fuss. It was just what we did. I would wake up each Sunday to smells of garlic and onion simmering on the stove, my grandmother and my mom already in the kitchen getting the sauce and meatballs ready before we went to church. Sometimes it was just the immediate family around the table, sometimes there were aunts, uncles and cousins over and sometimes we would share it with friends.
Our meal changed slightly each week, but I can assure you that it always included a nice big comfy bowl of pasta.
For those of you who don't know me, I met Sandy over a year ago through our relationship with Bush's Beans. I feel extremely blessed and grateful to have met Sandy, because over time, our friendship has grown so much. I find myself always asking her for advice and sharing with her my thoughts and goals…I look to her to hold me accountable. She's someone I trust and am so thankful to have met through the wonderful world of blogging.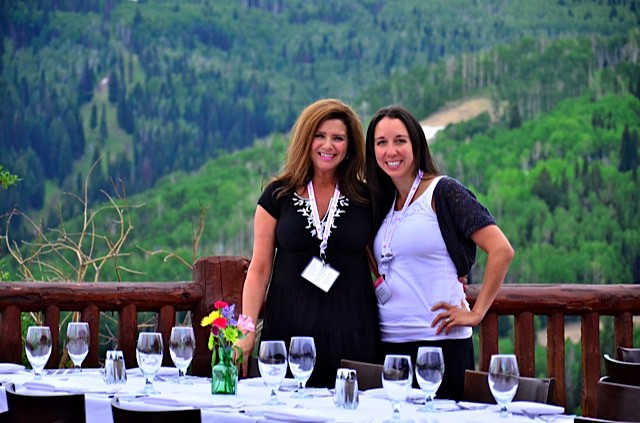 (Sandy and I just last month in Park City for Evo '11)
Before we get to the food I wanted to share with you a couple of things I've learned this past year as far as entertaining and hospitality goes. I've talked a lot of this out with Sandy already and she has helped me so much in this department. I have never been afraid to entertain and am very comfortable with having people over my home. I can thank my parents for that, we always had friends and family over and it was just part of our life. No matter how comfortable I am having guests over though it still never fails that I tend to drive myself a little nuts before each "get-together." I think its something a lot of us do right? (please tell me I'm not alone!!) A lot of it stemmed from feeling like every single thing had to be perfect.
Lesson 1: Imperfection is so much easier.

I have also always felt like I have to do everything. Now of course, I am the one having the gathering, I have to do something…but sometimes it really is okay to ask for help. For instance, if you are having a large get-together with multiple families where a meal is going to be served, ask your guests to bring a favorite family dish, dessert or even wine. People love bringing food and helping. It's okay. The day or morning before ask your husband to help you out a bit by wiping down the bathroom counters or straightening up the patio. And ask your kids to help you by putting their toys and school papers away. I recently asked my kids and their cousins to wrap plasticware in napkins and fill up water balloons for our 4th of July family barbecue…it kept them entertained a bit and helped me get organized.

Lesson 2: It's really okay to ask for help.

One more thing that I learned…and this probably has a lot to do with the perfect/imperfect lesson, is to take shortcuts. And what I mean by shortcuts is this: when you are strapped for time but have plans for a nice casual dinner with friends or family…don't get overwhelmed. Instead, order a bunch of pizzas and garlic bread, and make a nice big salad and open a couple of bottles of wine. No one will mind I promise you (and get this…you can probably get away with "nice" paper plates too).

Lesson 3: Take shortcuts.

These lessons have really been a real eye opener for me. And I like to think I'm a more relaxed hostess because of it.
Sausage and Peppers Recipe
So are you wondering what we are going to eat?
Well, I wanted to share with you my recipe for my family's favorite Sausage and Peppers. I make this all the time for friends and family and is one of my favorite meals to share with others along side a bowl of pasta or as sandwiches on crusty Italian bread.
If you are feeding a large group it's a great recipe to double and can be easily served buffet style.
Thanks for having me over today Sandy and hope you all enjoy the meal!
When you are strapped for time, do you feel like you can ask your guests to help out?
Sausage and Peppers Recipe
Ingredients
4 large bell peppers, I like to use a combination of red and green, cut in large strips
1 large sweet onion, cut in large slices
3 cloves garlic, minced
good pinch salt and pepper
good pinch or two of dried oregano
2 lbs sweet Italian sausage, I sometimes use Italian chicken or turkey sausage as well
2 tablespoons olive oil
2-3 cups of your favorite tomato sauce
Instructions
Preheat oven to 375.

In a large glass baking dish, add peppers, onions, garlic, olive oil, salt and pepper. Toss until all the vegetables are coated in the olive oil.

Place sausage links over vegetables and put in oven. Bake for about 20-25 minutes until vegetables are soft and sausages are cooked through.

Take sausage links out of baking dish and onto a cutting board. Slice sausage thickly on an angle, about 4-5 slices per link. Place sausage pieces back into baking dish.

Add a few ladles of tomato sauce into baking dishes and gently stir to combine with sausage and peppers.

Place sausage and peppers back into the oven for another 15 minutes or until sauce is bubbly.

Serve alongside pasta and/or bread and with Parmesan cheese.
Aggie Goodman, of Aggie's Kitchen, is an active mom of two who's always thinking about the next meal. Her kitchen is her "happy place" where she can relax and do what she loves to do, feed her family and friends. Most of the food she cooks is healthy, but the occasional treat is permitted (and welcomed!). When she's not cooking, she's most likely running after her kids, getting in a good workout, finding peace in a book or talking food on social media. You can find her on Facebook and as @aggieskitchen on Twitter.
We are a participant in the Amazon Services LLC Associates Program, an affiliate advertising program designed to provide a means for sites to earn advertising fees by advertising and linking to amazon.com.