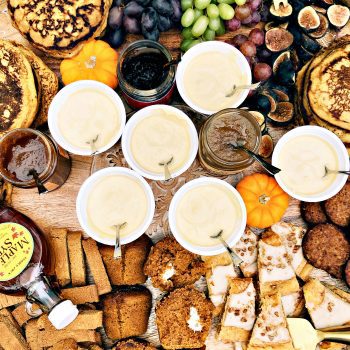 Print Recipe
Trader Joe's EPIC Pumpkin Pancakes Board
All things on this board were purchased from Trader Joe's!
2

1 lb 2 oz Gluten-Free Pumpkin Pancake Mix (you can also use regular)

2

boxes Meatless Breakfast Patties

1

box

4 Pumpkin Muffins with Cream Cheese (cut in half)

1

Pumpkin Caramel Kringle

1

box Pumpkin Biscotti

Mixed Grapes

Figs

fresh or dried

1

jar Pumpkin Butter

1

jar Fig Spread

1

jar Apple Cider Jelly

1

bottle Maple Syrup

6 Pumpkin Greek Yogurt cups (add more according to guests)

1

stick butter

2-3

small pumpkins for garnish
Preheat oven to 350 degrees. Bake the breakfast patties according to package directions.

While patties are baking, mix and make the pancakes, stacking high to keep warm. If need be, lower the oven to the warm setting, and keep in the oven while you're preparing the board.

On a large board, arrange all the food items, with the yogurt cups in the center.

Add spoons and utensils. Poor the syrup into a small pitcher.

Serve!