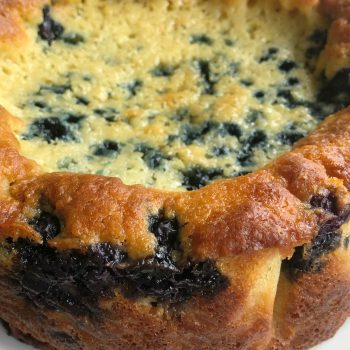 Print Recipe
Blueberry Yogurt Morning Cake
Recipe from Savor, Living Abundantly Where You Are, As You Are, by Shauna Niequist
Preheat oven to 350 degrees. Butter a 10-inch springform pan, and line it with parchment paper (I spray the parchment paper with cooking spray).

In a large mixing bowl, combine butter, sugar, eggs, yogurt, and almond extract. Mix well.

Add flour, salt, baking powder, baking soda, and with a wooden spoon, mix by hand until combined. Be careful to not overmix.

Pour the batter into the springform. Toss the berries with the two tablespoons sugar, and then spread them over the batter.

Bake for 50 minutes to 1 hour, or until a toothpick comes out clean when inserted in the center.

Let the cake cool for 10 minutes and then transfer to a cake plate or stand.

If not serving the cake that day, after cooling, cover the springform pan (to not dry out). Do not remove from the pan until right before serving. Delicoius to serve warm, or the next day!