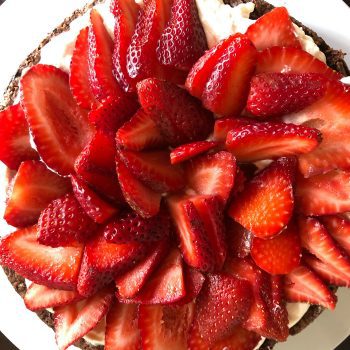 Print Recipe
Best Flourless Chocolate Cake
Best Flourless Chocolate Cake recipe is truly the BEST. Serve with fresh whipped cream and giant, sliced strawberries. A gluten-free dessert made with almond meal.
Preheat oven to 350F. Coat a 9-inch springform pan with cooking spray and sprinkle the inside with cocoa. Make sure it's evenly distributed, and turn pan over and shake off excess cocoa.

Place softened butter in large bowl; beat until smooth. Add vanilla and 1 cup sugar; beat until creamy. Add almond meal, chocolate and egg yolks; beat with a mixer at medium speed; set aside.

Beat egg whites with a mixer at high speed until soft peaks form (do not overbeat). Stir 1/2 of the egg whites into chocolate mixture; gently fold in the remaining half of egg whites.

Scrape batter into the prepared springform pan. Bake 35 minutes or until done. Cool 30 minutes, cutting around the outside of the cake to release from the edges. Then release the springform and slide onto a serving plate.

Meanwhile whip the cream on high until barely thick; add in the powdered sugar and vanilla. Gently mix.

Top cake with whipping cream and sliced strawberries.