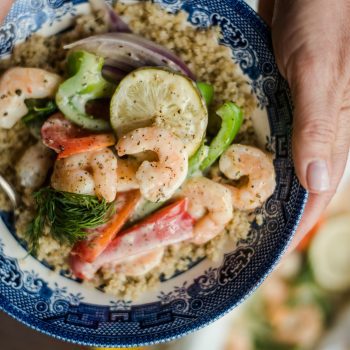 Print Recipe
Shrimp Scampi Foil Pack Dinner
Simple shrimp scampi in garlic butter, with peppers and onion, foil pack dinners are easy to make for a 30-minute meal. Make-ahead or just in time for placing in the oven or on the grill. Great for camping or any time of year.
2

boxes

10 oz Gorton's Simply Shrimp Scampi (garlic butter)

1

large red pepper

or 2 small, sliced in thin slices

1

large green pepper

or 2 small, sliced in thin slices

1

large red onion

sliced in thin slices

1

lime

sliced into 5 slices

Fresh dill
Lay 5 12x10 inch pieces of parchment paper on top of 4 pieces of foil on a flat surface.

Divide the peppers and onion in the middle of each piece of foil.

Lay the shrimp on top of the veggies. Top with 1 slice of lime and fresh dill.

Fold the parchment paper and foil over the shrimp and veggies to close off the pack; pinch the ends up and over to a closure.

Grill over medium-high heat for 12-14 minutes on each side OR bake at 400 for 25-30 minutes, or until shrimp is cooked through and "pink" and veggies are tender. Serve immediately on quinoa or rice.