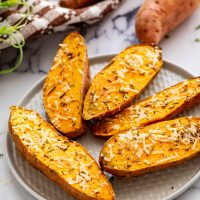 Print Recipe
Baked Sweet Potatoes with Rosemary Recipe
Delicious served with brown sugar and cinnamon, and butter.
Preheat oven to 400 degrees. Wash and scrub the potatoes and slice them in half.

Line a cookie or baking sheet with foil. Using your hands rub the potatoes completely in olive oil. Rub the potatoes in salt.

Lay the potato halves skin side down on the baking sheet. Sprinkle lightly with pepper.

Sprinkle lightly with finely chopped fresh rosemary.

Bake for 40-45 minutes, or until potatoes are tender.

Serve plain, or with honey, butter, or cinnamon and brown sugar (1/2 cup brown sugar + 1/2 tsp. cinnamon mixed together). You can also melt cheese on top.