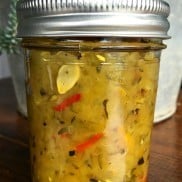 Print Recipe
Sweet Zucchini Relish
In the summer I double and triple this recipe. To grate the zucchini and onions, I use my KitchenAid food processor with the grater attachment. Makes about 4-5 (16 oz) pints. I also like to use 1/2 pint jars to give as gifts. Water bath canning required.
Servings:
8
-10 1/2 pint jars
Combine the zucchini, onions and salt; let stand overnight (cover and let stand in a cool place (70 to 75°F) for at least 12 hours).

The next day, using a colander placed over a sink, drain the zucchini mixture (squeezing out all water). Rinse and drain again.

To make the brine, in a large pot over medium heat, dissolve the sugar into the vinegar and spices; stir until mixed together.

Add in the zucchini, chopped peppers and pimientos, to the brine and stir. Bring to a boil over medium-high heat, stirring occasionally. Reduce heat and boil gently, stirring frequently, until liquid is reduced and mixture is the consistency of a thick commercial relish, about 30 minutes.

Prepare boiling water canner. Prepare jars and lids (I jar the relish in hot jars that have been run through the dishwasher).

Ladle the hot relish into hot jars, leaving 1/2 inch headspace. Remove air bubbles and adjust headspace, if necessary, by adding hot relish. Wipe rim. Put the lid on jar. Apply band until fit and fingertip-tight.

Process the jars in a boiling water canner for 15 minutes. Remove jars and cool. Check lids for seal after 24 hours, by pressing on the center (it should not flex when pushed down).

Enjoy, or give away as a lovely gift!