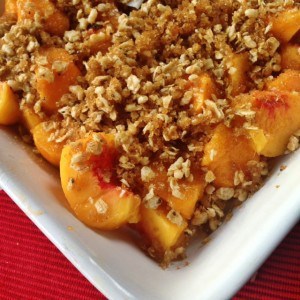 Print Recipe
Easy Nectarine Crisp with Granola
8 small nectarines, peeled and sliced
1/8 cup sugar
1 1/2 cup granola
1/4 cup butter, melted
1/4 cup brown sugar8 small nectarines, peeled and sliced
1/8 cup sugar
1 1/2 cup granola
1/4 cup butter, melted
1/4 cup brown sugar
8

small nectarines

peeled and sliced

1/8

cup

sugar

1 1/2

cup

granola

1/4

cup

butter

melted

1/4

cup

brown sugar
Preheat oven to 350. Peel and slice the nectarines and place in an 8×8 pan. Sprinkle with sugar.

In a small bowl mix the granola, butter, and brown sugar. Sprinkle on top of the fruit.

Bake for 20-25 minutes. Let cool for 5 minutes. Serve warm with Vanilla ice cream or whipped cream.