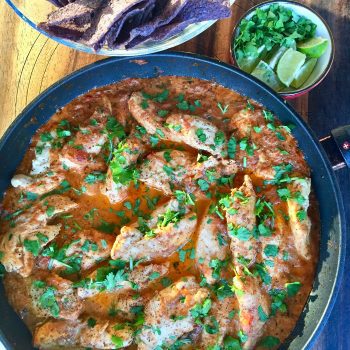 Print Recipe
Creamy Salsa Chicken Tenders
This 20-Minute Creamy Salsa Chicken Tenders recipe is quick and easy, easy to double for a large party! You can substitute creme fraiche for sour cream.
In a large nonstick skillet, heat olive oil over medium-high heat.

Season the chicken. Cook it on both sides until golden for about 3 minutes; transfer to plate.

Add the salsa to the skillet and cook on medium heat, stirring for 2 minutes.

Turn the heat down to low; stir in creme fraiche.

Return the chicken to pan, cover and simmer over low heat, 4-5 minutes.

Sprinkle with cilantro; serve with chips, rice, and lime.