Creamy Salsa Chicken Tenders
This 20-Minute Creamy Salsa Chicken Tenders recipe is quick and easy, delicious to double the recipe for a potluck or large party!
At a recent party we hosted in our home, little did my husband and I know that our guests were using our guest outside bathroom with no lights, only a dim little candle burning on the counter. I won't bore you with all the details, but it became apparent toward the end of the evening that 17 guests were stumbling to the bathroom in the dark (yes, it's also our pool bathroom, but close to the kitchen/dining area). The journey is only a few steps outside the back door, but the patio area had no lighting as well.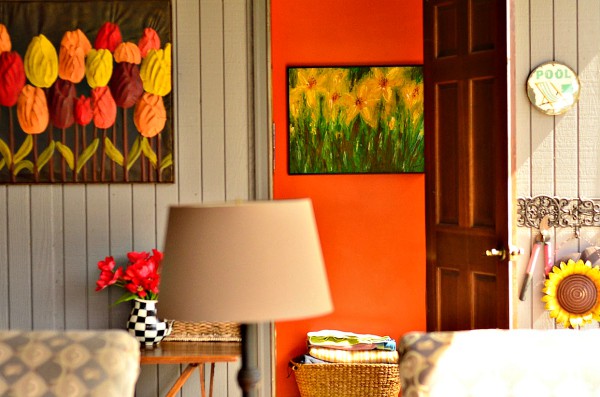 It wasn't until the end of the evening when we overheard guests talking about the "experience" when Paul and I realized that we blew a fuse on the back patio, which affected the lighting in the entire patio/yard/bathroom! Yikes!
Anyway, you just never know what will happen, but you learn to laugh about it later. (Thank goodness for the one, lonely candle!)
Posh camping.
I got a sweet thank-you note in the mail from a guest, and the "posh camping" description made me chuckle.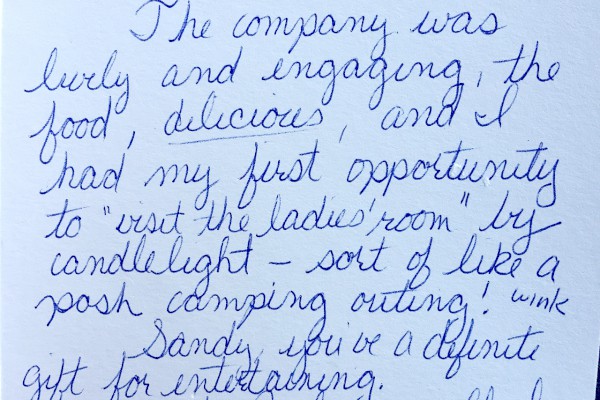 Remember when?
These are the things that make entertaining memorable, fun, lively, and makes for good conversation and something to laugh about. It's the story … remember when?
That evening my hubby and I did not go to bed until 1:30 AM, getting another load of dishes in the dishwasher, and talking about the new friends who came to dinner (never having met before), and old friends–how good it is to mix up the guest list at a dinner party. At the same time, there was one birthday girl in common with all of us around the table, which made for a very special evening.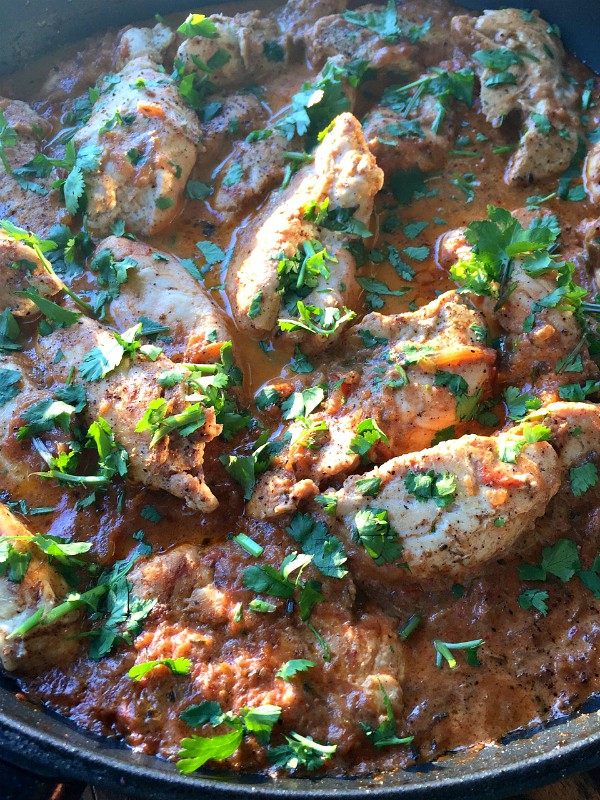 Creamy Salsa Chicken Tenders
This recipe today has nothing to do with the party, except I made it for dinner earlier this week and we loved it.
A 20-minute chicken dish? You canNOT go wrong. Saucy, sassy, such fresh flavor!
It was so good, I plan to make it for our friends who live not too far from our home, who we like to dine with, even on weeknights.
Season the chicken. I used McCormick's Perfect Pinch "Cajun" spice.
Cook with fresh ingredients. (That is my canned Smoky Zucchini Salsa in the jar.)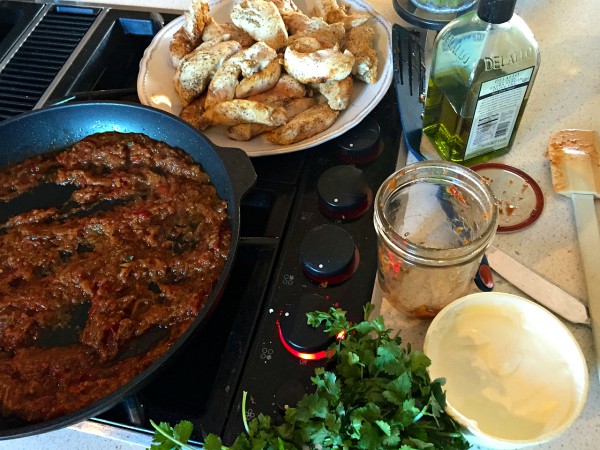 This will be easy, light, and skies the limit on the side recipes you can serve with this … rice, quinoa, beans, a salad, wraps.
Easy, easy, easy!
Fresh and fabulous!
Oh, and I'll make sure that the lights are turned on in the outside bathroom!
How do you cover blunders and things that go wrong when you host, or have you learned to "go with the flow?"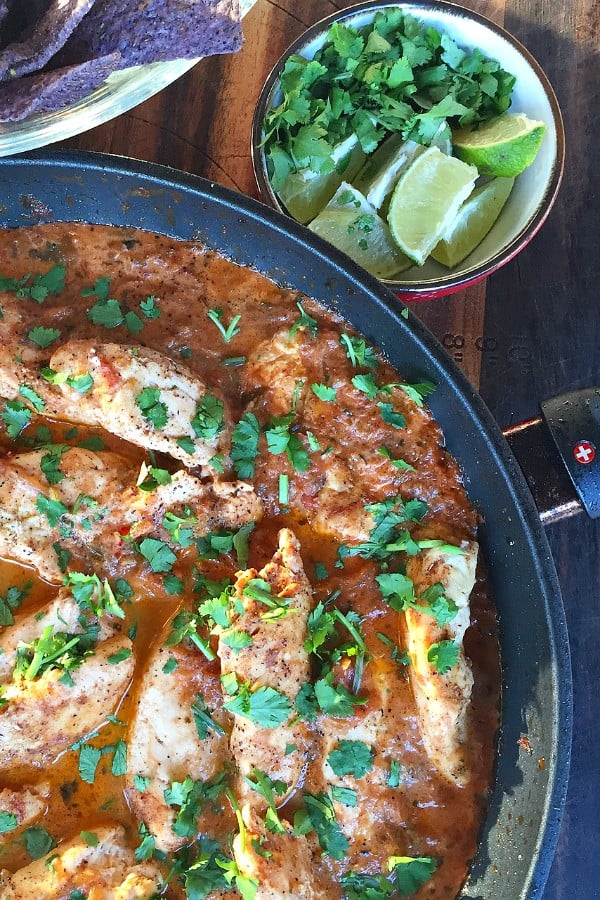 Creamy Salsa Chicken Tenders
This 20-Minute Creamy Salsa Chicken Tenders recipe is quick and easy, easy to double for a large party! You can substitute creme fraiche for sour cream.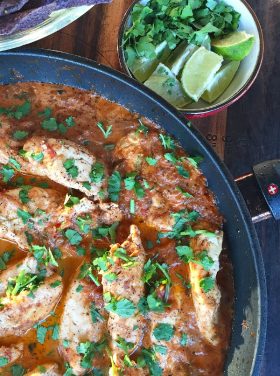 Ingredients:
4 Tbsp.  olive oil
2.5 – 3 lbs. chicken tenders
Favorite seasoning (I used McCormick's Perfect Pinch "Cajun" spice)
Salt and pepper
2 cups salsa
1/2 cup creme fraiche (or sour cream)
1/2 cup chopped cilantro
lime wedges
Directions:
In a large nonstick skillet, heat olive oil over medium-high heat.

Season the chicken. Cook it on both sides until golden for about 3 minutes; transfer to plate.

Add the salsa to the skillet and cook on medium heat, stirring for 2 minutes.

Turn the heat down to low; stir in creme fraiche.

Return the chicken to pan, cover and simmer over low heat, 4-5 minutes.

Sprinkle with cilantro; serve with chips, rice, and lime.
All images and text ©

Are you following me on Instagram, Twitter, Facebook and Pinterest? If you'd like to subscribe to Reluctant Entertainer, to have each post delivered straight to your e-mail box, then please add your email, here. It's really easy! Thanks for being here today!