Best Clam Chowder
A classic clam chowder recipe for any time of year, with perfect tastes of bacon and clams. The flavors mingle together into a delicious Best Clam Chowder! Watch the video!
I love the magic of soup season—-the comfort and ease of gathering 'round the table with family and friends! Planning a soup meal is quite simple, especially serving my yummy Best Clam Chowder as the main dish, with a side of hot bread and a basic green salad (or Classic Shrimp Salad with Thousand Island Dressing.)
Clam Chowder Soup
In the past, I've been intimidated to make a clam chowder soup, because I was afraid it wouldn't be as tasty as a bowl that might be served at the beach, or at a really good restaurant. But this recipe is one of my favorites, and is one of the top easy recipes on my RE! Yay! :)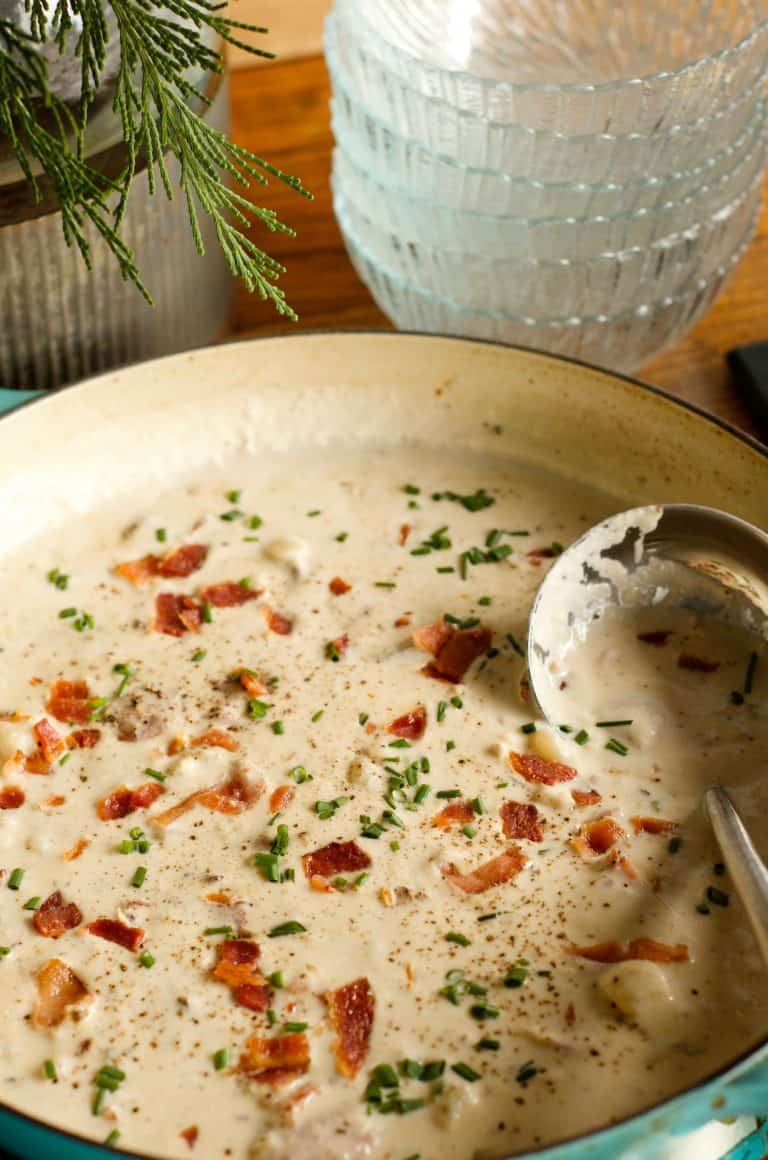 Homemade Clam Chowder
You may like New England Clam Chowder, or Manhattan Clam Chowder, and then there's Boston Clam Chowder or Red Clam Chowder. Whatever the flavors, I say, make homemade clam chowder, and your guests will be happy!
In fact, watch the video below and see for yourself how to make this soup.
Soup season means slowing down, inviting people in to your home, and sharing life … and love. I changed it up awhile back and made a yummy Corn Salmon Chowder Recipe!
How to make Clam Chowder
BEST Clam Chowder is so easy to make, I always wonder why I don't make it more often. (We trypically make it around Christmas or the holidays.) Plus, this recipe has bacon (YUM!)
It's comforting, filling, and delicious, and it's also the perfect "light" holiday meal.
Relax and enjoy.
Slowing down and enjoying the table experience means to be present in the moment!
Don't over complicate. If you're planning a soup night, keep it simple!

Make the soup ahead of time, set out hot bread and a fresh salad. You don't need to be a slave to your kitchen! Planning a simple menu means more time with your guests.

Get off social media. Ask everyone around the table to put their phones away.

There's no need to be looking at what others are doing (scrolling through Facebook or Instagram, while you're at the table with dinner guests). Instead, if we only looked inside (our own windows), to not miss out on what's happening right at the table!

Relish in the joys. Ask a lot of questions, get to know the people who are sitting around you.

Look into their eyes, look for joys (and pains), and listen. Be present. Enjoy!
I have one small wish when we have guests over for dinner, besides being prepared, and desperately wanting to RELAX. My wish is to be present in the moment, to not worry about what's going on around me, but to really engage, right then and there.
In the meantime, I love to entertain.
Best Clam Chowder
It is simple to make this chowder in your favorite Le Creuset Braiser and take it straight to the table for serving. Don't forget the ladle, because your guests will be coming back for more. My favorite soup bowls, classic white always looks sharp.
And it's even better when "my cup runneth over" with a bowl of delicious comforting Best Clam Chowder!
Print Recipe
Best Clam Chowder
This delicious, creamy Best Clam Chowder is the perfect soup to serve for a lighter holiday meal.
Ingredients
8-10

bacon strips

divided

2

Tbsp.

butter

2

celery ribs

chopped

1

leek

finely chopped

1

large onion

chopped

2-3

garlic cloves

minced

3-4

small potatoes

peeled and cubed

1

cup

broth

chicken or vegetable

1

bottle

8 ounces clam juice

1/2

teaspoon

white pepper

1/2

teaspoon

salt

1/2

teaspoon

dried thyme

1/3

cup

all-purpose flour

2

cups

half-and-half

divided

3

cans

6-1/2 ounces each of whole clams, chopped into chunky pieces, drained

Bay leaf

Chopped fresh chives or green onions

for garnish
Instructions
In a Dutch oven, cook bacon over medium heat until crisp. Remove to paper towels to drain; set aside. Add butter to the drippings (you can spoon out some of the drippings if you don't want to ues that much); saute celery, leek, and onion until tender. Add garlic; cook 1 minute longer. Stir in the potatoes, broth, clam juice, salt, pepper and thyme. Bring to a boil. Reduce heat; simmer, uncovered, for 15-20 minutes or until potatoes are tender.

In a small bowl, combine flour and 1 cup half-and-half until smooth. Gradually stir into the soup. Bring to a boil; cook and stir for 1-2 minutes or until thickened.

Stir in (drained) clams and remaining half-and-half; heat through (do not boil); turn down to low heat; add the bay leaf. Cook for additional 2-3 minutes on low heat. Add in 4 strips of crumbled bacon.

Crumble the reserved 2 strips of bacon. Garnish chowder with crumbled bacon and fresh chopped chives.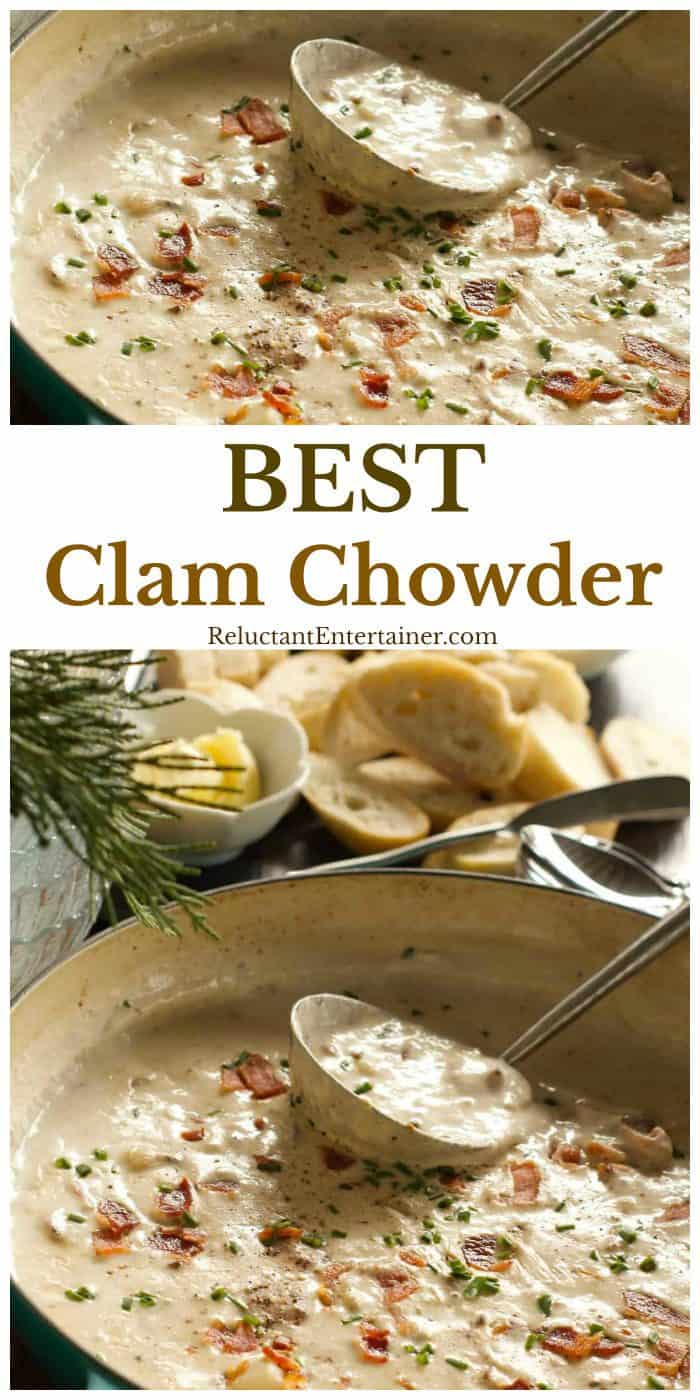 More Clam Chowder recipes: Manhattan Clam Chowder (Simply Recipes) Slow Cooker New England Clam Chowder (Baked by Rachel).
This post has affiliate links. Every purchase from these links supports RE at no extra cost to you. Thank you!