Best Clam Chowder Recipe (VIDEO)
Best Clam Chowder is easy to make "from scratch," with creamy soup flavors that mingle together with bacon, clams–for the very best chowder!
I love the magic of soup season—-the comfort and ease of gathering 'round the table with family and friends! And BEST Clam Chowder always brings a little magic to the table! You've got to try my similar Best Seafood Chowder recipe, or a "tomato" spin, my Manhattan Clam Chowder soup.
Best Clam Chowder
Chowder is easy to make – a "by scratch" version that is creamy, flavorful with bacon, and chockfull of clams! Watch the video!
What do you add to clam chowder to make it better?
If it's the condensed kind, add heavy cream and whole milk in equal parts. And then of course we say bacon and butter! But grab the printable recipe below!
Simple ingredients for chowder soup:
Bacon + butter
Celery + leeks + onions + garlic
Red potatoes or Yukon gold potatoes
Broth (or stock)
Salt, white pepper, thyme
Flour
Half-and-half
Chopped clams
Bay leaf
Chopped fresh chives
OPTIONAL to add clam juice (for a more clam flavor)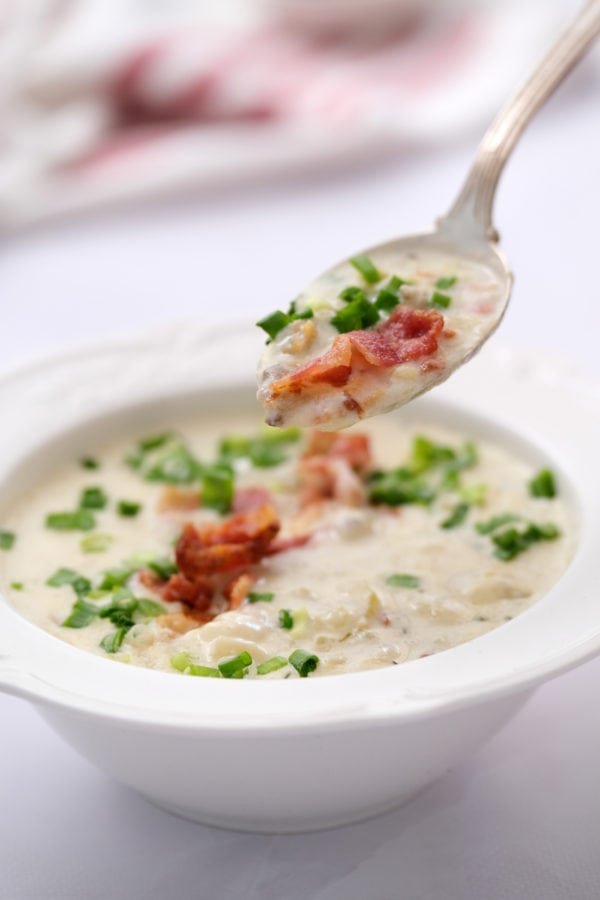 What do you serve with Clam Chowder?
Planning a soup meal is quite simple, especially serving my yummy chowder as the main dish, with a side of hot bread and a basic green salad with Best Thousand Island Dressing! Here's a list of what to serve with a hot bowl of chowder.
Bacon
Oyster Crackers
Salad
Shrimp cocktail
Bread
Corn on the cob
French fries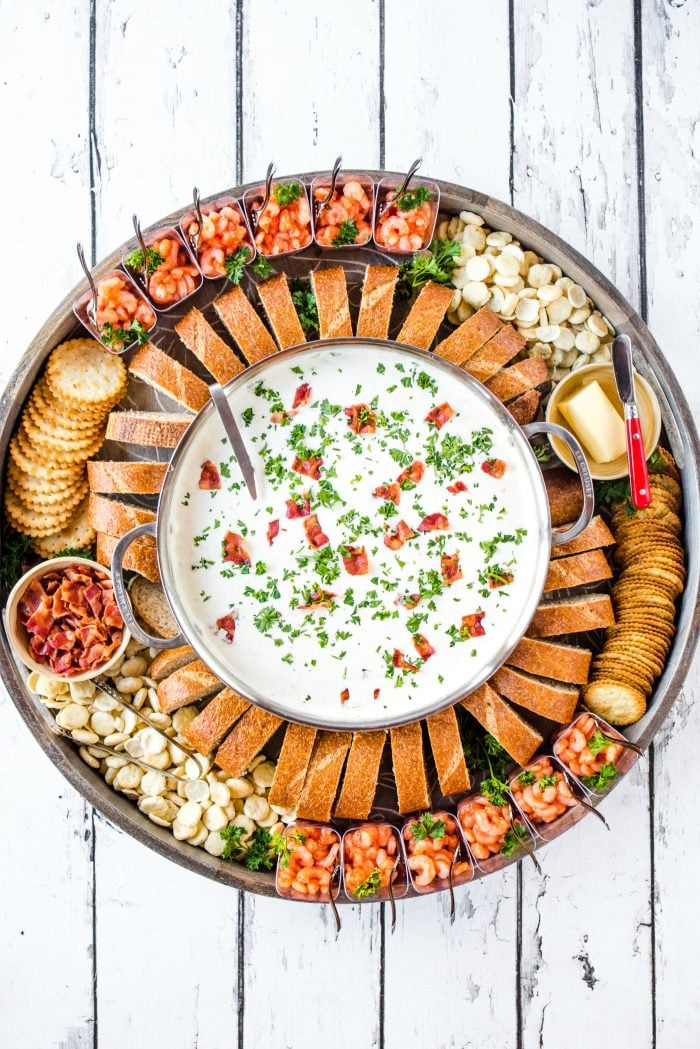 Make chowder from scratch
In the past, I've been intimidated to make this homemade soup, because I was afraid it wouldn't be as tasty as a bowl that might be served at the beach, or at a really good restaurant. But this recipe is one of my favorites, and is one of the top easy recipes on my RE! Yay! :)
Oh, and we did make a few changes to the recipe, but don't worry. Add more clam juice (optional) for a more intense clam flavor if you choose to.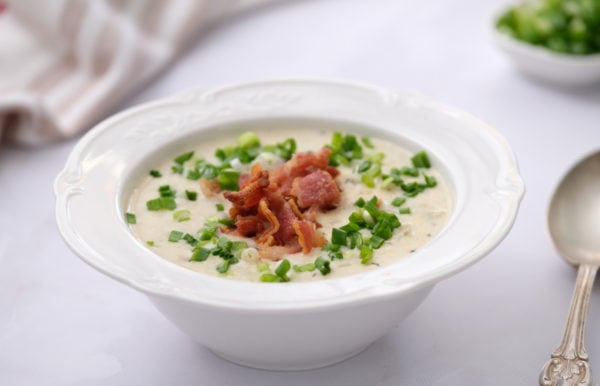 How do you serve clam chowder?
You can also serve it on a big board, like below! Here's the link to Epic Clam Chowder Dinner Board! Or, grab the link below to buy THE BIG BOARD (at the bottom). We love to set out the pot of soup in a braiser pan (low-line big pot).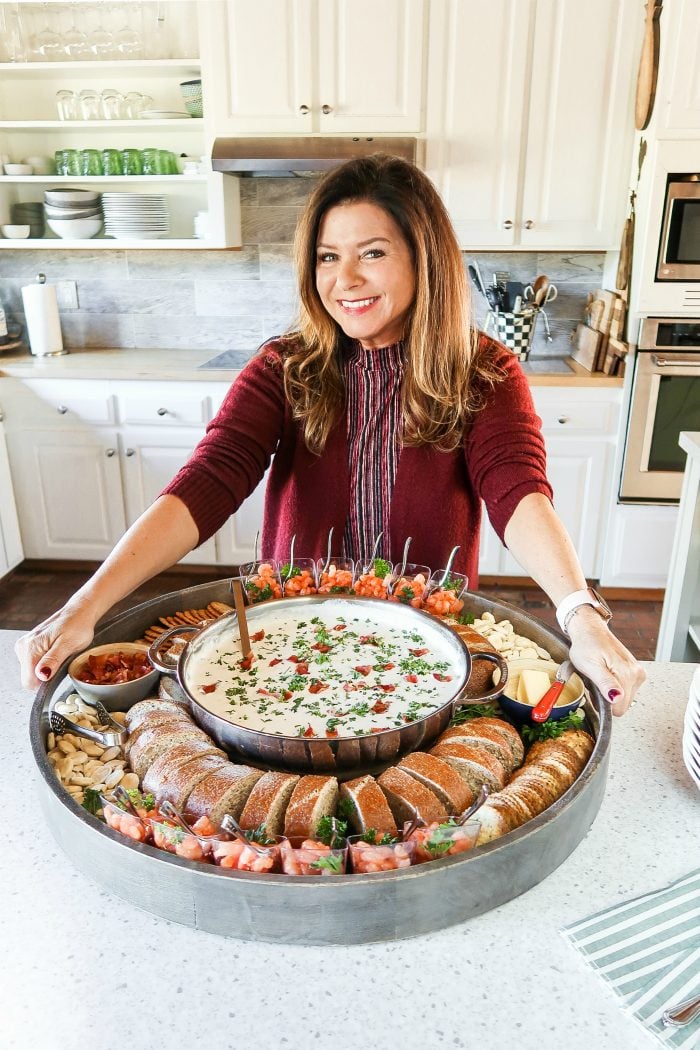 What is the difference between Boston and New England clam chowder?
Well, New England and Boston Clam Chowder are really the same dish. What makes a chowder "different" is the broth that is used. For example, Rhode Island broth is clear, and Manhattan Style Clam Chowder has a red tomato broth. Boston is thick and creamy!

Is chowder better the next day?
Yes, it's just as good the next day, if not better. So YES, you can make ahead of time for easy entertaining.
The flavors of this soup mingle together to make the tastiest leftovers. It will thicken as it stands overnight in the refrigerator so just whisk in a little milk or half-and-half before reheating.
How do you make Homemade Clam Chowder
Whatever the flavors, I say homemade is the best!
In a Dutch oven, you cook bacon (for amazing flavor!) over medium heat until crisp.
Then you saute celery, leek, and onion until tender, adding garlic. Eventually stirring in potatoes, broth, clam juice, salt, pepper and thyme.
Boil and simmer until potatoes are tender.
Make the creamy sauce (soooo good).
Stir in the clams and crispy bacon!
Optional to add in more clam juice (a couple bottles) if you choose to.
It's comforting, filling, and delicious, and it's also the perfect "light" holiday meal.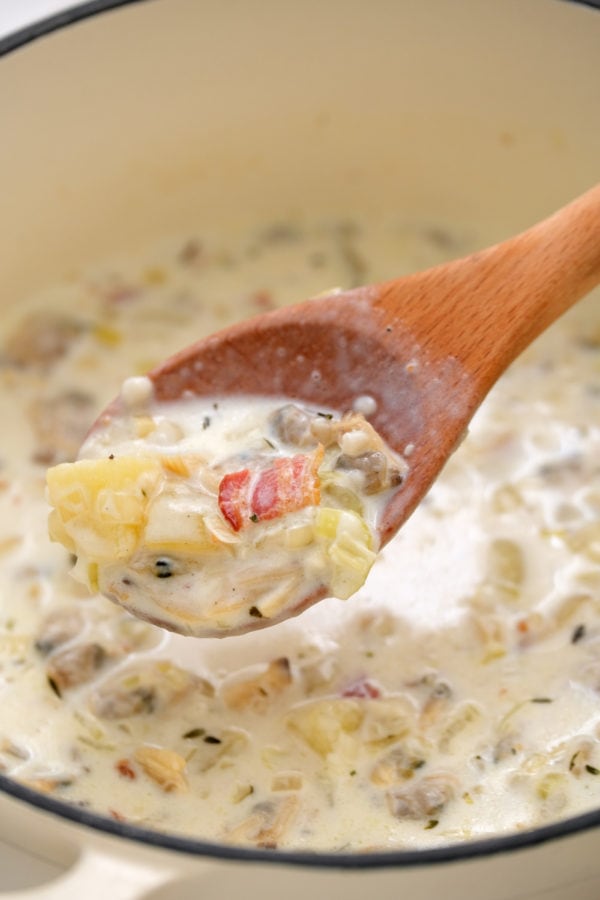 Friends, The Big Board® is here! Yes, I've partnered with JK Adams, the premier woodmaking company in Vermont, with my own line of RE boards!
20-inch round, maple
26-inch round, maple
12 x 36-inch maple
NEW 12 x 24-inch maple
23-inch Lazy Susan
26-inch ebonized BLACK, cherry
12 x 36-inch ebonized BLACK, cherry
A board with a lip (or raised edged) so the food doesn't fall off
FOOD SAFE
Made in the USA
Undercut handles (a unique design)
Thank you for your support, as we've sold out so many times already!
Order The Big Board® today!
More Chowder recipes to try:
Manhattan Clam Chowder (Simply Recipes) Slow Cooker New England Clam Chowder (Baked by Rachel). And friends, have you bought my new cookbook? Buy Big Boards for Families today! It's "editor's pick" on Amazon this month!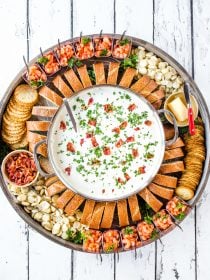 Get the Recipe: Best Clam Chowder
Best Clam Chowder is easy to make "from scratch," with creamy soup flavors that mingle together with bacon, clams--for the very best chowder!Makes 4 main dish bowls or 6 small lunch bowls.
Ingredients
8 bacon strips, divided
2 Tbsp. butter
2 celery ribs, chopped
1 leek, finely chopped (or 1 shallot)
1 large onion, chopped
2-3 garlic cloves, minced
3-4 small unpeeled potatoes (red potatoes or Yukon gold), cubed into 1/2-inch pieces (optional to peel)
2 cups broth, chicken or vegetable
½ teaspoon white pepper
½ teaspoon salt
½ teaspoon dried thyme
⅓ cup all-purpose flour
2 cups half-and-half, divided
3 cans 6-1/2 ounces each of chopped clams, undrained
Bay leaf
Optional to add in more clam juice for a more intense flavor.
Chopped fresh chives or green onions, for garnish
Instructions
In a Dutch oven, cook bacon over medium heat until crisp. Remove to paper towels to drain; set aside. Add butter to the drippings (you can spoon out some of the drippings if you don't want to ues that much); saute celery, leek, and onion until tender. Add garlic; cook 1 minute longer. Stir in the potatoes, broth, salt, pepper and thyme. Bring to a boil. Reduce heat; simmer, uncovered, for 10-15 minutes or until potatoes are tender.

In a small bowl, combine flour and 1 cup half-and-half until smooth. Gradually stir into the soup. Bring to a boil; cook and stir for 1-2 minutes or until thickened.

Stir in clams and juice and remaining half-and-half; heat through (do not boil). Turn down to low heat; add the bay leaf. Cook for additional 2-3 minutes on low heat. Add in 4 strips of crumbled bacon.TIP: Optional to add in more clam juice in this step, if you choose a more clam flavor.

Crumble the reserved 4 strips of bacon. Garnish chowder with crumbled bacon and fresh chopped chives or green onions thinly sliced.
Notes
Originally posted December 2014 on Reluctant Entertainer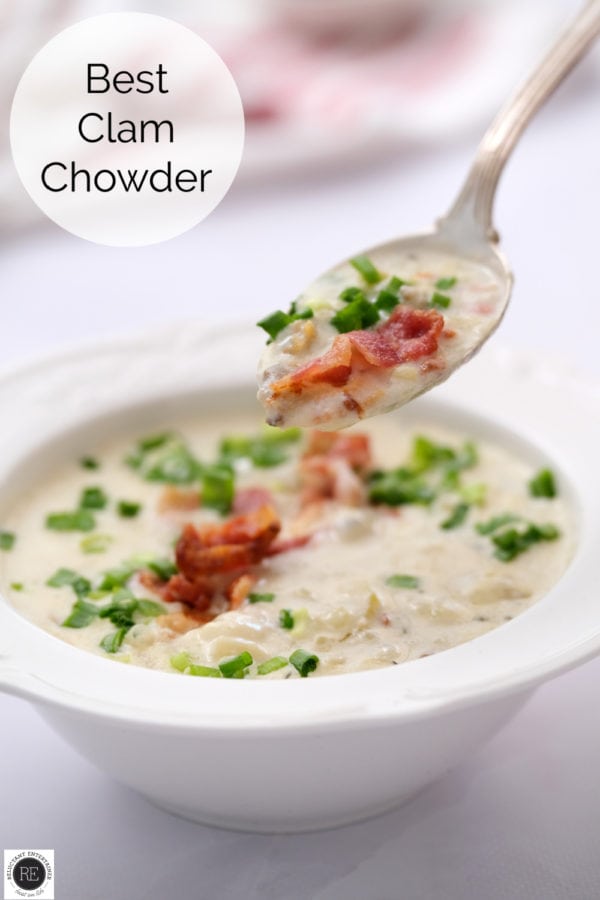 Hello and welcome to my home and table!
I'm Sandy—lover of food, family, cooking, THE BIG BOARD, travel, and bringing people together. Through great recipes and connection around the table, we become better, stronger, and more courageous people. Feasting on Life is real, and every time we do it, we grow a little more. Read more...