Mexican Ground Turkey Olive Pasta Bake
Mexican Ground Turkey Olive Pasta Bake is best made with al dente pasta, ground turkey, olives, pico de gallo, and hot melted cheese.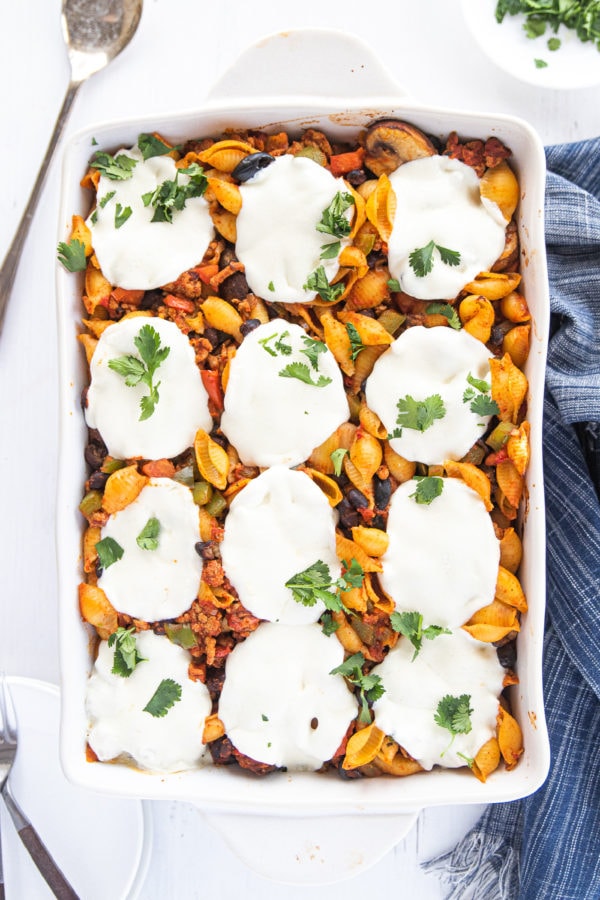 Friends, are you craving a comfort pasta dish? Me, too! I love pasta, especially when it's a good pasta, and cooked to perfection. For me, that means not over cooked! Like this Mexican Ground Turkey Olive Pasta Bake (whew! that is a long name)–so cheesy-good!
Mexican Ground Turkey Olive Pasta Bake
Ground Turkey Pasta Bake is great dish to serve for Cinco de Mayo, if you're looking for something a little different. Make a big salad, and don't forget the chips and salsa!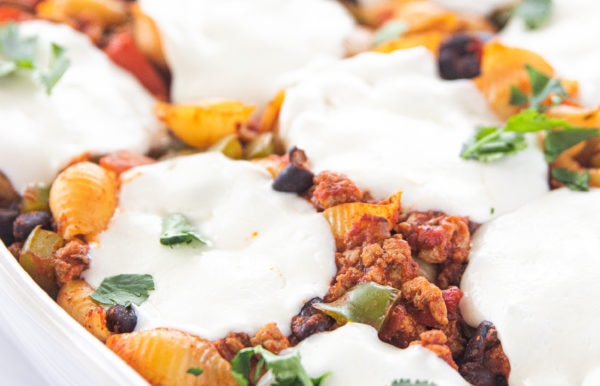 This is a fun, easy dinner, and it's great left-over, too!
Caprese Chicken Casserole Recipe and Best Italian Pasta Bake are other top notch homemade casseroles when you crave comfort (and pasta).
As most of you know, my blog is for the person who might be looking for more connection in life, or possibly you need new recipe to try! One way to connect is through food, and to cook an easy recipe and to share it with others.
For this recipe the pasta soaks up delicious tomato sauce with a hint of Mexican spice. In my house, everyone loves Mexican dishes, and I bet in yours, too. There are thick slices of fresh Mozzarella cheese on top!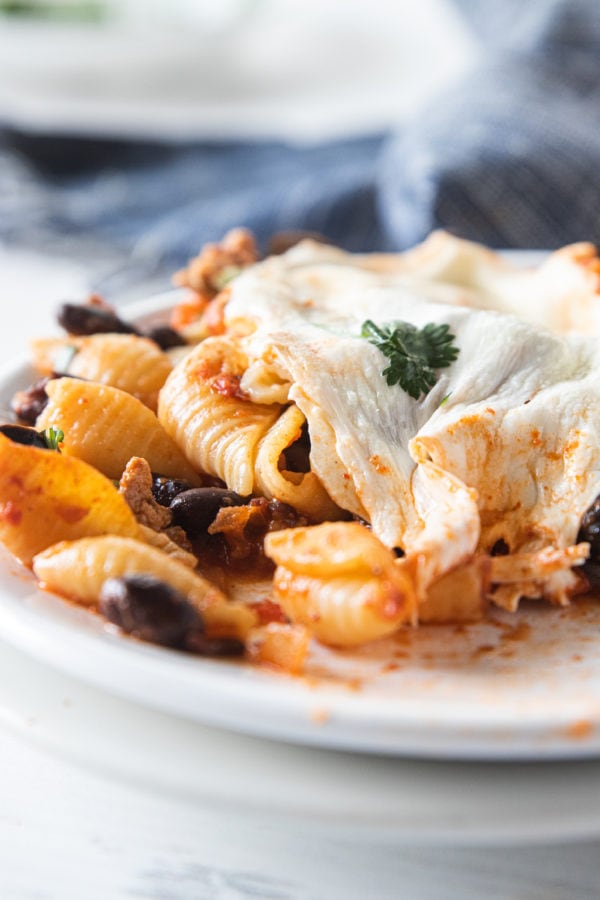 Ingredients for Ground Turkey Pasta Bake
Pasta: We love Delallo pasta. Whole grain pasta is more healthy choice as it has more fiber and nutrients than white pasta.
Ground turkey: Ground turkey meat, chicken, or beef. We really love lean ground turkey and enjoy it in this Ground Turkey Sweet Potato Meat or Healthy Ground Turkey Puttanesca.
Pasta sauce: I am using Delallo's pasta sauce because I think it's the BEST. You can add your favorite flavors! We also added Pico de Gallo to the mix!
Cheese: For this recipe I am using fresh Mozzarella cheese slices. We just love the thick slices. You can buy the bulk Mozzarella slice packs at Costco.
Onion, garlic, herbs, mushrooms: This really makes the flavor pop.
Spices: Add your favorite Mexican spices!
Toppings: Top the pasta bake with sour cream, cilantro, and more salsa if desired!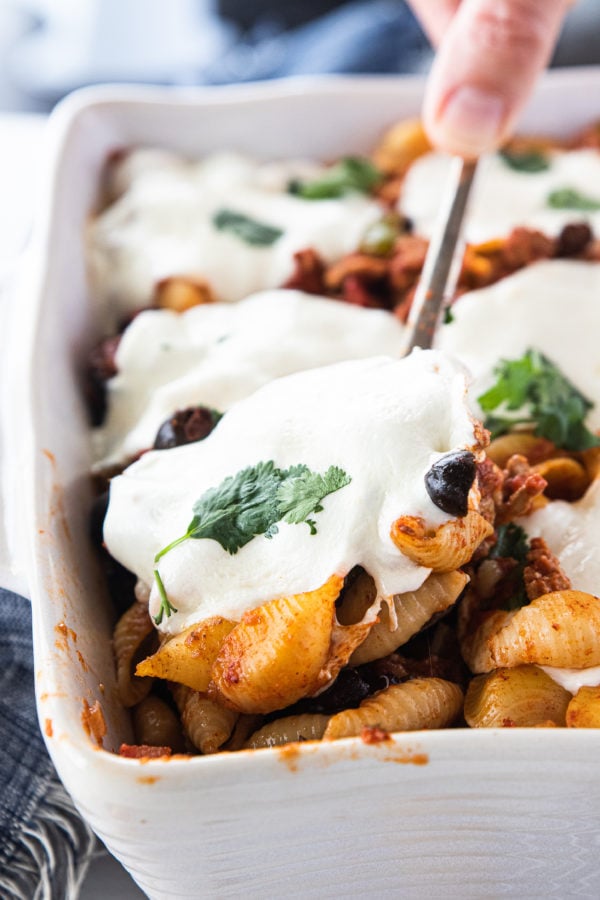 Make-ahead casserole
Make this recipe ahead! Assemble and refrigerate for up to 24 hours. Don't forget to cover with plastic wrap and then bake per the directions.
Mexican dish for a potluck
This dish is great to bring to a potluck, or to welcome your neighbors with in a weeknight meal!
Pair it with a glass of red wine, a healthy salad.
And did I mention this ground turkey pasta dish is easy and fairly quick for a weeknight meal?!
It's made with DeLallo's Pomodoro Fresco Roatsed Garlic sauce!
Cook pasta el dente
Don't forget to undercook your pasta. It's always better el dente.
Use premade pico de gallo, mix together; place in the fridge.
Pull out and BAKE for dinner or company!
Serve with a salad and extra toppings, like sour cream and fresh cilantro–a great meal for a cozy night. ENJOY!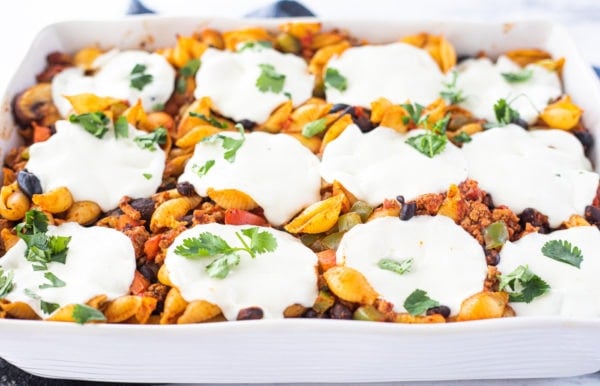 Serving and Reheating
Let the casserole sit covered for about 10 minutes before serving, so the flavors have a little more time to meld together. Serve hot garnished with cilantro, if desired. It serves 6 people very generously and 8 people with a side of a salad, or other side dishes.
Speaking of salad, here are simple and quick salads that will go well with this ground turkey pasta:
Reheating: It's best to place on a plate and cover with a wet paper towel, and then microwave to prevent casserole from drying out.
I hope your family enjoys this dish! Happy Cinco de Mayo coming up next week!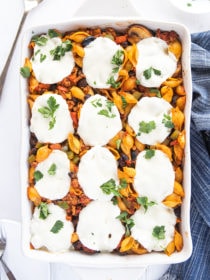 Get the Recipe: Mexican Ground Turkey Olive Pasta Bake
Ingredients
1 Tbsp. olive oil
1 small onion, diced
1 green pepper, diced
1 cup cremini mushrooms, sliced
1 pound ground turkey
1 jar DeLallo Roasted Garlic Pomodoro Fresco sauce
2 Tbsp. chili powder
1 Tbsp. ground cumin
1 tsp. ground oregano
2 tsp. kosher salt
1 tsp. black pepper
16 oz. pico de gallo
1 can black olives, drained, sliced
1 15 oz. Bush's black beans, rinsed and drained
16 oz. DeLallo pasta shells
16 oz. fresh mozzarella cheese slices
Garnish with cilantro, sour cream, and salsa
Instructions
Preheat oven to 375 degrees F. Prepare 13 x 9 or 3 quart baking dish by spraying it with cooking spray.

Cook pasta shells according to package directions.

In a large skillet, heat olive oil over medium heat; saute onions, green pepper, and mushrooms until soft for 5-7 minutes. Set aside.

In the same skillet, cook the ground turkey. Add sauce and spices, salt and pepper; cook for another minute. Add sliced olives, beans, and pico de gallo; stir.

In a large bowl, mix together the onion mixture with the ground turkey mixture with the cooked, drained pasta.

Add the mixture to the 9×13 pan; place the fresh mozzarella cheese slices on top.

Bake uncovered for 30 minutes. Serve with cilantro, avocado, sour cream and hot sauce.
Notes
Reposted from FEB 2017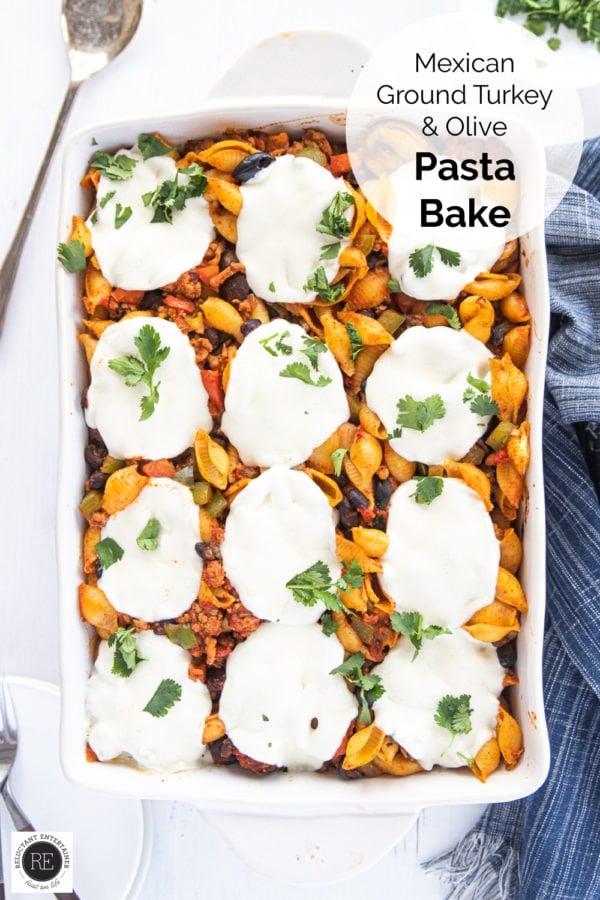 Hello and welcome to my home and table!
I'm Sandy—lover of food, family, cooking, THE BIG BOARD, travel, and bringing people together. Through great recipes and connection around the table, we become better, stronger, and more courageous people. Feasting on Life is real, and every time we do it, we grow a little more. Read more...