Ground Turkey Sweet Potato Meat
Easy Ground Turkey Sweet Potato Meat for tacos, enchiladas, Mexican bowls, tostadas, or burritos. Let guests make their own taco salad, too!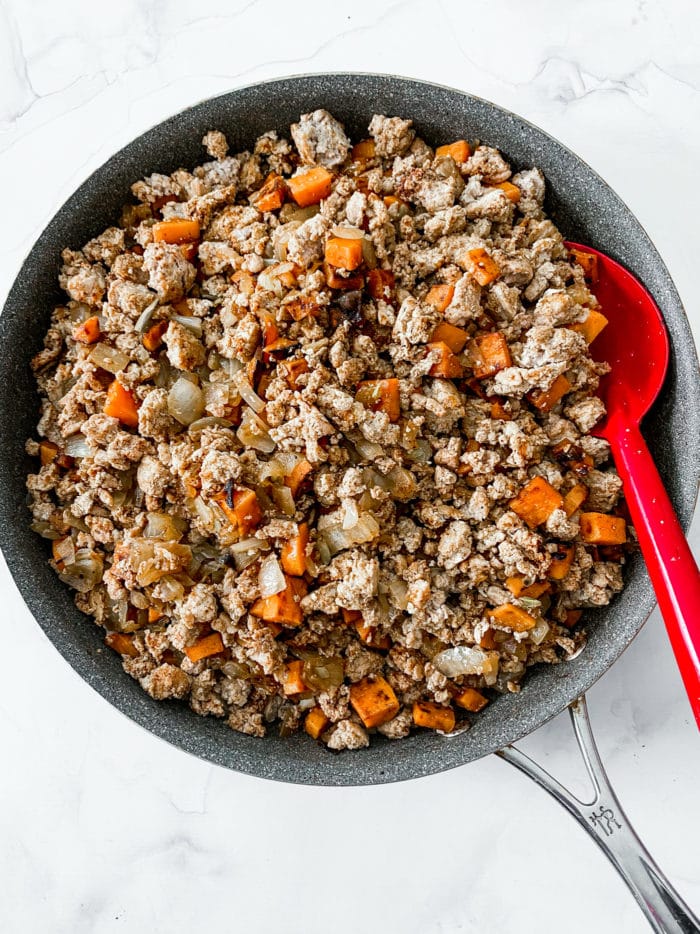 Today I'm sharing my favorite taco meat. It's ground turkey with sweet potatoes and onion. Use this recipe for tacos, bowls, enchiladas, tostadas … what am I missing?!
Ground Turkey Sweet Potato Meat
Every time we make this for company, I get asked for this Ground Turkey Sweet Potato Meat recipe. It's that good!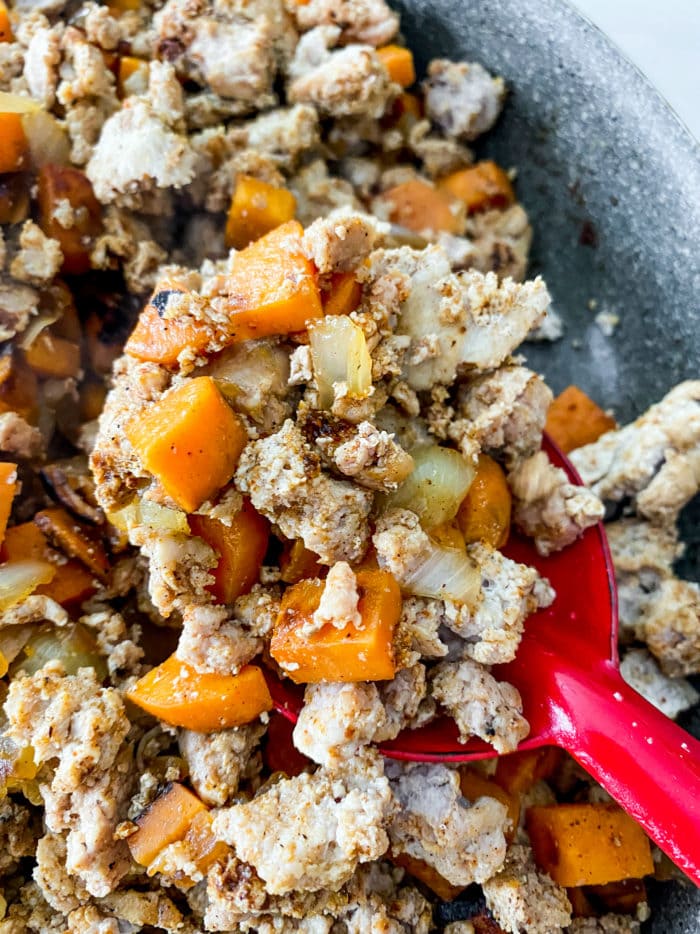 Sweet potatoes in taco meat?
Yes, and AMEN!
Not only does it stretch the meat, 1 giant sweet onion and 2-3 large sweet potatoes add nutrition to the meal.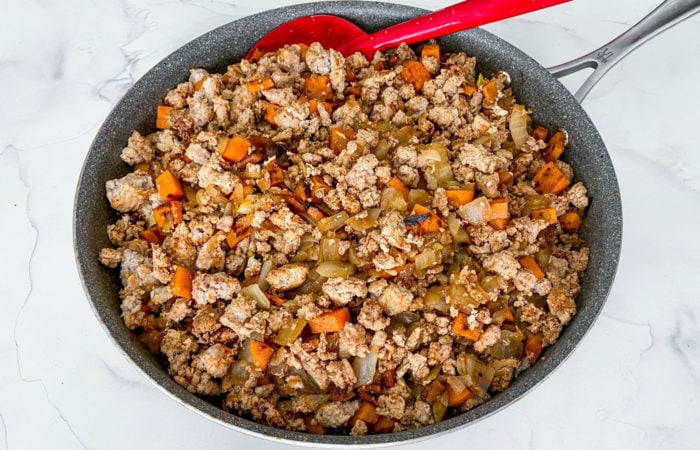 Freeze taco meat
You can even add a few cans of black beans.
Wait, it gets better.
YOU CAN FREEZE THIS MEAT. You can also make it with beef (just drain it well).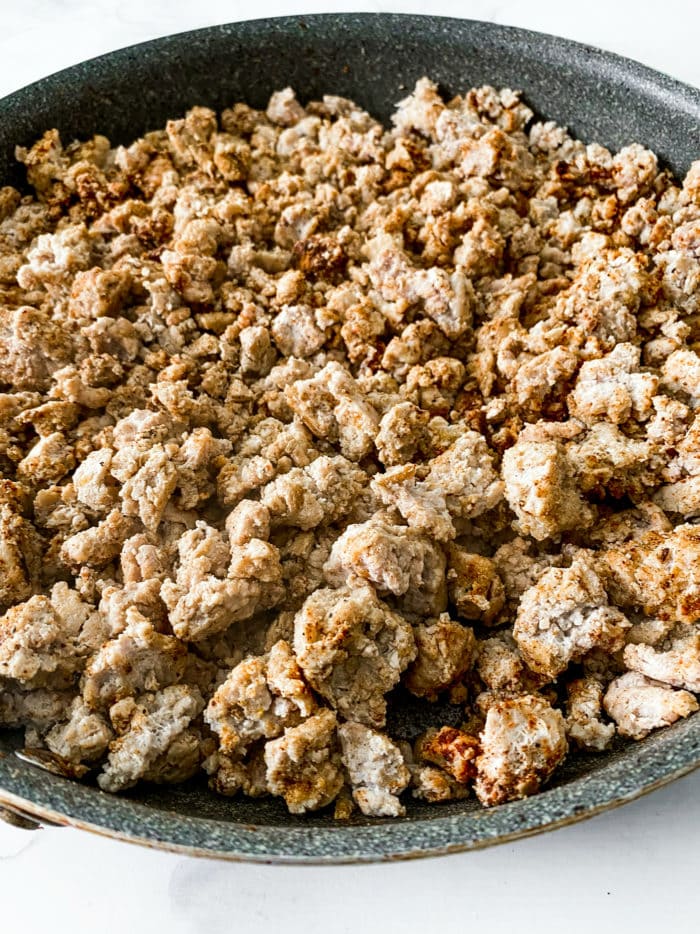 What spices to add to ground turkey
Kosher salt
Chili powder
Cinnamon
Garlic powder
Pinch of nutmeg
Smoked paprika
Worcestershire
Coconut aminos (optional)
What to serve with Ground Turkey Sweet Potato Meat
Guacamole
Sour Cream
Lime wedges
Chopped cilantro
Salsa
Black olives
Black beans
Lettuce

How to cook taco meat with sweet potatoes
Cook the onions. Cook the diced sweet potatoes; set aside.
Cook the ground turkey, making into small pieces. Season and add sweet potato and onion mixture and gently stir.
Serve with taco toppings for enchiladas, tacos, bowls, salad, etc.
Social distancing
Friends, we currently have 2 introverts and 2 extroverts in our family!
The introverts are just fine with social distancing, because it's a natural and they already love the space. On the other hand, the extroverts (hand raised – HIGH), are out meeting the neighbors and going through isolation withdrawal.
This is for sure uncharted territory for all of us, so for me, being a social person, I'm grateful for any moment of normalcy.
That would be like inviting the neighbors over to sit by the fire with us. A way to connect and get to know them …
Honestly, I'm used to hosting a lot. So in my mind and reality, I'm trying to make some peace with uncertainty.
But we can still gather, through our shared words and experiences. We can find strength in each other.
We have a place in our backyard that is perfect.
Writing this piece, sending it off to you, is my way of reaching out a hand. Please, feel free to grab back. We will hold each other from afar, for as long as need be!
XO
More Mexican recipes:
Trader Joe's Slow Cooker Enchilada Pork
Skillet Veggie Chicken Enchilada Melt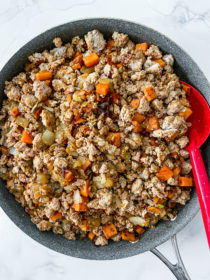 Get the Recipe: Ground Turkey Sweet Potato Meat
Ingredients
2 pounds lean ground turkey
4 Tbsp. olive oil
1 large sweet onion, diced
2-3 medium sweet potatoes, peeled and diced
Kosher salt
2 tsp chili powder
1 1/2 sp cinnamon
2 tsp garlic powder
pinch of nutmeg
1/2 tsp smoked paprika
1 Tbsp. worcestershire
1 Tbsp. coconut aminos
Instructions
In a large frying pan, heat 2 Tbsp. oil and add the onion. On medium heat, cook the onion 10-15 minutes until done. Remove onion from the pan; set aside. Add the remaining oil and sweet potatoes and saute for 5 minutes on medium, stirring. Add a tiny bit of water and place the lid on the sweet potatoes to simmer for additional 5 minutes. Add the potatoes to the onions; set aside.

Cook the ground turkey, making into small pieces. Add the salt and cook for 10 minutes. Season the ground turkey with remaining seasonings. Add sweet potato and onion mixture and gently stir. Drizzle with worcestershire sauce or coconut aminos. Season to taste.

Serve with taco toppings for enchiladas, tacos, bowls, salad, etc.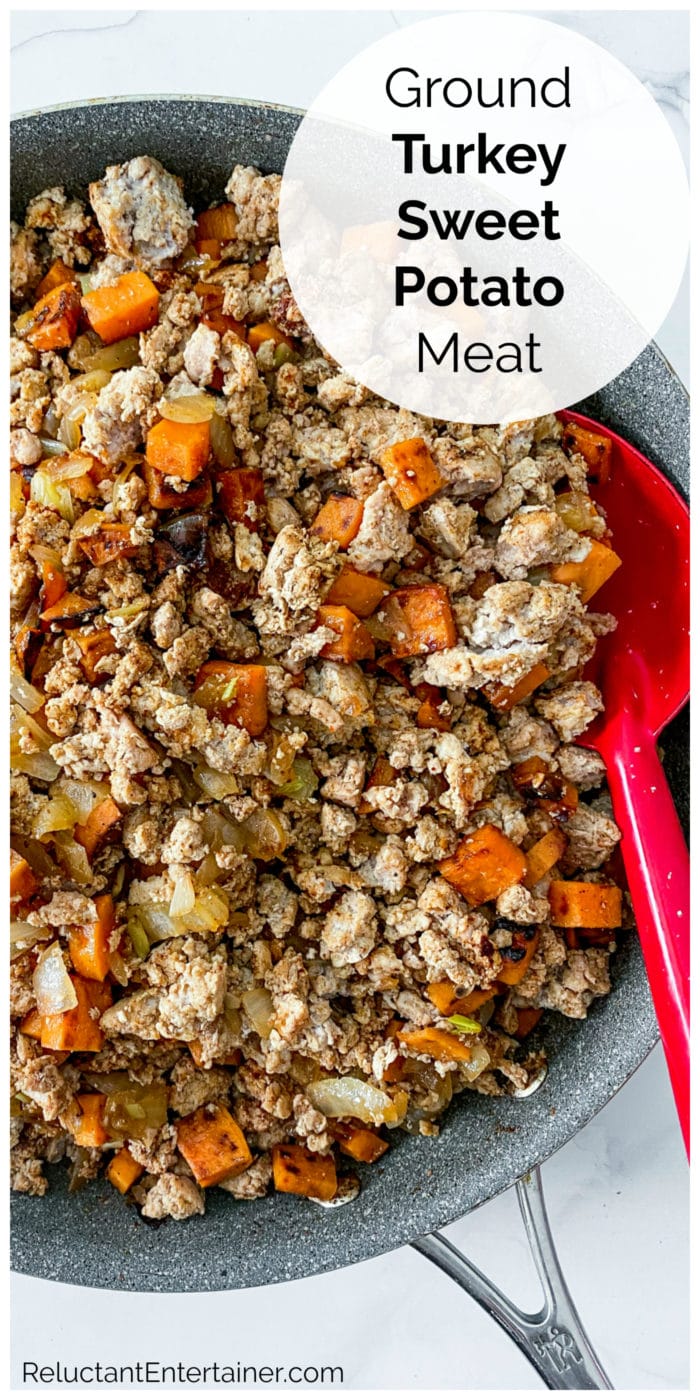 Hello and welcome to my home and table!
I'm Sandy—lover of food, family, cooking, THE BIG BOARD, travel, and bringing people together. Through great recipes and connection around the table, we become better, stronger, and more courageous people. Feasting on Life is real, and every time we do it, we grow a little more. Read more...